Inside: Visiting Sesame Place? Find out the 20 brilliant Sesame Place tips to save money, avoid the crowds, and have an awesome family fun day!
Are your kids crawling up your leg in boredom begging to go on vacation? Looking for a family friendly, low-cost destination is not an easy task!
I was pulling my hair out trying to think of a place I can take my family that didn't cost me an arm and a leg.
But luckily, Elmo came to the rescue– hello 123 Sesame Street!
Sesame Place, located in Langhorne, Pennsylvania, is a great family theme park that is budget-friendly and can cater to everyone in your family. It's a half water park and half amusement park, so you can enjoy the water in the heat and then dry off while hitting the rides!
If you're looking to take your family on vacation or out for a family fun day and are thinking about a trip to Sesame Place, here are 20 brilliant tips to help you save money, avoid crowds, and make the most out of your day.
After these tips, you'll be a pro on Sesame Street like Elmo!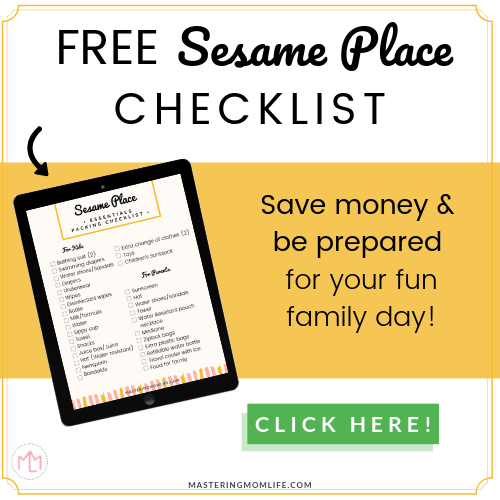 20 Awesome Sesame Street Tips & Hacks
This was our family's first trip to Sesame Place. We took my daughter to Sea World in Orlando for the grand opening of Sesame Street and she had a blast. But another trip to Florida from New York is out of our budget so I was bummed.
I was on the Sea World site looking for discounts when I saw the Sesame Place icon at the bottom of the page. My heart leaped! I completely forgot there was a Sesame Place!
Not only that, but it's in Pennsylvania and was only 2 hours from us! So, I bought the tickets on sale and we ventured to Sesame Place for the first time.
Here are the secret tips that I learned!
How to score deals on tickets
If you were to walk up to Sesame Place right now and buy a ticket at the gate, you would get sticker shocked. Let's be honest, no one is paying $80 to visit a baby park for one day.
The good news is, with the right research, you can score great deals on tickets that can easily save you hundreds of dollars!
First, take a look at the Sesame Place website. On the homepage, you'll see different sales and promotional discounts. For more details, you can browse the Tickets & Passes page.
The only reason why we decided to take our first trip to Sesame Place is because we found a great ticket on the Sesame Place website. They were running an extremely affordable deal on a 2-day ticket for only $47.99. I saved $56 per ticker– score!
Sesame Place Tip 1: To stay in the loop with sales on tickets, you can sign up to receive emails too.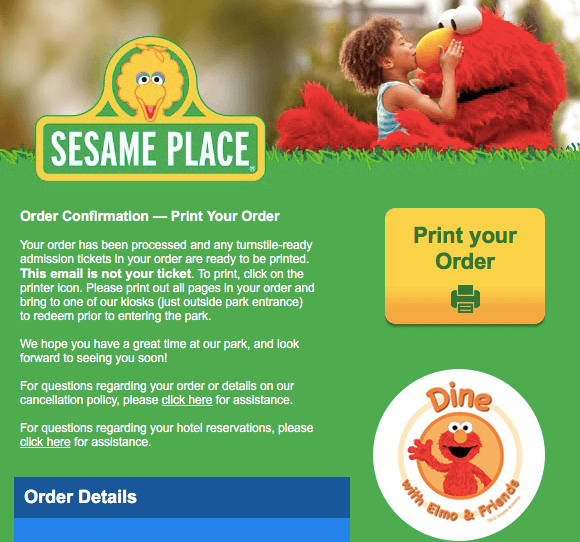 Don't sleep on Groupon
Groupon runs deals on Sesame Place tickets too! Last week I saw a Groupon for a 2-day ticket with a free meal each day for only $69. That's less than $30 a day!
If you are on a budget, I highly recommend for you to plan a Sesame Place visit around discounted tickets. If you're solely visiting Sesame Place, I wouldn't recommend booking a hotel before buying your tickets. Ticket sales change from week to week.
Don't pay full price if you are flexible with dates. You may be able to find a cheaper ticket!
Season Pass Option
If you are planning on visiting Sesame place for 3-4 times before the year ends, consider a Season Pass. There are different pass tiers with different costs. Research your best options before purchasing your day tickets. You can also upgrade your day ticket to a season pass at any point!
Age matters
Sesame Place Tip 2: The second part of scoring good tickets is to know how many tickets you need.
Most theme parks (Like Disney World and SeaWorld) consider children's tickets to start at the age of 3. Which means if your child is younger than 2 years and 23 months, then they are free.
Sesame Place has a different ticket policy. Children 2 and over have to pay for a ticket. Your child is free if they are 23 months or younger.
This was my first time ever paying for my daughter to enter a theme park. It hit me like a punch to the gut. Paying $50 for my 2 year old to run around and then nap? I thought it was a waste of money.
But Sesame Place is literally a theme park for kids. It caters to babies, toddlers, and children. I took a gamble by buying Baby L a ticket and I'm so glad that I did because she's never had so much fun at a park before.
At sesame place, the park is dedicated to the little ones. So the cost was worth it for us, especially since we got that sweet deal 🙂
Day trip or mini vacay?
Sesame Place is conveniently located right outside of Philadelphia, PA. It's about 2 hours from New York City.
Sesame Place Tip 3: If you live within a 2-hour distance from Sesame Place, then a day trip is more than possible.
Which can save you money on a hotel!
You can also go for a mini vacation and stay for 2 days and just book a room for one night, saving you on a flight to a vacation destination.
We planned to visit Sesame Place on a Sunday and left at 8:00 am. We stopped for a quick breakfast (no one like a grumpy, hangry toddler sitting in a car seat for 2 hours), and then went on our way.
We arrived at 9:45, just in time for the park opening at 10:00 am. We left at 6:30 pm and arrived back home at 8:45 pm. It was a great family fun day that felt like a mini vacation!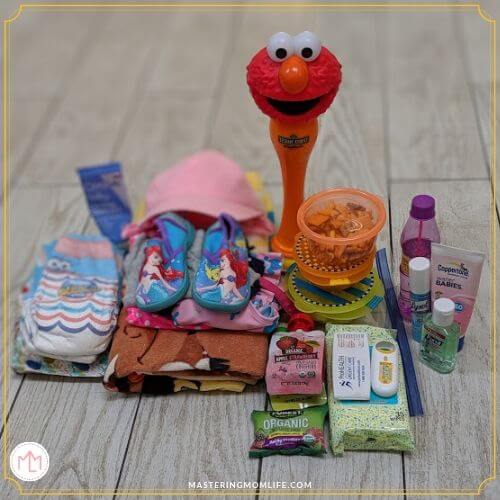 What to Bring
What do I need to bring? The age old family vacation question!
Sesame Place Tip 4: Pack the right items on your bag!
Don't worry, I created a COMPLETE Sesame Place essentials checklist for you! I used this list when I packed for our trip and it was a lifesaver. I had everything that we needed and didn't have to spend money on purchasing anything in the park.
Sesame Place is a water park and kiddie amusement park so you'll need a couple of different things for a successful day.
In the Sesame Place Essentials Packing Checklist, I have a list of things you need for the water park and a list of things you need for the amusement park. It's the perfect Sesame Place packing list from A to Z.
Get it now!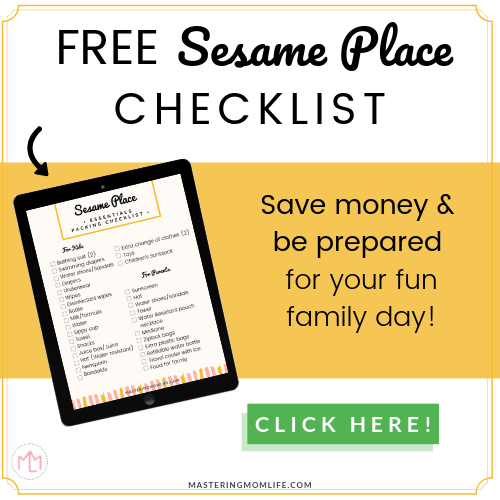 When to arrive
Summer = No school = A lot of People
The absolute best thing to do is to arrive when the park opens. Luckily, the park doesn't open too early where you'll be up at the crack of dawn.
Plan to arrive at the park 15 minutes before the park opens. Thankfully the parking isn't like Disney where you have to take tram to the park entrance.
The Sesame Place entrance is literally right in front of the parking lot. You have to cross a street, but the pathway across the street is very wide and safe for park goers (and babies!).
If you arrive early, you can park in the front rows of the lot and are right in front of the park entrance. This is especially handy if you need to access your car throughout the day to drop bags off.
Sesame Place Tip 5: To save money on food, you can pack a cooler in your car with drinks and sandwiches and take a trip to your car for a half hour. If you arrived early and got a good spot then you'll only have to walk 5 minutes to your car to grab a quick bite!
Also, at prime lunch hours, the eateries are jampacked. You can easily spend an hour waiting in line for your food. If you pack some food in your care you can save that time by exiting the park to eat in your car and then entering the park again to hit your favorite rides while people are in line and eating.
You save money and save time!
Where to Eat
One of the best Sesame place tips is regarding food…
Sesame Place is not the biggest of theme parks, therefore there aren't many eateries. There are 2 main eatery locations which are indoors (hello AC!). One is Cookie Monster Cafe and the other is Elmo.
Then there are a couple of outdoor cafes that are open during the Summer. One of Abby's located near the wave pool and lazy river and the other is Oscars, also located in the water park side of the park.
Sesame Place Tip 6: Eat at off hours! Don't eat lunch at 12. Consider eating an early lunch or a late lunch. Avoid the busy eateries from 12-1:30 pm. We did now know this and learned the hard way that it would take 1 hour to receive our food.
Don't make our mistakes!
Food you can bring with you
Sesame Place Tip 7:  You can also bring in snacks with you in the park & mini soft coolers are allowed.
So you can pack cans of soda, juice boxes, and snacks for your family! I don't think you can bring in full meals and fully prepared big sandwiches but you can definitely bring in smaller items.
(Even though I didn't see them thoroughly checking the coolers and bags).
This can save you a ton of money!
How to plan your day
Another popular question is: do I start with wet rides or dry rides?
It depends on your family's preference and your children's overall schedule!
I'm definitely a planner so I like to have an overall game plan when we go to theme parks. But Sesame place is a lot smaller than your average theme park so I suggest to have an overall plan but also to go with the flow of the day.
Here's what we did and it worked amazingly:
7:45 am: We hit the road and had breakfast on the road on the way to Sesame Place
9:45 am: Got a good parking spot, entered the park waiting for it to open.
10:00 am: Entered the park and put on our bathing suits/sunscreen to hit the waterside first. We had 2 hours of water fun!
12:00 pm: Changed to dry clothes to eat lunch
12:30 pm: Ate lunch
1:00 pm: Went on rides and went to character meet and greets
3:00 pm: Parade (we started waiting for the parade at 2:45 to get a good spot)
3:30 pm: Changed into a fresh bathing suit for some more water fun while the sun was at its hottest (played in the Count's Water House)
5:00 pm: Had a snack and winded down
5:30 pm: Changed to fresh clothes for the trip home. Shopped around the stores
6:00 pm: Exited the park
6:30 pm: Before hitting the road, we stopped at an outside fast food restaurant because it was cheaper to have a meal outside of the park at this time. Outside of the park, there is a Chick-fil-a, Wawa, Burger King, Salad Works, and couple of more eateries.
Sesame Place Tip 8: Plan your day around what you want to accomplish! Check out the guide to see when your favorite characters are out to take pictures and meet the kiddies. There are also some pretty fun shows!
If you have older kids who like the roller coasters, you can hit the big coasters in the morning first to avoid long lines and then hit the popular water rides. I saw a lot of families who stayed in their bathing suit all day and never changed too.
Do what is best for your family!
This post contains affiliate links. Any purchases you make through these links, I will receive a small commission at no extra cost to you! Mastering Mom life is a participant in the Amazon Services LLC Associates Program. As an Amazon Associate I earn from qualifying purchases. Please view Mastering Mom Life's Terms, Disclosure & Disclaimer Policy and Privacy Policy. I wholeheartedly believe in all of the products I recommend and use them all! 
Secure your valuables
Because most of the park is water, you'll have to leave your bags and stroller by the chairs. Don't leave your valuables in your unattended bags!
Sesame Place Tip 9: get a waterproof necklace case.
We purchased this waterproof case necklace and were able to take our phones and credit cards/cash with us at all times. We left our bags and stroller on our chair but it only had our snacks and clothes, nothing super valuable.
You can also rent a locker in the front of the park for $15-$20 but since we were trying to keep this a budget-friendly trip, we opted out of the locker and just bought the waterproof necklaces.
You find the waterproof necklace pouch here for a great price!
BONUS: Don't forget to grab your copy of the Free Sesame Place Packing Checklist so you can be sure to pack everything you need for the day! Click here to get it NOW!
Camera ready
Sesame Place has a photo pass where you can purchase the prints or download of the professional cameras at the character meet and greets but if you aren't keen on spending $20 for a photo print, be sure to snap a picture of your little one with Elmo on your phone.
Sesame Place is a GREAT photo op theme park. Everything is very Instagram worthy! From the cute character shaped bushes to the street signs.
Sesame Place Tip 10: Always make sure to have your camera ready to get that priceless photo of your kiddo in front of the 123 Sesame Street Door!
Stroller or no stroller?
Sesame Place Tip 11: beware of strollers galore.
Sesame Place is about the only place that I ever said to myself "I could have kept the stroller in the car". My daughter is 2 and DID NOT want to be confined to her stroller. She had no problem running from ride to ride and pool and pool. We basically pushed around an empty stroller all day. She didn't want to miss a thing!
We left the stroller in the car for the first half of the day when we were in the water side and then went to the car to get the stroller around 12. (See, parking close came in handy!)
My daughter usually naps from 12-2 but even though she was pooped from the water rides, she was fighting that nap tooth and nail.
She got really exhausted after her second round of water rides and then willingly sat in the stroller and napped. It was only for a half hour but she needed it! So, the stroller definitely came in handy in the late afternoon.
But if you have older kiddo's, maybe they won't need the stroller at all.
There were 3 stores where strollers were prohibited, so you'd have to park it somewhere for most of the day anyway.
You are permitted to bring in stroller wagons! So if your kids prefer to sit and nap in those, go ahead and bring it!
Kiddie approved entertainment
Sesame Place is FILLED with entertainment designed just for kids. It's kind of amazing! Be sure to try to catch the parade (there's usually one in the afternoon and evening), and try to get to a show or meet a character!
If you want to kill 2 birds with one stone, schedule an Elmo character breakfast and then you can eat AND meet Elmo and his friends!
Bonus Sesame Place tips: Know before you go
Here are some more bonus Sesame Place tips and secret hacks…
As of right now (June of 2019) general parking is $23.
The best bathrooms/changing rooms:
Since Sesame Place is little kid central, they have amazing bathroom amenities. Seriously, I was blown away.
Here's my quick list of bathroom details—
The bathrooms next to Snuffy's Sweet Treats have changing rooms (with a bench), changing tables, kid toilets, regular size toilets, and extra-large family bathrooms.
The bathroom's in front of Count's Splash Castle have regular bathrooms, changing rooms, changing tables, and shower stalls.
This is Sesame Place's version of Disney's Fast Pass or Universal's Express Pass. It's a paid feature where you skip to the front of the line. It's about $30 per person for the day.
If you only paid for a day ticket and realized that you want to visit again, don't forget that you can upgrade your park ticket at any time! Just visit the Guest Relations Desk in front of the park.
You will see Coke machines around the park that you can refill your cups with. Sesame Place sells Season long refillable cups and popcorn buckets. We paid $9 for a refillable popcorn bucket and got free popcorn refills all day. The regular popcorn bag costs $4.99 so we got our money's worth after 1 refill!
If you aren't a soda drinker, don't forget to bring refillable water bottles and you can fill up your bottles with free ice water. It'll save you money!
There is a family care station that has anything you need for your children, including nursing stations, bottle warming, and where to go for lost children (yikes!. Be sure to locate it next to Cookie's Café,
As I mentioned, Sesame Place is a dream come true for picture lovers! Be sure to have a portable charger on hand in case your phone runs out of battery. Recording the parade alone brought down my battery 20%!
(Don't forget to read my post about what to bring on your trip to Sesame Place! Find out how to pack the perfect bag!)
Sesame Place has awesome lounge chairs throughout the park. They get taken pretty quick. If you arrive when the park opens, be sure to secure chairs in your favorite location. It'll help to have a relaxing place to kick back when you're tired and want to rest your legs!
Water shoes or sandals are the way to go! Since the whole park is practically water-related, everyone is walking around barefoot, stepping on the scorching pavement or in sandals or water shoes.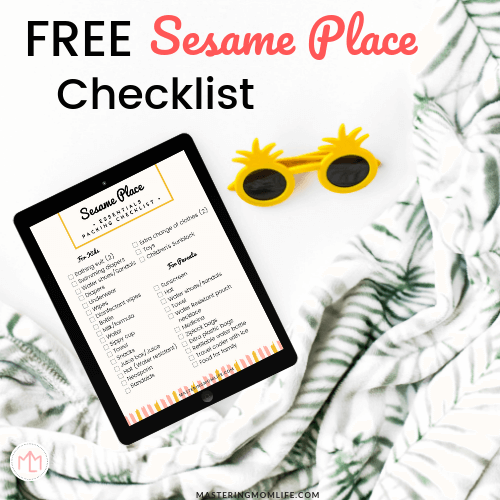 Free Ultimate Sesame Place Packing Checklist!
One of the greatest Sesame Place tips I can tell you is to make sure to pack everything you need! To help you accomplish the perfect park bag, grab your FREE Sesame Place Essentials Packing Checklist! It's a downloadable printable so you can make sure to pack all of the essentials for the day. Don't waste money on items that you could have packed!
Get the free checklist now!

I hope I was able to help you feel prepared for your trip with these Sesame Place tips! Family trips and getaways are so important and finding a family orientated, budget-friendly location is golden.
Now you can visit a great family theme park without wanting to pull your hair out!
Score!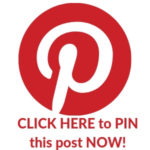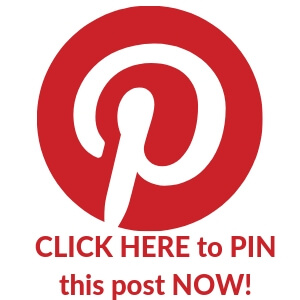 Have any other tips? Feel free to let us know in the comments below!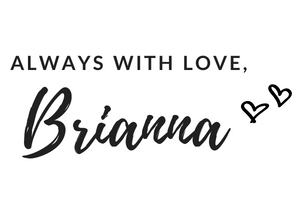 Wait! Do you love free printables?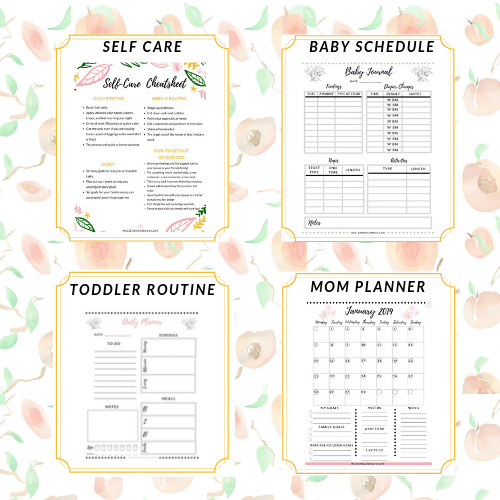 Become part of the Mastering Mom Life Insider tribe and get instant, exclusive access to my Mom Treasury filled with FREE printables + worksheets to make mom life easier!
Check out these posts too!