Are you overwhelmed with juggling your daily #momlife to-do list AND your baby's activities? Grab my FREE Mommy & Me Mini Planner and take control of your day!
Inside: Find out all of the best toddler bath time routine tips to help make baths fun, promote parent/child bonding, toddler independence, and better sleep!
I heard my toddler howling for me from across the house. I walked into her room to find her bare-bottomed with a pile of bath toys in her hand…
Even without telling time, my three-year-old knew it was time for a bath!
Having a consistent toddler bath routine is the perfect way to wind down from the day and can even help your toddler sleep better.
I'll show you how you can begin an easy bath routine with all of the best toddler bath time routine tips to help your little one love baths and end the day with a relaxing, sleep-promoting routine.
We'll talk about:
Step by step bathing tips
How often to bathe your toddler
Bath time must-haves
What happens after bath time
No time to read this now? That's okay! Save it to your favorite Pinterest board for later
Toddler Bath Time Routine
Toddlers love predictability- so they love routines!
A bath routine is a great way to begin your bedtime routine that sends a signal to your little one that it's time to start winding down from the day and almost time for nighttime sleep.
As an Amazon Associate, I earn from qualifying purchases. Please view Mastering Mom Life's Terms, Disclosure & Disclaimer Policy, and Privacy Policy.
How to Bathe Your Toddler
Here's a step by step bath routine for your toddler:
1. Run Water to Fill the Bath
The first step in the toddler bath time routine is to actually start the bath. Fill the bath with warm water until it reaches the height of your child's waistline.
The bathwater should be warm- between 90-100 degrees F.
Be sure to double-check the temperature of the water a couple of times to ensure it didn't get hotter or colder as the water runs. You can dip your elbow into the rising water to feel the temperature your toddler will be feeling.
Remember, fill the tub to about the waistline of your toddler. Too little water will not be enough to wash your little one and too much water is a danger.
Once the water is at a good height, turn off the water. You can also run cold water for the last couple of seconds to prevent your toddler from touching the water spout if it is still too warm.
We use this drain cover to cover the drain stopper so my little ones can't play with the drain or accidentally hurt themselves. We also have a cute ducky spout cover that goes over the bathtub spout so they can't hit their heads on it or play with it.
2. Put Toddler in Bath
As your toddler goes into the bath, double-check the water temperature and the water height/water level.
Depending on your toddler's age, you can put your little one in the bath once the tub is filled and the bath is off or if they are a bit older your toddler can get in the tub as the water is still running.
This is completely up to you as the parent! You know your toddler best 🙂
My daughter is 4 and she likes to stand (& dance!) in the bathroom and get undressed while the bath is filling up and then hop in once the water is at a good temperature and after I am done putting the cover on the water spout.
3. Clean and Scrub
Scrub-a-dub-dub time!
I use soap and water (and sometimes a washcloth) to clean the main areas of my toddler's body:
Arms/arm pits
Legs
Behind ears
Face
Body/torso
Privates
Hands/under nails
Feet/toes/toenails
As she got older, I also use this time to teach her how to clean herself and let her practice. We also sing bath songs to help her remember which areas of her body to clean.
CocoMelon and Mother Gooseclub have fun bath songs you can learn!
Depending on how dirty my little one is determines how I clean my toddler. If we were just in the house all day then I do a quick routine cleaning with soap and water. On the highly likely chance that she got marker or glitter on her body, then I scrub those areas with soap and a washcloth.
If we were outside in the park or in the mixed public, I clean her hair.
I wash my daughter's hair every 3 days if it stays clean. I immediately wash her hair if it is dirty or has something stuck in it (I'm looking at you slime…)
We use this handy bath rinse cup to wash her hair and keep the water from pouring into her eyes.
I'm not a fan of overly washing/scrubbing because their skin can become irritated from having baths every evening. So, if you just want to use water and a small amount of soap, that's perfectly fine.
My daughter struggles with dry skin so we are careful and mindful of her skin during her bath time routine.
I like to clean my toddler as soon as they get into the bath and then leave 5-10 minutes at the end of the bath for playtime. I know some parents who let their kids play first and then clean them right before getting them out of the bath.
It's totally up to you!
---
Realated Reading: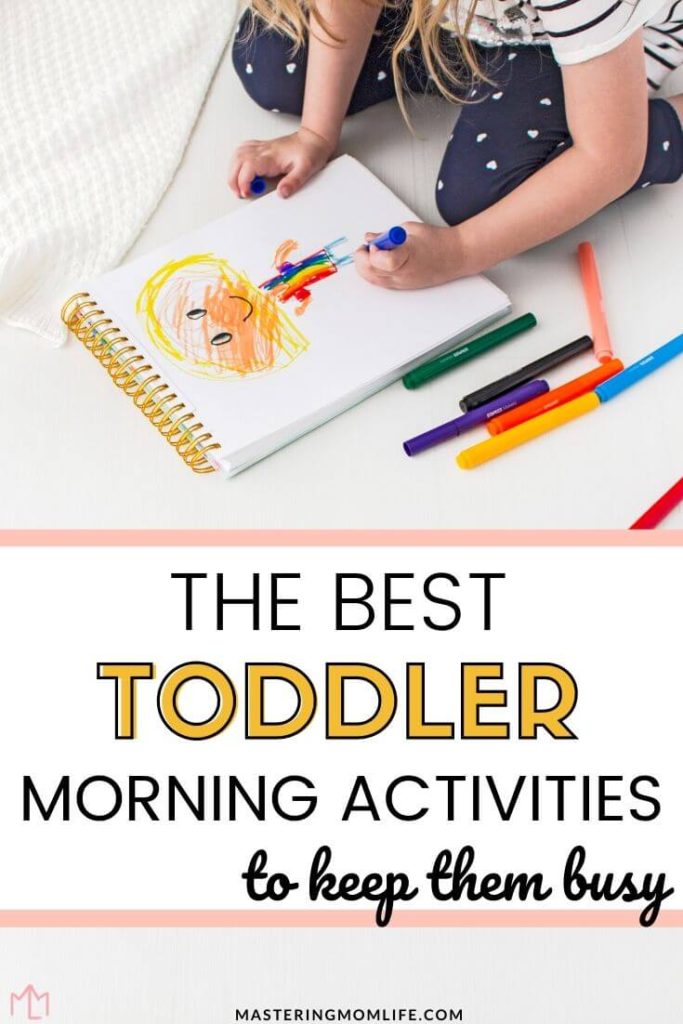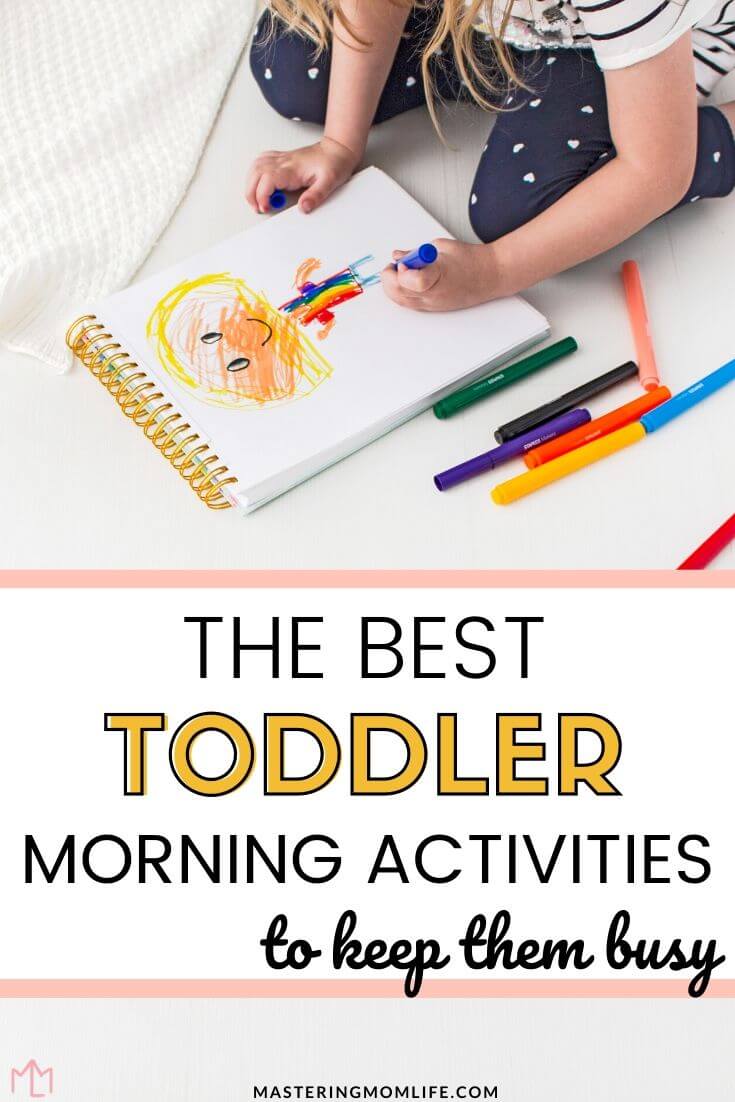 ---
3. Playtime/Parent Bonding
Now to the fun part…
Bath time is a great time to utilize special connective bonding time with your toddler. Use this time to play games, sing songs, or even just talk about something fun.
Here are some fun interactive bath ideas:
Count your toddler's toes and finger (going over numbers 1-10)
Play "mirror" (make a silly face and your toddler copies you)
Sing bath time songs (sing "this is the way we take a bath, take a bath, take a bath" to the tune of "The Wheels on the Bus Go Round")
Teach your toddler different body parts (elbow, eye brows, knuckle, etc)
You can also give your toddler a couple of minutes to play with toys too. My daughter loves her pretending she's deep-sea diving with her bath toys.
Here are some fun toddler bath toys:
4. Done with Bath & Get Dried
When bath time is done, before I take my daughter out of the bathtub, I ask her to clean up her toys. We count the toys and place them in a mesh bath toy organizer bag that suctions to the wall.
After the toys are cleaned, I take her out of the bath and wrap her in a towel. Then I drain the water and remove the water spout cover and place it in the bath toy bag to dry.
It's time to dry off and get dressed.
Be sure to dry all of the cracks and crevices- under the arms, between legs, neck, etc.
You can put lotion or any type of body care on your toddler before getting them dressed.
I put hydrating lotion on my daughter's skin (she struggles with dry skin) and then get her dressed. I like to pick out 2 different pajamas and have her choose which one she wants to wear.
Giving toddlers small options throughout the day helps them feel independent (and can prevent those tantrums!)
You can brush your child's hair or add any other step you need to after getting them dressed.
And bath time is officially over!
Do Toddlers Need a Bath Every Night?
Not every toddler needs a bath every night.
How often you bathe your toddler depends on your toddler's needs and your family's daily routine. I mentioned that I only lightly bathe my daughter if we've just been at home all day.
Some parents don't even bother with a full bath every night and just give their child a wipe down. Whatever works for your family is best!
My kids enjoy bath time as a fun activity so we've made a bath routine a part of our bed routine every night. My daughter will not put her pajamas on without taking a bath haha.
As long as your child is going to bed comfortable and clean, you choose how often your child should take a bath based on their hygiene needs and comfort.
Toddler Bath Time Routine Essentials
Bath time wouldn't be complete without some essentials to help make the bath as effective, efficient, and as fun for your toddler as possible.
(Because no one enjoys a screaming toddler flailing water around hollering to get out…)
Here are some of my favorite toddler bath must-haves:
Healthy & safe soap– I use the

Sensitive Baby Dove soap

for my kids even after they grow out of "babyhood". Try to avoid unnecessary sulfates and chemical ingredients as best as possible.
Thin washcloths– I like to use the

thin cotton wash cloths

because I find they are easier to maneuver when cleaning your toddler and they also clean better and don't develop a weird smell after many uses/washes.
These are my favorite toddler bath "convenient items". I wouldn't have necessarily purchased these items myself (hello stay-at-home mom budget!), but they were gifted to me and now I couldn't imagine bath time without them.
You can totally have a successful bath without these items, but they are just some of my favorite bath items that make mom life so much easier.
What Happens After Bath Time?
Bath time is over, now what?
Bath time is just the first step in my toddler bedtime routine!
I create an easy routine to help your toddler unwind from the day and prepare for bed while promoting connection and better sleep.
A bedtime routine is simply just to send a signal to your child that it's almost time for nighttime sleep.
It's a great way to unwind from the day, connect, and get your child ready for bed. You'll want to send certain "cues" to your toddler that it's nighttime and time for sleep.
Read my step-by-step toddler bedtime routine to help your little one feel as safe, comfortable, and restful as possible while giving them some independence as they continue to grow and develop.
Teaching Your Toddler Privacy
One of the most absolutely essential parenting lessons is teaching your child about privacy. I always use bath time as an opportunity to teach my daughters about privacy.
There are only a handful of people allowed to give my kids a bath (mommy, daddy, and grandma). As my daughters got older, we made sure they knew the 3 people who were allowed to be in the bathroom with them.
It's never too early to introduce your little one to the topic of "privacy". You don't have to introduce medical terms for their anatomy or feel pressured to teach your child something they are too young to understand.
But helping them understand privacy, such as closing the bathroom door when others are around, will create a strong foundation for when those crucial conversations come up in the future.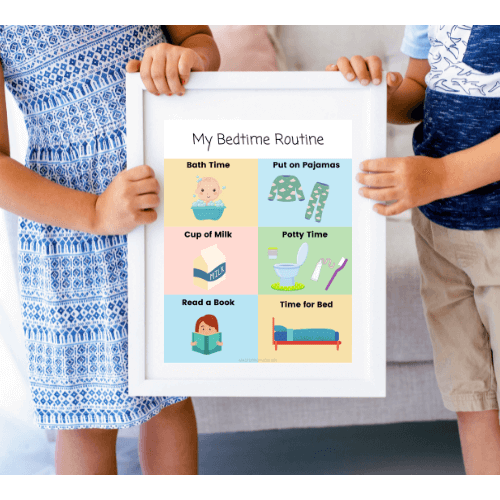 Download the Free Bedtime Routine!
Access and instantly download a printable toddler bedtime routine chart you can hang up and show your toddler so they can follow along with the routine steps and pictures!
Includes:
Bedtime tracker
Printable Pictured Routine for toddlers
Downloadable step by step routine
Complete the form below to get it sent straight to your inbox 🙂
Recap:
Creating an easy bath routine is the perfect way to help your toddler wind down from the day and can even promote better sleep.
In this post, I showed you how you can begin an easy bath routine with all of the best toddler bath time routine tips to help your little one love baths and end the day with a relaxing, sleep-promoting routine.
Remember, YOU know your little one best! Do what works best for your family while meeting your little one where they need you to.
You got this, mama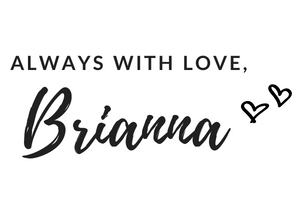 RELATED POSTS: