Inside: Learn how to create a flexible, easy 3 month baby schedule that will encourage healthy growth and development by following your baby's cues.
You've officially hit the 3 month milestone- congratulations!
Your little one is leaving the "squishy, wrinkly newborn" phase and quickly entering the "chubby cheek, I want to smile all the time" baby phase—my favorite one 🙂
The 3 month milestone is a big one, as your baby is beginning to learn different routines and becoming acquainted with the stead patterns of feedings and naps.
Your little "I want to sleep all day newborn" is learning the world more and more each day and going through developmental spurts- which means their habits will start to shift.
Some 3 month old changes include:
Longer wake times
Increased feedings
Different nap lengths
Playtime alertness
Routine awareness
But don't let these changes overwhelm you!
By following your baby's cues I'll teach you how to create a flexible 3 month baby schedule that will healthily encourage your baby's growth & development AND that will help you feel confident caring for your little one.
FREE Instant Download: Easy 3-4 Month Baby Schedule Guide
No time to read this now? That's okay!
Instantly download the FREE 3 Month Baby Schedule Guide to get these sample schedules and golden nuggets of baby schedule tips sent straight to your inbox!
How to Create an Easy 3 Month Baby Schedule
As a new mom, I was super intimidated by the term "baby schedule".
Did that mean if my baby ate 20 minute after her "schedule time" it would ruin the day?
Did I have to follow a schedule down to the very minute?
The thought of a schedule seemed super stressful and I wanted a more laid back, go with the flow approach to parenting… (while still keeping some sort of structure).
Here's the good news- you can create your own baby schedule that is flexible and that works for YOU and your baby.
Some families have other siblings that need to be dropped off at school at 7am, so a 8am baby wake time won't work for them. Some parents need to work at night so a 9pm baby bedtime won't work.
By creating a schedule that is flexible to your family's needs but that is also meeting your baby where he/she is developmentally will help you care for your little one in the best and easiest easy possible.
Here are the 3 components of a baby schedule you absolutely need:
3 Steps to Create Your Own Baby Schedule
1. Track your baby's daily actions and mood for 3 days.
Set aside 3 days to track your baby's actions. When does he eat? When does she start getting tired? How long does he sleep? How long does she play?
By tracking these actions for 3 days you'll be able to see an overall routine that your baby is doing.
2. Use that pattern to create a schedule
Babies naturally fall into a routine (just like adults!). We eat, sleep, and live our daily life within the same structure from day to day.
By seeing their sleep, wake, and eat patterns, you can create a schedule that will help them limit their fussy times.
By using this method, you're not forcing your child on a schedule that doesn't work for them. You're leaning into the turn of their natural body clock.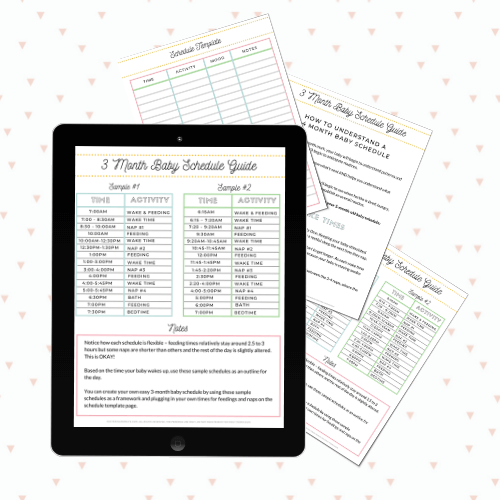 Use this FREE Baby Daily Tracker to help you complete these steps stress-free. Track your child's naps, feedings, moods, and activities all in one place. Then you can easily start to see their routine so you can know without a doubt their golden wake window 🙂
Get the FREE Tracker in the 3 Month Baby Schedule Guide now!
Sample Easy 3 Month Baby Schedule: Overall Daily Schedule
Example 1
7:00am Wake & Feeding
7:00am – 8:30 Wake Time
8:30 – 10:00am Nap #1
10:00am Feeding
10:00am-12:30pm Wake Time
12:30pm-1:30pm Nap #2
1:00pm Feeding
1:00-3:00 Wake Time
12:30pm-1:30pm Nap #2
3:00-4:00pm Nap #3
4:00-5:45 Wake Time
4:00pm Feeding
5:00-5:45 Nap #4
6:30 Bath
7:00pm Feeding
7:30 Bedtime
Example 2
6:15am Wake & Feeding
6:15am – 7:20 Wake Time
7:20 – 9:20am Nap #1
9:30am Feeding
9:20am-10:45am Wake Time
10:45pm-11:45pm Nap #2
12:00pm Feeding
11:45-1:45pm Wake Time
1:45-2:20pm Nap #3
2:20-4:00 Wake Time
2:30pm Feeding
4:00-5:00 Nap #4
5:00-6:30pm Wake Time
5:00 Feeding
6:00 Bath
6:30pm Feeding
7:00 Bedtime
(Notice how each schedule is flexible – feeding times relatively stay around 2.5 to 3 hours but some naps are shorter than others and the rest of the day is slightly altered. This is OKAY!)
Based on the time your baby wakes up, use my personal sample schedules (the ones above!) as an outline for the day.
You can create your own easy 3 month baby schedule by using these sample schedule as a framework and plugging in your own times for feedings and naps.
Download the FREE Easy 3-4 Month Baby Schedule Guide to:
instantly download these sample schedules
AND receive a blank schedule template for you to create your own baby schedule
How to understand a 3 month baby schedule
Beginning at the 3-4 month mark, your baby will begin to understand patterns and habits- in a nutshell, they'll begin to anticipate routines.
Routines help let your baby know what's next AND helps you understand what your baby needs next.
When you follow your baby's cues you'll begin to see when he/she is tired, hungry, playful, etc. Then you use these cues to establish an overall routine.
---
RELATED READING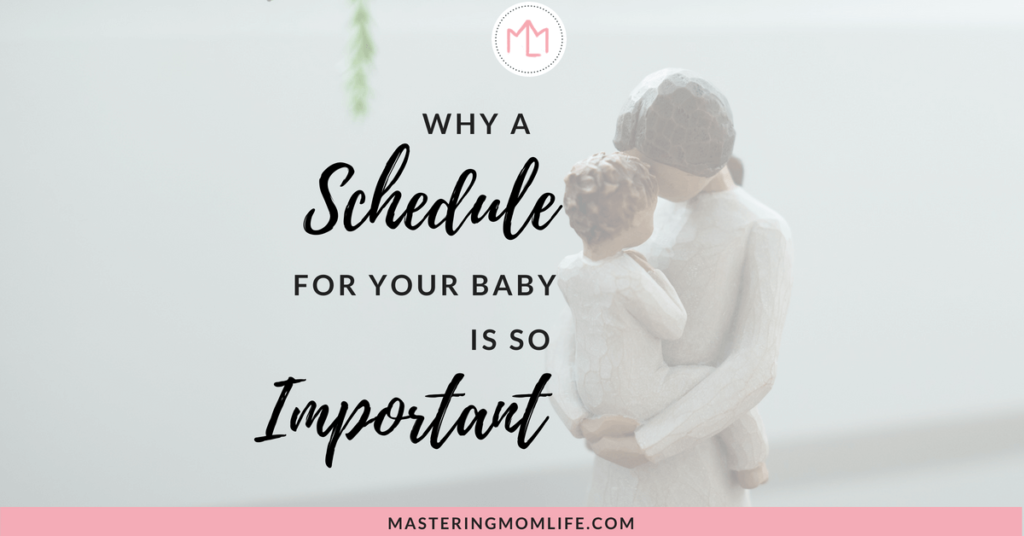 ---
Here are the 4 main factors to understand in your 3 month old baby schedule:
1. Longer Wake Times
Wake time consists of a feeding and activity time. Keeping your baby stimulated during this time can help ensure they have a restful sleep the next time they nap.
As your baby grows, her/his wake time will start to get longer. As each wake time gets longer, naps will eventually be dropped because your baby is staying awake for a longer period between each nap.
During the 3-4 month phase, your baby will be in between the 3-4 naps, where the 4th nap gets dropped around 5-6 months.
2. Increased Feedings
Around this time is where babies usually begin to increase the amount they are eating each feeding. Accomplishing a full feeding is not only important for your baby's growth but can also help your baby achieve better sleep.
Read this article here all about how to accomplish full feeding and create an easy full feeding schedule that follows your baby's hunger cues!
3. Different Nap Lengths
It's important to offer your baby a nap 60-90 minutes from the last time they woke from their prior nap.
Between 3-4 months, some babies can even begin to reach 90-120 minute wake windows.
That's why it's important to know your baby's sleep cues. By catching your baby before they reach the "full-on baby down" tired stage, you can prevent your little one from getting overtired and disoriented, which hinders naps.
Some tired baby cues are:
Staring off into space
Rubbing eyes
Yawning
Red eyebrows
4. Playtime Alertness
At this stage, your baby is becoming more aware of his surroundings. Your baby isn't too small to play!
Use wake time to play:
In front of the mirror
With finger puppets
Splash toes in water
If you're struggling with what to do when your baby is awake, check out my Tiny One's Boredom Buster Activity Toolkit.
It's filled with activity guides for babies 3 months to 3 years old- so this guide can GROW with your little one!
I created it to help parents plan easy, cheap, educational activities that promote developmental growth and independent play as well as parent bonding.
Learn more about the Boredom Buster Activity Toolkit HERE!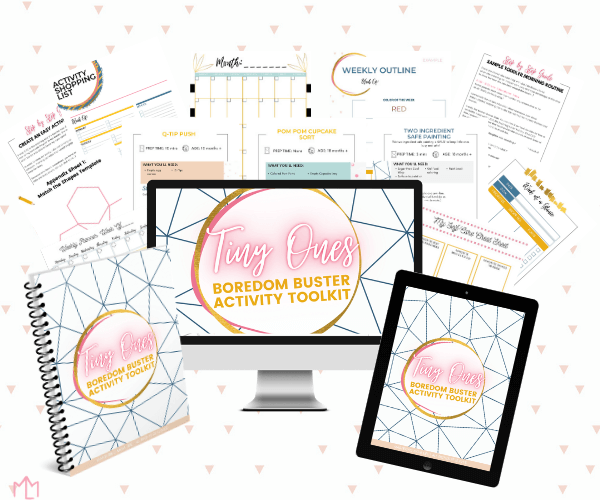 FAQ's
What is a sample 3 Month Old Bottle Schedule?
At this age, your baby should be eating every 2.5 to 3 hours.
If you are struggling with feedings, be sure to talk to your child's pediatrician about any concerns that you have (such as the baby not going longer than 2 hours between feedings)
Sometimes feedings can take longer than others so don't worry too much about how long it takes for your baby to eat at this age. Your baby is still learning!
My first child drank her bottle within 30 minutes. My second took about an hour nursing every feeding.
Just be sure to watch your child's wake window and offer a nap every 60-90 minutes to prevent your baby from getting overtired and cranky.
(The key is to make sure your baby is accomplishing full feedings. Read all about how to make sure your baby is feeding to get full here!)
---
RELATED READING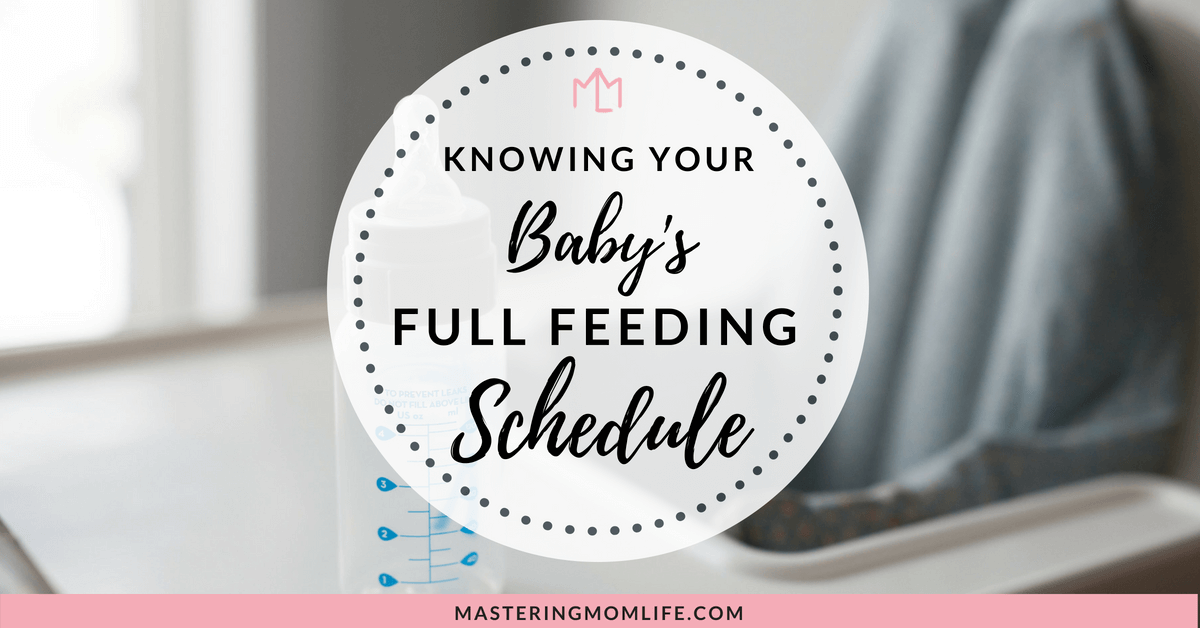 ---
Here is a sample 3 month old feeding schedule:
7:00am- 4-5 oz
10:00am- 4 oz
12:30pm-4-5 oz
3:00pm- 4 oz
6:00pm- 4 oz
8:30- 5 oz
(dream feed if needed at 10:00)
*Then you feed your baby as needed if they wake for night feedings
(Notice how some feedings were 3 hours between and some were 2.5 hours between. Count the next 3 hour window from when your child begins eating the last feeding)
At this age my children were beginning to go from 9:00pm to 5:00am without a feeding but every child is different so be sure to meet your baby where he/she is!
Should I Follow "Eat, Wake, Sleep"?
In my personal experience of parenthood, my children never truly followed an eat, wake, sleep schedule.
As long as you are following your own daily routine of feedings, naps and wake time your child should be falling into their own groove of a natural "eat, wake, sleep" cycle.
Let me explain…
Let's say you fed your child at 10:00am and then put him down for a nap at 11:00am. He slept for 50 minutes. Now it's 11:50am and you know your baby won't start to show hunger cues until about 12:45ish. You have a whole hour of wake time with your baby BEFORE they are eating. Which mean that when they eat, they're wake window will be ending and they will go to sleep right after eating.
In this scenario, you followed a "sleep, *wake*, eat" cycle.
For the rest of the day your schedule might look like a "eat, sleep, wake" cycle.
And that's okay!
As your baby continues to grow there won't be a strict schedule that you need to follow. So don't worry yourself too much about following schedules like this just yet.
For a 3 month old, as long as you are following an overall healthy routine of feedings every 3 hours and naps every 60-90 minutes, your child will fall into a schedule naturally.
Don't Forget- Download the FREE 3-4 Month Baby Schedule Guide!
Get instant access to the FREE Easy 3-4 Month Baby Schedule Guide.
Instantly download this 6 page guide that includes:
these sample 3 month schedules
a baby tracker to help you track your baby's activtyes and cues
a schedule template to help you create your own flexible baby schdudle
Get the FREE GUIDE HERE!
Recap:
As you enter the 3-4 month stage of your little one's sweet life, don't fret about all of the changes going on.
By using these simple foundations in your baby's schedule, you will be more prepared for all of the developmental milestones your baby is reaching.
Remember, by following your baby's cues you can create a flexible 3 month baby schedule that will healthily encourage your baby's growth & development AND that will help you feel confident caring for your little one.
Be sure to take one day at a time and know that you're doing a great job!
…Excuse me while I run and hide away from the 4 month sleep regression….
You got this mama!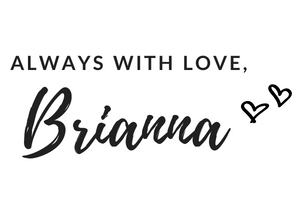 Check Out These Other Posts About Baby Schedules!