Inside: Find out the ultimate easy newborn baby tips and tricks to help you not just survive but thrive the first month home with your baby!
Honesty time– life with a newborn can you leave you whiplashed missing your old life.
Why? Because the newborn phase is HARD.
The nights are long, the feedings are endless, the sleep deprivation is R.E.A.L.
But there's nothing greater than snuggling up with your newborn and feeling her small chest breathe in and out on yours.
It makes it all worth it.
But how can you make those first weeks with your newborn not only survivable but easy??
I'll share with you the 14 best easy newborn baby tips and tricks to help you survive and thrive the first month at home with your baby so you feel confident and in control- NOT panicked and overwhelmed!
With these tips, you'll streamline right through "the difficult newborn stage" so you can just enjoy the cuddles.
Let's get down to it!
No time to read this article now? That's ok! Save it to your favorite Pinterest board to read later!
14 Easy Newborn Baby Tips & Tricks to Master the First Month With Your Baby
These tips truly saved my sanity the first month at home with each of my girls. I've learned A LOT from trial and error (and huge diaper explosions!) so be sure to follow these tips to avoid my downfalls 🙂
As an Amazon Associate I earn from qualifying purchases. Please view Mastering Mom Life's Terms, Disclosure & Disclaimer Policy and Privacy Policy. I wholeheartedly believe in all of the products I recommend and use them all!
Organizational Easy Newborn Tips
1. Make a Diaper Caddy/Basket
There's nothing worse than your baby's bare bottom being out and your digging your hand under the changing table trying to find a diaper only to pull out a pair of pants.
#nothelpful
Having a dedicated diaper basket truly streamlined our diaper changing routine.
Inside of our diaper caddy is:
Diapers
Diaper cream (this one is the BEST and my daughters never experienced a rash)
Wipes
Nail clippers
Burp cloths
Extra change of clothes
(We sometimes take this caddie from room to room in the house so having these extra items helps me not have to run around like a chicken with no head in the middle of a poop explosion emergency)
2. Organize Clothes Near Changing Table
One of the best easy newborn tips to have your baby's clothes organized in an easily accessible way. This means if you have to blindly reach in the drawer or cabinet in the middle of the night for something, you know exactly where it is.
Organize your baby's clothes by category and then by size.
I have a pile of:
short sleeve onesies
long sleeve onesies
footies
pants
Then I have a bakset for each of the following:
bibs/burp cloths
swaddles
extra sheets
socks/hats
3. Nursing Basket and Pumping Station/Caddy
If you're nursing or pumping (or both!) it's important to stay organized too. Not only for your own sanity but to help make feedings go as smooth as possible.
You can set up a basket that you take around the house with you so whenever you nurse/pump you always have everything you need at your fingertips.
Inside my nursing basket:
Burp cloths
Nipple cream
Water bottle
Travel pillow
In my Pumping Basket:
Nipple cream
Pump parts
Breast pads
Wipes
Pumping bra
4. Cut tags on New clothes
No one likes a tag scratching down on the back of your neck! Same for babies, we want to make them as comfortable as possible. Little things like itchy tags and uncomfortable clothing can really irritate a baby and make them super fussy.
When you receive a new item of baby clothing, wash it, cut the price tags, and then cut the inside tags on the seams.
Be sure to remove all of the little plastic things where the price tags were too!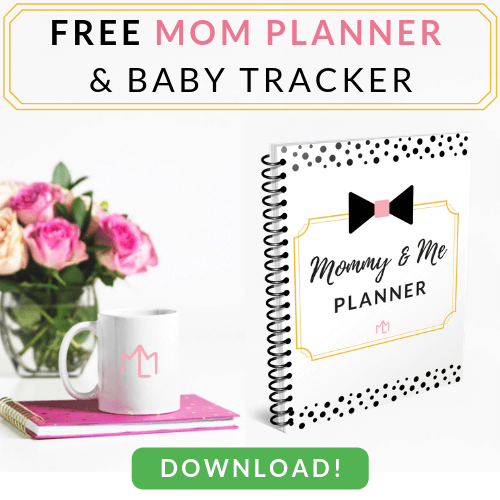 5. Keep your Diaper bag ready
The next newborn tip is to have a plan of action for your diaper bag. I personally always have my diaper bag packed and ready so when it's time to leave I'm not wasting precious time trying to stuff 10 diapers in there.
When we come home from an outing, I'll clean out the bag and get it ready for the next time we'll need to use it.
That way, it's always ready and it's one less thing you have to worry about when trying to run out of the house.
Of course, there are always a couple of things you need to add to it before you leave, like water or milk, but that'll be easy to remember because everything else is already packed!
Read this post to learn all about how to pack the perfect lightweight diaper bag so you never forget anything but you're also not carrying around the kitchen sink!
6. Place a Pacifier in every room
If you're baby takes a pacifier, this newborn tip will save your sanity.
All you have to do is put a pacifier in every room of the house where you know you will be with your baby at some point in the day.
My baby uses the Soothie pacifier (which are super inexpensive!)
So in the living room, we have a green pacifier, in my bedroom is a purple one, and in her room is a pink one.
We leave each pacifier in the room they belong instead of taking it with us to the next room in the house when we walk around with her.
Also make sure to have one in your car seat and diaper bag!
We use the pacifier clips and clip one in the car seat and one in the pocket of her diaper bag.
I also make sure to have a burp cloth in every room of the house as well. Sometimes I even walk around the house with the burp cloth/receiving blanket on my shoulder for quick & easy spit up clean up.
I use these burp cloths and they are absolutely a lifesaver! They are just big enough to drape over my shoulder but small enough not to feel like you're holding a blanket around.
7. Track your baby's day
I love this newborn tip because it's super simple but crazy effective.
All you have to do is track your little one's activities throughout the day. Write down their naps, feedings and awake times.
This will help you not only track your baby's growth but it will also help you see their overall routine, which can help you anticipate their needs!
Baby's automatically fall into a routine- when they eat, sleep, and are awake.
Tracking your baby's day will help you see this pattern and by following your baby's natural routine, you can get to know their cues.
That means when your baby cries, you'll immediately know if it's hunger, overtiredness, general fussiness, or even a diaper change.
Tracking your baby's day helps you get to know your baby better!
I created a FREE Baby Schedule Collection to help you easily track your baby's day without headache. You can instantly download the Baby Schedule Collection which includes a Baby Tracker, Daily Schedule, and Weekly Feeding Tracker.
Download it below!
8. Clean bottles after use
I know this newborn baby tip can seem a little overwhelming but hear me out…
If you clean your baby's bottle after every use then when it's time for your little one to eat, you'll never have to worry about your kitchen sink overflowing with dirty bottles and stuck washing them while your baby is screaming for more milk.
(Trust me, I speak out of very unfortunate experiences here…)
So just do future self a favor and clean the bottle after each use (if you can!). You'll thank yourself later.
Easy Newborn Baby Tips for Better Sleep
9. Utilize the Swaddle
The swaddle was my gift from heaven-seriously. My first daughter loved the swaddle. My second fought it a bit but really fell in love with it after a few days.
I swaddled my baby for every nap where she slept in her crib and after every nighttime feeding for bedtime sleep.
It's best to use an actual swaddle with Velcro or a zipper and not just the swaddle blankets because your baby's hand can easily escape those.
I love the Swaddle Me swaddles. They are affordable, the velcro lasts for a long time, and they are comfortable for little ones
10. Use a Sound machine
Ever wondered what you can do to help your baby sleep better?
2 words- sound machine.
Having a sound machine was literally one of the best things I did to improve my baby's sleep. And not just nighttime sleep- naps too!
All you have to do is put on a sound machine in the room your baby is sleeping and this will help your little one fall asleep.
Did you know it sounds like a mini vacuum cleaner inside of the womb?
Your baby is used to a melodic sound like this and it lulls them right to sleep!
I have used 2 different sound machines:
a simple one that had 8 different sounds,
and the Hatch that is a sound machine & night light combo (put this one on my Amazon registry after researching it and after receiving it, I love it!)
Both have worked effectively so go according to your budget!
Easy Newborn Baby Tips for Baby's Comfort
11. Pull onesie down instead of over head
Every wonder what those little flaps on the top of your baby's onesie if for? It's so you can pull it down their body!
This is especially helpful when you have a diaper blow out and can't lift the onesie over your baby's head.
12. Put baby's Towel in the dryer
Giving your baby a bath can be very nerve-wracking, for you and for baby! Your baby doesn't quite understand the concept of a bath yet so it's best to make sure they feel as comfortable as possible!
This newborn tip is easy- simply throw your baby's towel in the dryer while your baby is in the bath so when you're done, the towel is nice and warm for your baby's cold skin.
13. Flip out the Diaper ruffles
There's nothing worse than hearing your little one go "number 2" and then watch as the poopy climbs up their back and down their leg. Talk about throwing their clothes into an incinerator.
If you want to avoid stinky diaper blow out, this newborn tip is awesome!
After ever diaper change, make sure to flip out the little ruffles that are around their leg.
This will help keep whatever's in their diaper actually IN their diaper.
14. Use Diaper Cream in baby's rolls to prevent chaffing
Baby's are soooo cute and fat but those rolls can sometimes be a little problematic. If not cared for properly, they can begin to chaff (and get smelly too).
I use this CeraVe Healing Ointment for Babies in all of my daughter's rolls, cracks, and crevices and it REALLY helps her stay cool and comfortable.
I also use this cream after every diaper change and none of my babies have ever had any diaper rash. It's seriously the best diaper cream.
I swear this stuff is a miracle! I even use it when I'm itchy or irritated.
Easy Baby Activities
One of the questions I hear the most is…
"What do I do with my baby all day?"
Trust me, I hear ya! Sometimes it seems like all your baby does is eat, sleep, and run through diapers faster than a coyote.
But keeping your baby stimulated during his/her awake time is great for better naps and overall better sleep.
If you're wondering what activities you can actually do with your newborn, be sure to check out my Tiny One's Boredom Buster Activity Toolkit!
This activity toolkit is jampacked with over 30 activities for newborn babies all the way to toddlers. So as your baby grows, you'll already have all the activities you need to keep your little one stimulated and reaching new milestones.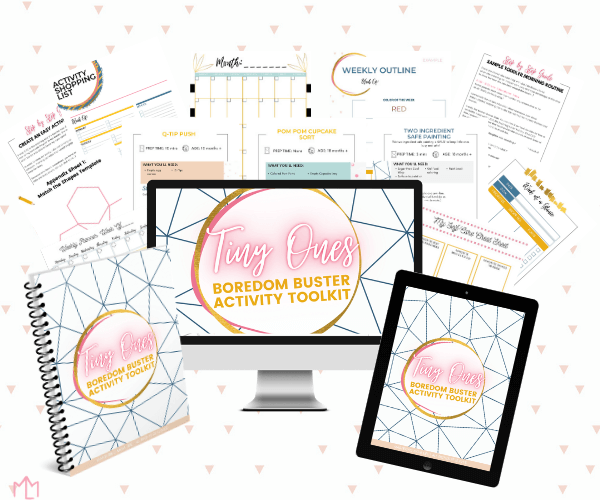 Each activity in the guide is fun, low prep, and affordable- designed to help promote milestone development, promote parent/child bonding, and even help your baby to learn how to play independently.
The Activity Toolkit also comes with a step by step guide showing you how to create an easy activity play routine for your baby plus 15 different resources and templates to help you plan a week of activities in under 5 minutes.
Learn more about the Tiny One's Boredom Buster Activity Toolkit HERE!
Well there you have it!
I hope you enjoyed all of these easy newborn tips to help make those newborn days easier and simplify mom life.
Do you have any easy newborn tips that make your life easier? Share them below in the comments!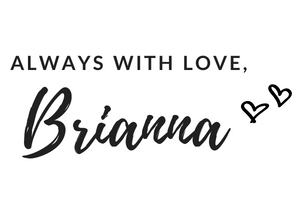 Wait! Do you love free printables??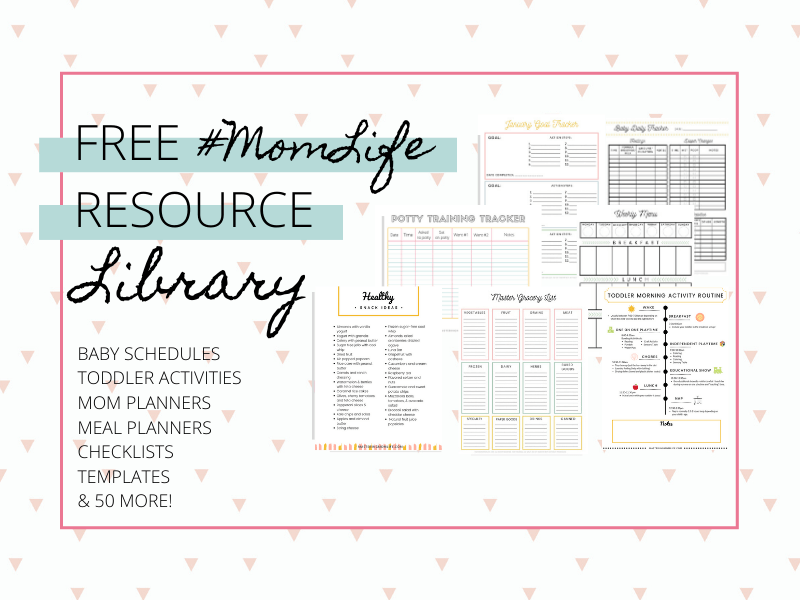 Become part of the Mastering Mom Life Insider tribe and get instant, exclusive access to my Mom Treasury filled with FREE printables + worksheets to make mom life easier!