Magic Kingdom has to be my favorite place in the world! I was so excited to take my daughter to Disney World for her first birthday and I knew I wanted our first park day to be at Magic Kingdom. Here's an overview of our day at Magic Kingdom with our one year old little princess.
Taking your baby to Disney World isn't "easy" but with the proper mindset and some planning ahead, it can definitely be stress-free and FUN!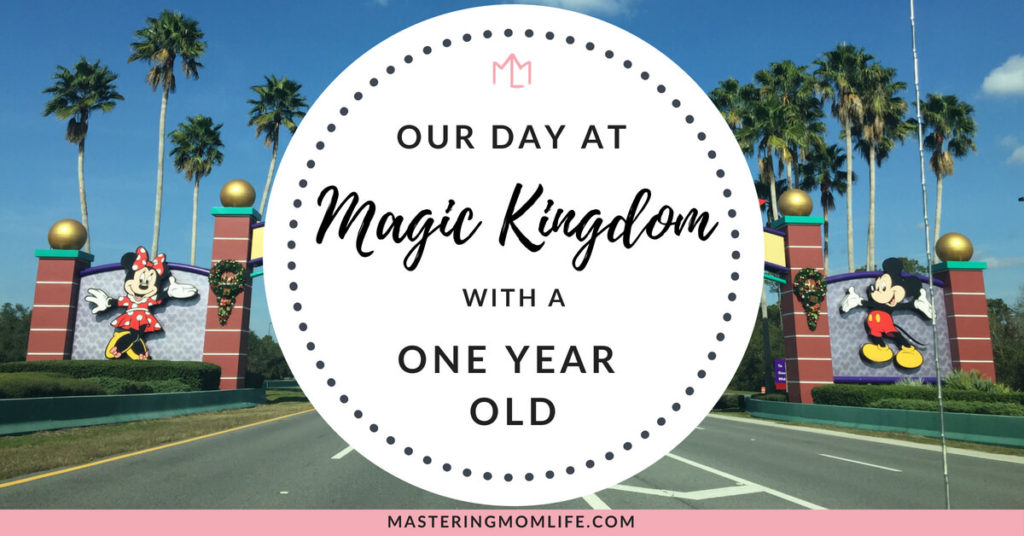 I have to admit, I was nervous about how she would be with the crowds, heat, and being out all day. Disney World can be exhausting- I mean, it's just a realistic fact. But I tried to plan enough to have "plan" for our day but not over plan that we wouldn't be able to be flexible with our time. We were able to enjoy our day at Magic Kingdom with these awesome tips- you can read my post here about "Tips for Taking Your One Year Old to Disney"!
Still trying to figure out what you need to pack for your baby to go to Disney World? I got you! I'm all about taking the stress out of your vacation and making it as stress-free as possible. So I created an ultimate Disney Infant Packing Checklist. With this packing list, I was able to pack everything Baby L needed and didn't need to spend money buying things that I forgot to pack. This list was a lifesaver- and a sanity saver! Be sure to download my super awesome Disney Infant Packing Checklist!
I went hunting the internet and Pinterest for what a day in Magic Kingdom or any Disney park really looked like with an infant. I just wanted to know what people did, how they managed to get naps into the day, and how their baby responded to the people and heat. I found some helpful blog posts but none that were detailed. So, I decided to make this post for those who are in need of what I was looking for!
My daughter is on a pretty strict schedule- not because I force her to be, but because she naturally got into a rhythm with a schedule for when she eats and naps. I was a little worried that she would be fussy because she was off of her schedule for the week we were on vacation. But I was able to keep her somewhat on her schedule enough for her to be a happy baby! If you're curious about what our day looked like with our birthday girl then this post is for you. I hope it can give you some sort of rough example of what you can do with your little one. (I include all of my roadblocks too so you can learn from my mistakes!)
Our Day at Magic Kingdom:
7:45 am
Baby L Woke:
Our sweet baby woke up at 7:45 am and I fed her the morning bottle and got her dressed for the day. We didn't have to waste too much time getting ready for the day because I packed all of her stuff in the diaper bag the night before to save time in our morning.
8:15 am
Breakfast at Resort:
We love Disney resort breakfast and at our resort, All-Star Movies, they had Mickey waffles! Baby L had some waffles, scrambled eggs, and breakfast potatoes. She was nice and full to start our busy day. My parents were with us on this trip but they were staying at All-Star Music, which was just a walk away from us. So they met us for breakfast here.
8:50 am
Bus (Disney Transportation):
We got on the Magic Kingdom bus at the resort and we were off to begin our day at Magic Kingdom!
9:20 am
Arrive at Magic Kingdom:
Magic Kingdom opened at 9 am so we arrived 20 minutes past. The crowds were not bad at all and we went through the security line fairly quickly. They check the entire diaper bag and all of its pockets.
Pro Tip: Open all the zippers and take out the top contents of your diaper bag so they can see what is inside of the bag quickly. You will zoom through security by being prepared!
10:00 am
Rides:
When we arrived, we took our time strolling down Main Street and taking pictures in front of the castle. We had family matching t-shirts so I wanted to make sure to get a ton of pictures! Then we headed over to Dumbo for Baby L's first ride! There was hardly anyone in the parks so we were able to get on in 10 minutes and then we went on The Little Mermaid Under the Sea Voyage. All of the rides were 10-20 minute wait time so we took advantage and went on as many rides as we could. I had to figure out how the stroller parking worked but everyone was really friendly in pointing the direction of the stroller parking for each ride.
10:30-11:30 am
Nap in Stroller:
Baby L was getting a little fussy and I knew it was almost time for her nap. After we rode The Little Mermaid I reclined her stroller and put the sun visor as far down as I could and just walked in and out of stores while she fell asleep. She was sleeping within 10 minutes and it was a victory! She slept for a full hour while we browsed through stores and did some souvenir shopping.
Pro Tip: If you are staying at a Disney Onsite resort you can purchase merchandise and then have it sent back to your room! No more carrying around bags!
11:30 am
Be Our Guest Restaurant:
We found last minute reservations to Be Our Guest for lunch- SCORE! The cast members were so nice and saw that it was Baby L's first birthday so they gave her an autographed card signed by Princess Belle and the Beast and a little birthday cupcake! Baby L ate macaroni and cheese and potato/leek soup.
12:30 pm
Rides:
We had Fast Passes for Seven Dwarfs Mine Train Ride, Peter Pan's Flight, and Winnie the Pooh. We ride swapped for the Mine Train Ride with my husband, me, and my parents but Baby L was able to do everything else with us. She loved the Winnie the Pooh ride and laughed the whole ride of Peter Pan.
2:30 pm
Ate at Sleepy Hollow:
Our vacation was at the start of Florida's wet season so there was a good 30 minutes of heavy rain. Thankfully, we were already near Liberty Square to eat at Sleepy Hollow and got a table under the canopy so we didn't get wet. I absolutely LOVE the sweet and spicy chicken and waffle sandwich! My husband also ate a funnel cake with strawberries. Baby L was pretty wiped out so we reclined her stroller again and started rocking her and she went straight to sleep. She got a good little nap in while we ate.
3:00 pm
More Rides and Snacks:
After the rain let up, the sun came out shining. We used all of our 3 Fast Passes so I was able to get another Fast Pass and we went on Pirates of the Caribbean. Then we had our traditional Dole Whip and watched the camel in Adventure land "spit" water on the playing children.
4:00 pm
Play Time in Circus:
It was super hot outside and very humid so we decided to take Baby L to the circus playground and let her play in the sprinklers. Right next to the playground is the Big Top Circus Store that has an awesome bakery inside so we sat and outside and had a caramel nut apple and Mickey cake pop.
5:00 pm
Strolled Around Stores:
Magic Kingdom has A LOT of little shops and stores to go in! We just strolled around and took pictures, made sure we visited each land and tried to browse in as many stores as we could. Baby L was so good! She would point at characters, laugh with others babies and loved being center of attention. We took this time to go back into stores where we saw things we wanted to buy and also picked up snacks from the Main Street Confectionary that we wanted to take back home with us.
We gave Baby L her bottle and fed her some yogurt and string cheese while we stopped to eat some goodies so we could keep on track with her normal schedule (because she normally eats at 5:30). I made the mistake of not completely sitting down to feed her because she was really cranky after this. I knew that she normally really enjoys a full dinner at this time and we just really weren't in a place where we could sit down again and feed her a hot meal. She usually does well with a bottle and yogurt or a sweet potato pouch but she really did not want that this time. I think she was just tired from being out all day and felt uncomfortably hot and all of those factors led us to make the decision to head back to the resort.
6:30 pm
Left the Park:
We REALLY wanted to stay to watch the Fireworks and Happily Ever After show but Baby L was getting cranky and I didn't want to push her to be out for too long. Especially because we had an early morning the next day and we were planning to park hop as well. I learned from her last feeding that she needed to be able to eat a full meal that she is used to for all 3 meals even if she doesn't seem like she wants to eat.
7:00 pm
At Resort:
We arrived back at the resort about 30 minutes after we left the park. The All-Star Movies bus came fairly quickly and we were able to get seats. Baby L was worn out by this point and just wanted to rest. We got back to the resort and I got her some fresh fruit so she could eat while we prepare for the next day and get all cleaned up. She ran right to her pack and play and started to play with her toys and read her books. I think she just wanted to be able to get out of the stroller and have some downtime to play with toys.
8:00 pm
Bedtime:
We gave Baby L a nice bath, fed her the last milk bottle, turned off the lights, put her sound machine on and she went straight to sleep!
8:30 pm
Prep for next day:
Baby L was fast asleep and we were able to turn a little lamp on to be able to pack for the next day to go to Epcot and Animal Kingdom. We got our clothes out, packed fresh items in the diaper bag, restocked on diapers and wipes, prepped her next bottles and we were down for the night. It was awfully early for us to go to sleep, especially because we were on vacation but I was so exhausted and my husband was tired that we just watched some tv and fell right to sleep. We got a great night's rest for the next long day.
So that was our day at Magic Kingdom! We had a blast, got to do everything we set out to do, was able to accomplish more than we thought and had no huge meltdowns. I was able to keep Baby L on her schedule (for the most part) and she was a happy camper. Going to Magic Kingdom with a baby was MUCH different than when I and my husband used to go alone. But we were able to take our little girl to Disney and that's all that mattered to us. Now we have the pictures to always look back on. I don't regret one second of it!
Don't forget to download your copy of my Disney Infant Packing Checklist! You won't want to arrive to your vacation and realize that you forgot to pack important items so be sure to get the checklist below! Instead of stressing about making sure you have the right items, just download the packing checklist and you'll be good to go!
Get Your Free Disney Infant Packing Checklist Now!
I hope I was able to help you prepare for your trip to Disney World! Have a greaaatttttt vacation!!