Inside: Does your body feel so foreign after giving birth? Find out the ways different your postpartum body changes so you can bounce back easily!
I was not prepared for my postpartum body. It hurt to sit, hurt to stand, hurt to cough, hurt to pee. Having a baby is no joke. And let's be honest, the aftermath of having a baby can be equally challenging!
But you overcome the postpartum body changes with knowing how to prepare for them and what you can do to help you heal quicker.
Today I want to talk to you about the 5 things that shocked me about my postpartum body AND how to cope with them. These are the things that I was utterly unprepared for and was like a fish out of water trying to figure out how to survive.
But knowing the different postpartum body changes, how to cope with the challenges, and how to heal faster will help you bounce back to your normal self in no time!
A lot of these things are the things that NO ONE TOLD ME ABOUT.
Granted they are unpleasant topics that don't come up in normal conversation, but I still wanted to give you a chance to be more prepared than I was!
Want a checklist of postpartum essentials? Check out my ultimate Postpartum Essentials checklist so you can be prepared and heal faster!
Let's get down to it!
5 Shocking Things Postpartum Body Changes and how to cope!
This post contains affiliate links. Mastering Mom life is a participant in the Amazon Services LLC Associates Program. As an Amazon Associate I earn from qualifying purchases. Please view Mastering Mom Life's Terms, Disclosure & Disclaimer Policy and Privacy Policy. I wholeheartedly believe in all of the products I recommend and use them all! 
1. Hemorrhoids
Man oh man, I was NOT prepared for hemorrhoids. I had them during pregnancy but after pushing a 9-pound baby out for over an hour they really intensified.
And my postpartum body with plagued with the horror of hemorrhoids. And it was one of my most shocking postpartum body changes!
I never hear of anyone talking about hemorrhoids. I feel like it's one of those "ugly truth" topics in life that everyone seems to ignore.
Here are the 2 ways to battle hemorrhoids:
First, Prevention:
One of the greatest ways to fight hemorrhoids is PREVENTION!
If you only have a tiny hemorrhoid and you don't want it to get worse, or if you don't have hemorrhoids and want to keep it that way, this is what you do:
Keep your bottom moisturized–
I know this sounds really silly but one of the things that helped me prevent hemorrhoids in the early stages was keeping my bottom slathered in cream. You basically don't want your booty to get to the point where I can become red and inflamed.
This cream is awesome! I have it on my monthly automatic order because I use it and love it so much!
Take stool softener–
Another way to prevent hemorrhoids is to make your stool soft. (I know, I told you this wasn't going to be a "pretty" conversation! But I promise it will be worth it!)
You can use Colace.
Go when You have to-
Another tip is to go when you have to go. As soon as you feel the sensation to use the bathroom, do it. When you hold it in it becomes hard and backed up and can cause hemorrhoids.
Second, Proper Care:
But if you are one of those poor souls that are a victim of hemorrhoids (like I was!), then this is how you can combat the pain and discomfort:
Donut Pillow
Instead of putting pressure on your bottom when you sit, a donut pillow helps you to sit without "sitting on your bottom". This will relieve all of that awful pressure that you feel when you sit down. You can use this donut seat cushion pillow for any type of surface- chairs, cars, work, cough, anywhere!
Extra Strength Pain Killers
This may be obvious, but when you are in that much pain over hemorrhoids (and it CAN be really, really painful.)
Baths
Baths are an amazing pain reliever. The warmth of the bath with sooth the pain and irritation of the hemorrhoid and also even "shrink" them. (Be sure to get the okay from your doctor before you take a bath!)
Cream
Every time you use the bathroom apply this cream. It will instantly provide relief and soothe the pain AND make it easier to use the bathroom because you won't be afraid to actually use the bathroom!
---
Check out this post all about how to deal with the oh-never-so-fun bathroom troubles!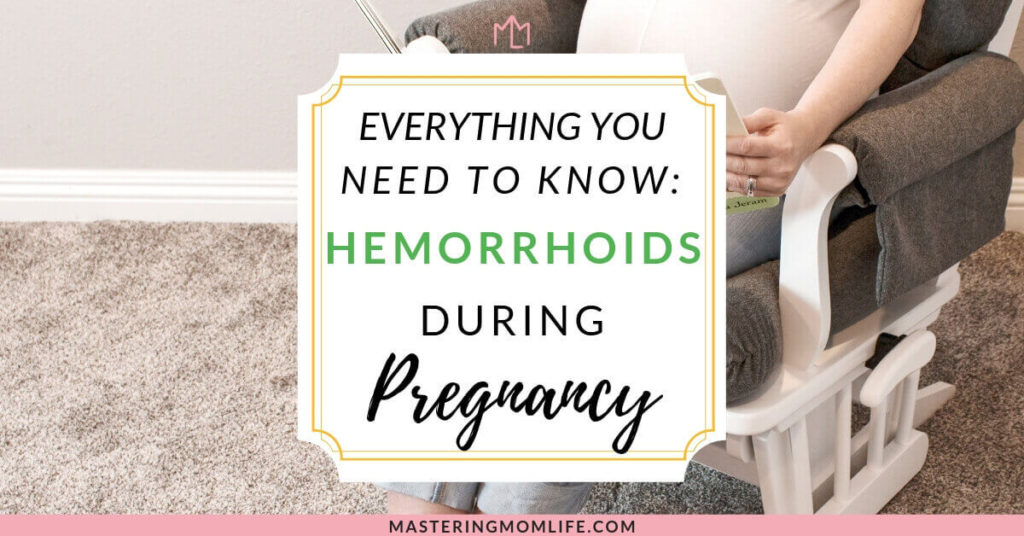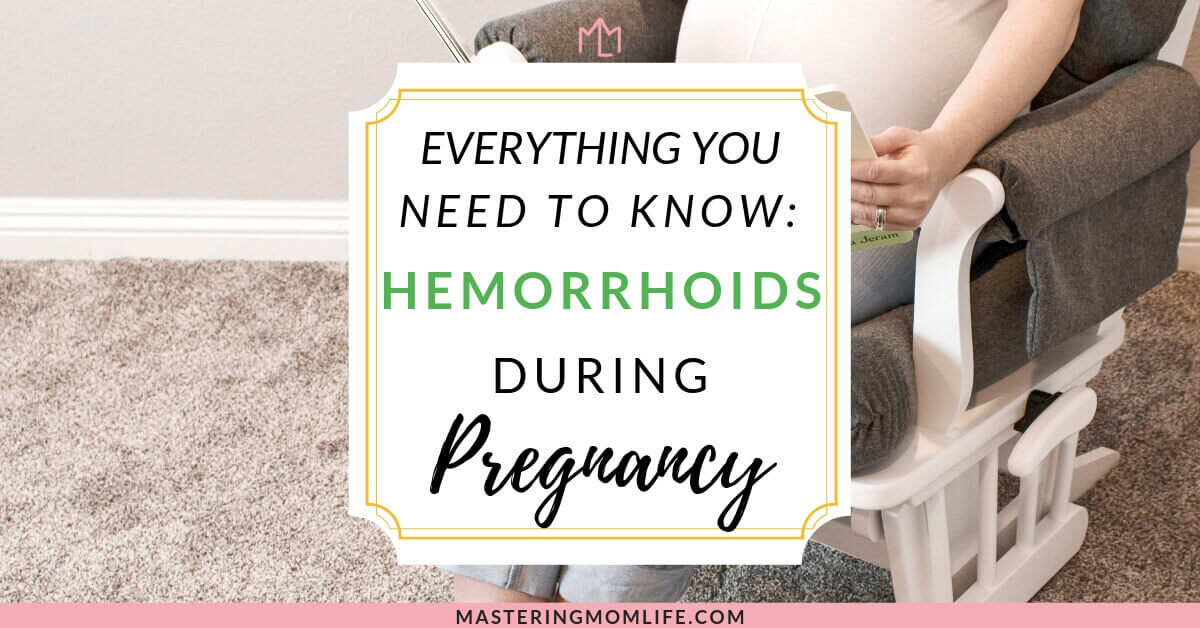 ---
Stool softener
Like I mentioned above, you want to make sure you are taking a stool softener! This helps with prevention AND healing. Anytime you strain to use the bathroom or the stool is hard it will hurt. So, prevent that pain by taking the softener. Trust me, you are going to thank yourself!
Peri Bottle/Wipes
Your bottom area is so tender, raw, and inflamed that even the graze of a piece of toilet paper can send you into a pain frenzy! To prevent making any of the pain worse, I suggest using a peri bottle with warm water and "rise" your bottom with the water instead of wiping.
Or you can use these amazing wipes that are designed to soothe hemorrhoids and discomfort. They are called Tucks cooling pads and even have witch hazel in them!
Don't forget to get my free postpartum recovery essentials checklist to you are 100% prepared and ready for easy, pain-free postpartum recovery!
2. Hair loss
I was completely shocked to have to deal with hair loss and the dryness of my hair that came along with my postpartum body! Pregnancy made my hair glow and postpartum made my hair die (or at least it felt like that!). Here are some things you may experience:
Hair loss
Dry hair
Dry "patches" in your scalp
Dandruff
If you are struggling with postpartum hair then these are the tips that I was told and it's starting to work.
What to do:
Do not use the same hair products or shampoo for more than 3 months in a row
I was told that using the same shampoo and condition consistently for a long period of time can dry out your hair. The thought behind this is that your hair becomes "used to" the product and therefore doesn't work properly. So, if you are using the same moisturizing shampoo for the past 2 years then it can be counterproductive.
Find a shampoo that is moisturizing but that doesn't have a lot of chemicals
The more chemicals, the more damaging. Research some products that have fewer chemicals because it will less likely dry out your hair.
Use Aquaphor on the dry areas
If you have dry patches or areas on your hairline or scalp, you can apply Aquaphor ointment to it regularly to keep it hydrated and moisturized.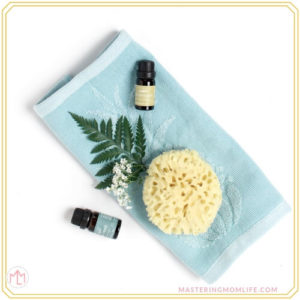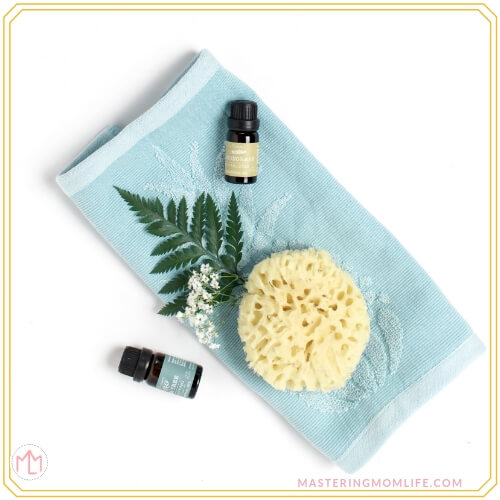 Talk to your doctor or (maybe even hairstylist) before using any "dandruff" products
At the first sight of dandruff in my postpartum body, I automatically used shampoo designed for dandruff. But it was actually the worse thing I did. The shampoo caused my hair to fall out and my head to flake! So be sure to ask a specialist before you start using new products.
Use essential oils
Essentials oils are pretty much amazing for anything! And your hair is no exception! You can use peppermint oil to lather into your scalp and it will relieve any itchiness or redness. But be sure you don't have open wounds or cuts before applying!
3. Weak bladder
Another postpartum body change is a weak bladder. Do not feel like you are alone when you go to sneeze or laugh and accidentally start to tinkle. Weak bladders are very common amongst moms! Your body goes through so much and so quickly that your bladder is still recuperating as well!
What to do:
Kegels
A really good tip to help you prevent leaks is to strengthen your pelvic floor. You want to do some Kegels and practice strengthening your muscles down there. One you start to do that, you'll have more control!
Wear Liners
Another tip is to be sure to wear liners. I was still wearing mesh hospital undies for like 3 weeks after delivery with those gigantic pads! But when I started to bleed less I switched to 100% cotton underwear and regular thin liners. It worked like a charm!
4. Brittle nails
Your nails are not exempt from the postpartum body trauma. I learned this the hard way! In about a day's time your nails can go from strong as ever to weak like paper.
What to do:
Prenatal vitamin
To keep yourself healthy, you want to continue to take a prenatal vitamin, and this well help a lot with nails, hair, and overall health. I took this one and its organic PLUS has folate!
Cut and buff nails regularly
Of course, you have a newborn so you can't spend endless time on your nails! But about once a week or every other week I cut my nails, file them (so I'm not scratching baby!), buff them a bit (with this buffer), and then put on a coat of this strengthening clear polish.
5. Backaches
Unfortunately, a constant backache is another postpartum body change. If you had an epidural, the site that the epidural catheter was inserted can be sore or painful for up to a couple of weeks. Some women experience lower back pain for year after pregnancy, especially if you had a "back labor" and had issues with your back during pregnancy.
The good news is that there are a couple of things you can do to prevent that pain and keep it minimal.
Here's what to do:
Wear a girdle or back brace
A back brace or high lined postpartum girdle can definitely help lower back pain. It gives your back much needed support and relives pain.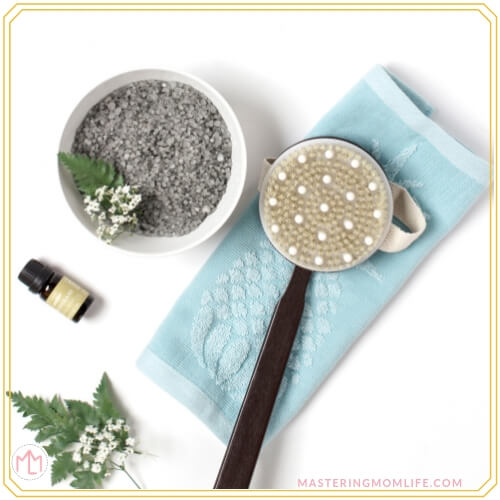 Warm baths with Epsom salt
A warm bath can work wonders! The warm water and the added Epsom salt soothes aches and pains. (Be sure not to submerge in water until your doctor gives you the all-clear at your postpartum appointment.)
Magnesium
Magnesium is a great natural supplement to help with muscle aches and pains. Especially if you don't want to continue to take pain relievers constantly. Once magnesium is in your system, it helps you sleep better, have more energy, and even regulates you!
This one is really great because it's a powder that you can put in smoothies and drinks or even water!
Good pillow (& mattress)
Don't underestimate the power of a good pillow! After I had my daughter I had to invest in a new mattress and pillow and it worked WONDERS! It relieves pressure from certain pain points in my back and neck and allowed me to have restful sleep (when I was able to sleep!).
I purchased the MyPillow and absolutely love it! Totally worth the investment.
And there you have it!
Missed Something?
Here is the list of overall products that will help your postpartum body (I have used ALL of these items and they continue to be tried and true!)
Hemorrhoid Cream: 1) Preparation H        2) Earth Mama Angel Babe Organic Perineal Balm
Hemorrhoid Pillow: Donut Seat Cushion Pillow Memory Foam
Hemorrhoid Care: 1) Peri Bottle     2) Tucks Cooling Pads
Essential oil: Peppermint oil
Buffer: 4 Step Buffing Block
Strengthening Nail polish: Sally Hansen Diamond Strength Instant Nail Hardener
Prenatal/Postnatal Vitamin: Garden of Life Vegetarian Prenatal Vitamin Supplement with Folate, Iron & Probiotics
Stool softener:  Colace
Hair Healing Ointment: Aquaphor
Back brace: 1) Postpartum Belly Girdle Wrap 3 in 1 Support Recovery Band    2)  Copper Compression Recovery Back Brace
Magnesium: Garden of Life Magnesium Powder
Epsom salt: Epsoak Epsom Salt
Panty Liners: Carefree Scented Thin Liners
Good pillow: MyPillow 
Download my ultimate list of postpartum recovery essentials!
The checklist includes everything in this post PLUS some extra items to add further comfort for you!
Don't feel like you need to remember all of these items, instead of download the list so you know for a fact that is getting all of the items you need for a quick and easy recovery!
There's nothing worse than being in pain and feeling uncomfortable and you don't have anything to bring your relief. Let me help you recover easily, quickly, and in the most pain-free way so you can feel better in the blink of an eye!
Download the Postpartum Checklist now!
I hope I was able to prepare you for these shocking postpartum body truths as well as give you some tips to help you heal faster!
Have any tips that you used to help your postpartum recovery go smoothly? Let me know in the comments below!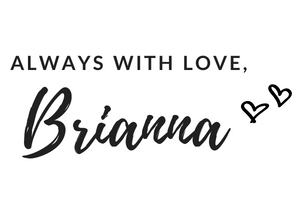 Keep Going! Read more #MomLife Tips & Hacks!
Please know I am not a doctor or medically trained. All tips and advice given is based on my own experience and given to me by my own specialists and doctors. If you have any questions or concerns, please contact your doctor. This post is solely to offer encouragement from my experience and not designed to offer medical advice or treatment.