There's nothing better than knowing that you can take your newborn baby home after delivery! Sometimes there are complications that arise after your baby is born and jaundice can definitely be one of them. I personally went through my baby showing levels of jaundice the day we were set to go home. So how do you care for your newborn baby discharged with jaundice?
It's important to ask your doctors for specific instructions for what you have to do, what signs to look for in case things get worse, and what signs to look for that your baby is getting better It's very important to make sure you feel confident knowing you can take care of your baby.
Please know that I am not a doctor or physician and I am not medically trained. All tips and advice given is based on my own experience and given to me by my own pediatrician. If you have any questions or concerns, please contact your doctor. This post is solely to offer encouragement from my experience and not designed to offer medical advice or treatment.
What is jaundice?
Jaundice is a very common condition in newborn babies that takes place because the baby's liver is still immature. Your baby's liver is trying to get rid of bilirubin, the substance in red blood cells that builds up in the blood after your baby is born. When bilirubin levels become high, it can negatively affect the growth of your baby's brain and nervous system. The doctors will see signs of high levels of bilirubin because babies will begin to turn yellow. To diagnose your baby with jaundice, doctors will check for the level of bilirubin. There are different levels of jaundice (caused by different levels of bilirubin).
Free Mom Planner & Baby Tracker!

My Experience:
My baby did not have alarmingly high levels of bilirubin but she did have higher levels than normal. When Baby L was born she was sent to a care unit because she needed to be put on antibiotics for 2 days. On the last night before I was set to go home with her, the nurses informed me that Baby L was turning a shade of yellow and they needed to check her levels of bilirubin. The test came back in the morning and she was borderline medium/high so the doctor's thought they would have to keep for her another day. I was supposed to be discharged at 11 am but I chose to wait until 5 pm to see if she was improving so I could take her home with me.
At 2 pm the doctors informed me that they did not see signs of improvement but that I would be able to take her home only if I scheduled an appointment with her pediatrician for the next day. They gave me a packet of discharge information but did not specifically tell me what to do concerning jaundice. At that point, my newborn baby was discharged with jaundice. As a new mom, I was so worried that I wouldn't know what to do and I was worried about my daughter's health.
So, the next day at Baby L's pediatrician appointment, the pediatrician gave me great tips for helping my baby. The pediatrician also conducted a blood test specifically to check the levels of jaundice so she could see if the levels went down. She also gave me the confidence I needed in myself to know that I was able to take care of Baby L.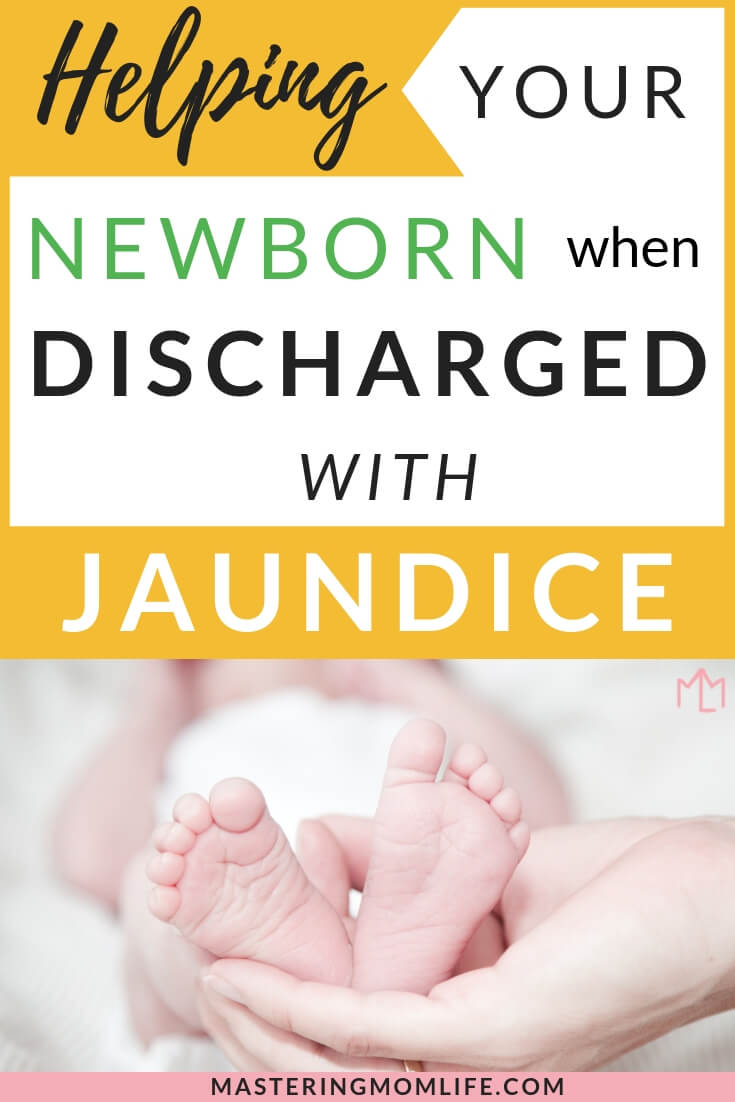 Tips To Helped your Newborn Baby Discharged with Jaundice
1- Listen to doctor' instructions:
If you have a newborn baby discharged with jaundice it's so important to follow the doctor's instructions. Do not leave the doctor's office without clear instruction and knowledge of the situation. Yes, you can always call the doctor's office but I find it better when I ask questions in person and receive the full explanation in a way that I can understand. I always find it helpful to have the doctor write down or print anything that I am supposed to do.
2- Be aware of worsening signs:
When you have a newborn baby discharged with jaundice you need to be aware of worsening signs. In line with listening to your doctor's instructions is to make sure you know the signs to be aware of if the jaundice is worsening. My doctor told me to watch for the color of yellow spreading throughout my baby's body. If the yellow spreads make sure to contact your doctor. The yellow will usually spread from the eyes to the face, to the skin, to the arms, and then to the feet. Be sure to ask your doctor what signs you should be looking for.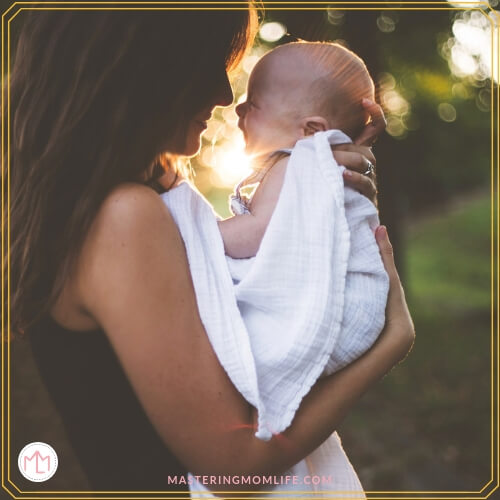 3- Know the signs of improvement:
When you have a newborn baby discharged with jaundice knowing signs of improvement is just as important as knowing worsening signs. I love to know what signs of improvement I should be looking for because it gives me hope that things will get better. One of the signs that my pediatrician told me to look for that shows Baby L was improving from jaundice was the return of her natural skin color. When the yellowness was beginning to fade is when I felt a wave of relief.
4- Practice Doctor's instructions:
It's easy to know your doctor's instructions but it's different to actually practice the instructions. One of the instructions for healing jaundice was to make sure your baby was breastfeeding as much as possible because the bilirubin is removed from the body through the baby's stool.  So it was suggested for me to breastfeed 8-10 times in a 24 hour period. At the time, I was breastfeeding during the day (and pumping) and supplementing with formula in the evening.
(I was going through my own struggles with breastfeeding so I needed to make sure Baby L was still eating as often as she should be to produce stool steadily). If you are bottle feeding, make sure to ask your doctor how many bottles or how many ounces you should be feeding your baby.
Another important instruction was to put Baby L in the window with as much natural light as possible. If it was possible, even take a walk with her and get natural direct sunlight. The pediatrician said natural sunlight helps reduce the yellowness in the skin and helped reduce the levels of bilirubin. (I never researched this for myself- I just listened to my amazing pediatrician and it definitely helped Baby L quickly improve!)
Make sure to actually practice what the doctor instructs you to do. if you feel that it is something that you are unable to do then speak up and be honest. Do not be afraid or intimidated- you are your baby's caregiver and parent so you are entitled to speaking your mind and asking for clear instructions.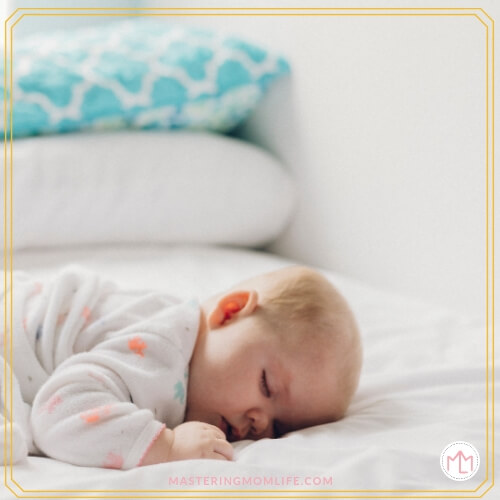 5- Document signs/symptoms:
The doctor didn't tell me to do this but I did it out of my own motivation. I wanted to make sure that I remembered how my daughter was progressing and kept track of when she was passing stool and how it looked. This came in handy because there was a day that she turned a little yellow again and when I called the doctor they asked me if I had any memory of what her past 3 stools looked like. If I didn't write this down I would have never remembered.
As a new mom, your body goes through so much healing and your mind can easily get tired. Don't put too much strain on yourself to have to remember everything. Just write everything down and keep track of how your baby is doing daily and it will give you peace of mind!
6- Follow Up With Your Doctor:
Be sure to follow up with your doctor accordingly. Sometimes doctor's will not call you back right away with the bilirubin test results so you may have to call. Your doctor may also tell you to keep an eye on certain symptoms or signs and call them if anything worsens, gets better, or if you have questions. Know that you can take them up on this! Do not be afraid or shy to call your doctor if you have any questions!
If you feel like you cannot properly explain your baby's signs or symptoms over the phone then do not be afraid to ask if you can bring your baby in for an emergency appointment. I've done all of these things countless times and even though I was afraid of looking like a worried mother, the peace of mind it gave me far outweighed my shyness.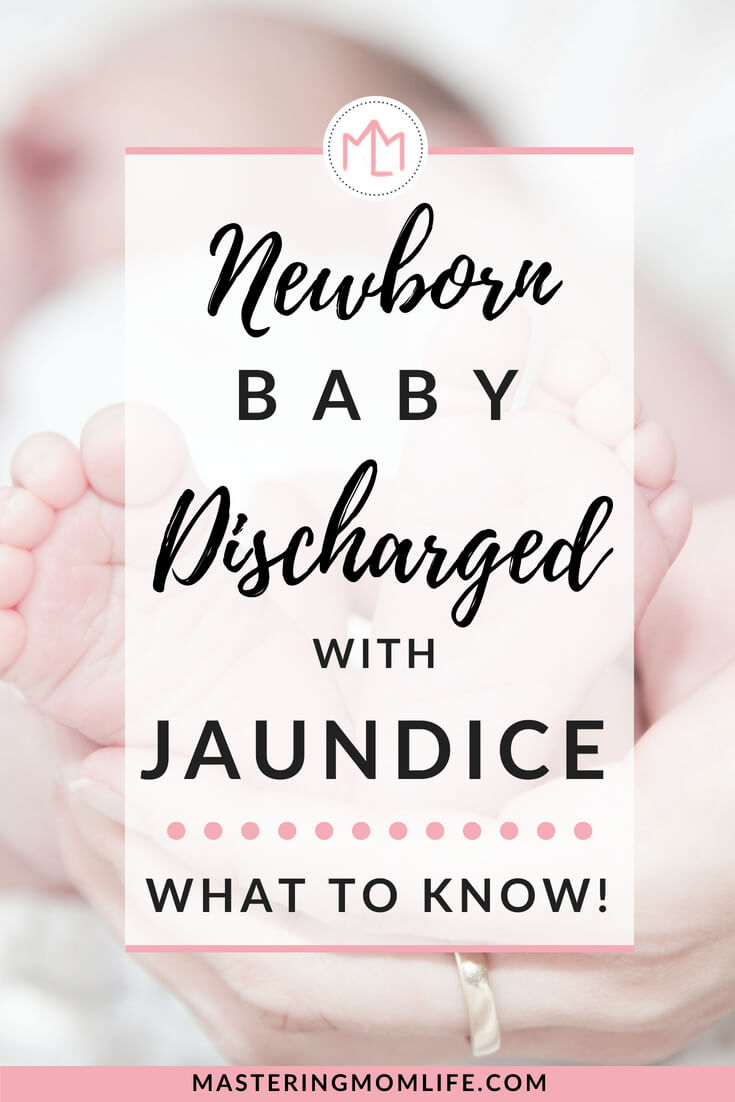 How you may be feeling:
Like I mentioned before, you are going through a lot as a new mom. Your body just produced the miracle of life and you are certainly healing from it. Each mother goes through different delivery experiences and different strains, difficulties, and tears. On top of your body physically healing you may be figuring out breastfeeding, latching, deciding whether to formula feed or trying to pump. As mothers, we go through A LOT after labor and delivery. It's totally normal and definitely more than fine to not feel 100%. In fact, no one expects you to feel 100%.
Because you're experiencing all of that, having your baby diagnosed with jaundice can definitely send you into a crazy spin! Just remember to take one day at a time. I would even dare say to take it one HOUR at a time. Keep in mind that you need to heal properly so make sure to be taking care of yourself too!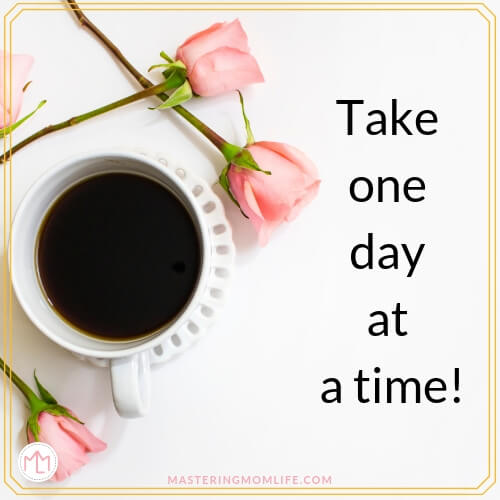 When the nurses told me that my daughter was being taken in to get her bilirubin tested I thought I was going to pass out. Then when they told me she was going to have to stay longer until her bilirubin levels went down I certainly thought I was going to faint. The nurses had to send me to my room so I can lay down- that's how worried I was!
Of course, some new mothers could have handled this better and maybe some people thought I wasn't "strong enough" to handle it- but at that moment I couldn't even fathom the thought of my precious new baby girl going through anything that was going to cause her discomfort or pain.
As a new mom- this is totally normal! Remember, take it one day, one hour, one minute at a time! Be sure not to fall down the rabbit hole of comparing yourself to other mothers!
Get the Free Mom Planner & Baby Tracker!
Mommy & Me All-In-One Planner is a 10-page, all-in-one resource to help you easily plan your days, weeks, and months all while tracking your baby's schedule, feedings, naps, and activities!
I designed the planner to help you:
Easily plan your days, weeks, months, and even year so you can clearly see your schedule at a whole!
Focus on your day to day tasks, including to-do lists, appointments and chores so you never forget to do anything!
Track your baby's feedings, including how much they ate and what they ate so you never have to forget what they ate
Track your baby's naps so you can see how long your baby is napping and at what time. This helps you create a nap routine that can help your baby sleep longer and consistently!
Plan your workout times and even track your water intake!
Set goals for yourself and your baby so you can accomplish new milestones together!
Ultimately plan and track you and your baby's day to day schedule in an easy way!
Get the planner & tracker now!
I hope my experience with a newborn baby discharged with jaundice helps you and your family! Remember, it's important to ask your doctors for specific instructions for what you have to do, what signs to look for in case things get worse, what signs to look for that your baby is getting better, and very important to make sure you feel confident knowing you can take care of your baby.
You can do this!!!
Have any of your babies every been discharged with jaundice? Feel free to share your experience in the comments!