Inside: Want the perfect stay at home mom daily toddler schedule? Here are the tips you need to create an awesome and easy everyday toddler schedule!
My toddler had just finished playtime and I was exhausted. I glanced at the clock and rolled my eyes…it read 9:23 am. I wanted to die. It was only 9 in the morning and it felt like 3 in the afternoon!
Finding what to do ALL day with your toddler can be exhausting. The secret to not only getting through the day with a toddler but making each day awesome is to have a daily toddler schedule.
Having a daily toddler schedule will help you have an overall plan for each day so you never have to wonder "what do I do now?". A daily toddler schedule also improves toddler development because your toddler is learning routines, which is healthy for their growth!
The key is to make a daily toddler schedule that is exciting, structured, attainable, and most of all, flexible. Building these key elements into your daily toddler schedule will help make each day an awesome one!
Having a schedule doesn't mean you're tied down to doing the same exact thing every day. It just means you have an overall outline for the day that you can fill with whatever you want!
It's also important to remember that a daily toddler schedule doesn't have to be restricted by "time".
Meaning, your schedule doesn't have to solely be based on an exact hour. The purpose of a schedule is not to do everything at the same TIME every day. The purpose is to have an overall routine for the day, where your activities are based on what came first and what comes next.
An overall daily toddler schedule at its simplest form looks like this:
Wake
Breakfast
Play
Lunch
Nap
Wake
Snack
Activity
Dinner
Play
Bath
Bedtime
Let's talk about how you can make your own simple but awesome daily toddler schedule!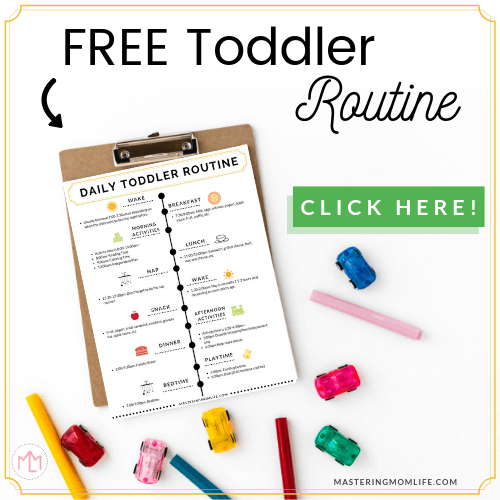 How to create a perfect daily toddler schedule
Here are some things to keep in mind to create an amazing schedule…
Routines:
The first thing you want to do is figure out which routines your toddler does each day. It can be morning routines, naptime routines, feeding routines, playtime routines, and bedtime routines. Whichever routines your toddler does, make sure to incorporate it into your overall daily toddler schedule.
The key is to try to do the same activities each day at the same time. This becomes your toddler's overall routine for an individual activity. When your toddler is accustomed to doing something at a certain time or in a certain order, they eventually learn how to do it themselves.
Independent Play:
Another important element in a daily toddler schedule is independent play. You want to incorporate at least twice a day a time where your toddler is learning how to play independently. This means that your toddler is engaging in an activity by their self.
This teaches your toddler how to play alone and actually helps brain development. it also helps you get things done that you need to, without having to worry about your toddler following your every move.
Some independent play activities include coloring, mat time, block building, table time, etc. Independent play helps your toddler be able to do something alone, which build independence!
Track your toddler's day
If you have no idea where to start when creating a daily toddler schedule, it's best to just start by tracking what your child does every day and at what times. By doing this, you are essentially seeing what your toddler's schedule is already. Each child has a routine or schedule because there are things that they do every day that they are used to. This is their schedule by default!
If you are noticing that your toddler's day isn't as productive as you would like it to be, then start changing some activities and routines to create a daily schedule that works for you!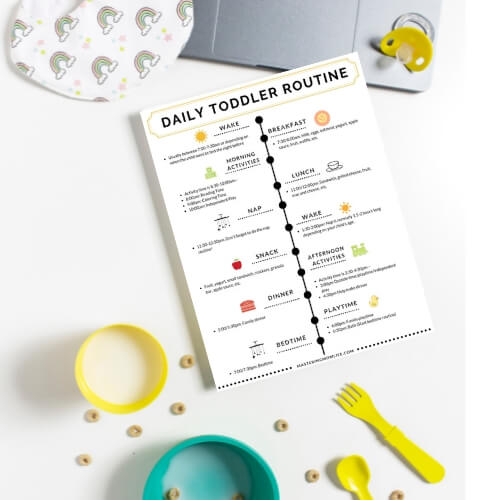 A Daily Toddler Schedule that works!
Now that I've given you some tips on how to create your own daily toddler schedule, here's my sample schedule that I do with my toddler each day. This schedule has helped her thrive day in and day out and has given her the ability to grow leap and bounds!
If you want to download this sample schedule to use or to use as a guide to creating your own, you can download the sample schedule here!
Sample Schedule
7:00am- Wake
Baby L wakes between 7:00-7:30am each day. Some children wake earlier or later depending on what time they go to bed.
7:30am-Breakfast
I usually try to mix things up every other day or so. That way, your toddler isn't eating the same thing every day. I tend to give my daughter a lighter meal here and she drinks about 3-4 ounces of milk with her meal and I then give her a larger meal for lunch. She just turned 2 so she's still transitioning out of her "baby daily schedule".
Some options are yogurt, cereal, oatmeal, fruit, apple sauce, eggs, etc.
8:00-10:00 Activities:
-8:00am Reading Time
Every morning for a half hour or so we read books and go over the alphabet and numbers. Having interactive books helps make reading time fun and exciting!
-9:00am Coloring/Drawing
After reading time, we have some table activities and I give my daughter coloring/drawing time. I put on some music and she colors and plays with stickers while I clean up breakfast and do the dishes.
This is considered the first independent play of the day. I can easily get about 30 minutes of chores done because she is at the table playing and coloring. Sometimes if she's done coloring I'll give her blocks or her toys to play with so she can continue her independent play.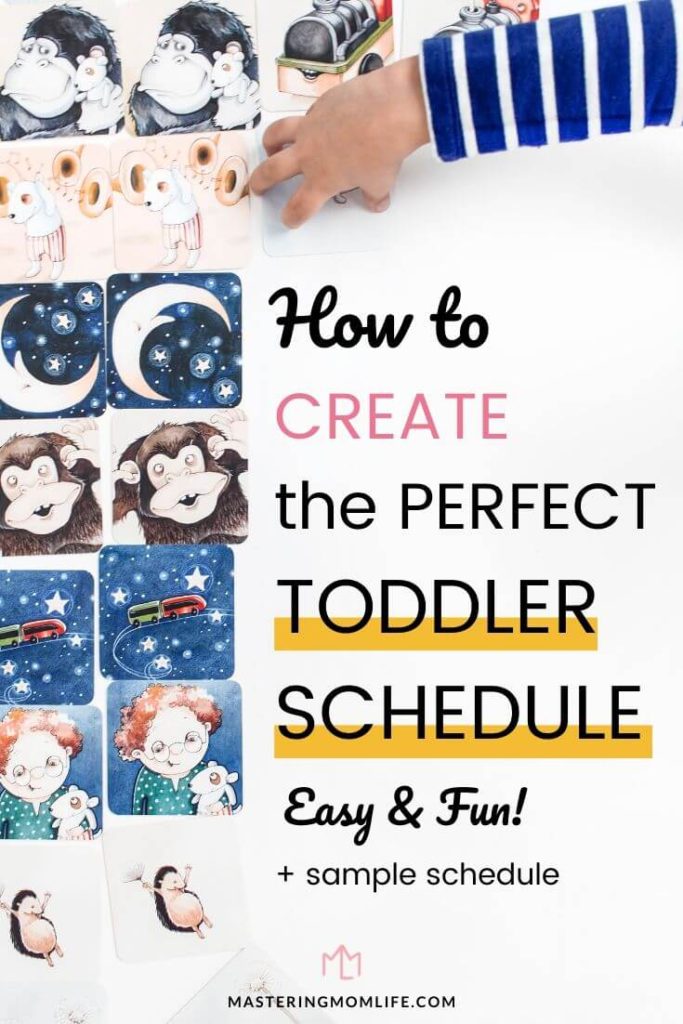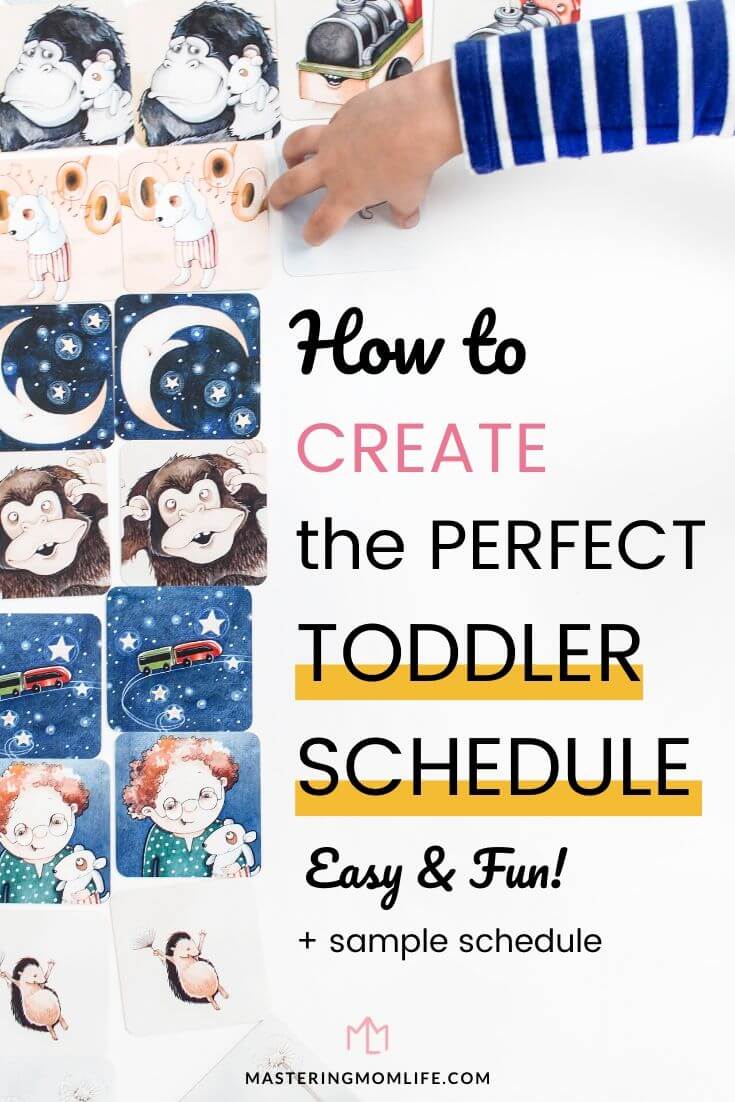 -10:00am Chores
After her independent play, I let my daughter help me with chores. This is teaching her to help around the house also allows me to get things done while my toddler is up and with me. She helps me fold, sort laundry, sweep, vacuum, and clean up toys. It also is a great way to show her what happens around the house. If your toddler is still developing speech, this is a great way to interact with your child without it being with toys.
It's important to show and tell with your toddler. Simple showing your child what you are doing and explaining it them in simple words greatly helps their speech!
Feel free to add more activities during this morning activity hours. Maybe you want to take a walk with your toddler or let them play outside! Shake it up each day!
Remember, having a schedule doesn't mean that you are tied down to doing the same exact thing each day. It just means that you have an overall outline for the day that you can fill with whatever you want!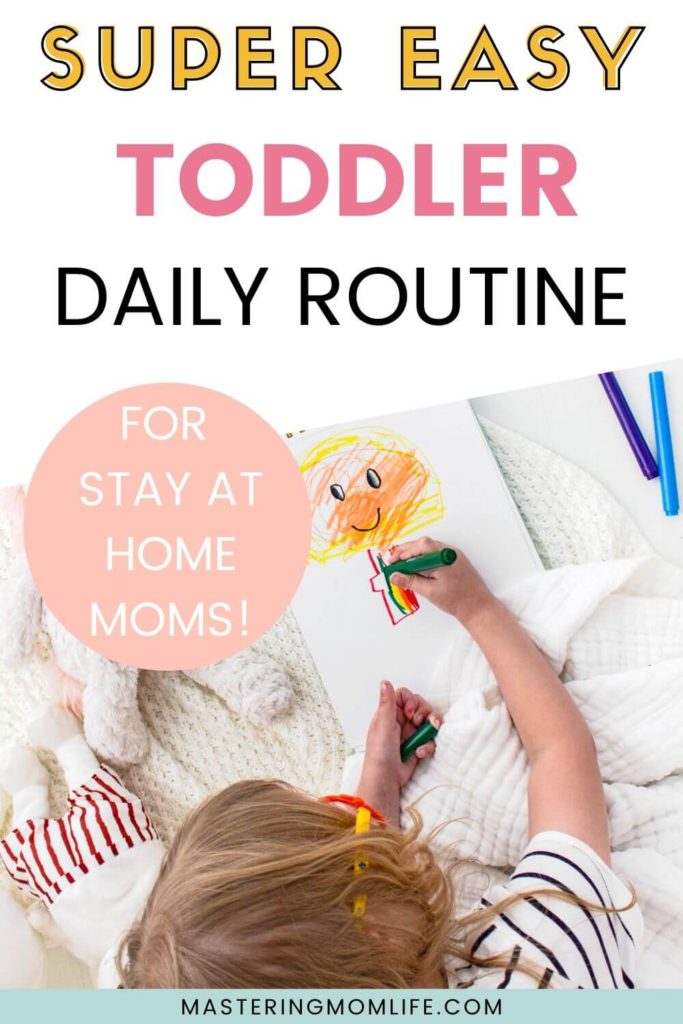 10:45am TV Time
Yes, I am one of those moms that let her toddler watch an episode of TV. I don't believe in mom shaming or parent bashing and I believe that each parent has the right to decide what is best for their child!
Each morning while I am cooking and preparing lunch, I let my daughter watch 20 minute episode of one of her favorite shows.
Having a structured time for TV shows your toddler that they can watch tv but within the time that you allow. I believe it's the perfect balance of not depriving your toddler but also setting boundaries.
BONUS: Grab the FREE Sample Toddler Schedule that works! Take the guessing out of your routine and use this routine as a template to create your own perfect schedule! CLICK HERE TO GET IT NOW!
11:00/11:30am Lunch
Lunchtime is between 11-11:30, depending on what time she woke up that day and what activities she did before lunch. Sometimes I give my daughter "breakfast for lunch" and make banana pancakes or something fun!
11:30/12:00pm Nap
It's naptime! Be sure to have a consistent nap routine that you are doing with your toddler each day! (Read more about nap routines here.)
1:00pm Wake
Depending on what time your child fell asleep, your wake time will be different. Nap times usually last around 1.5 – 2hours.
1:30pm Snack
It's snack time! This snack should hold your child over until dinner. I usually give my daughter fruit, apple sauce, yogurt, a small sandwich, etc.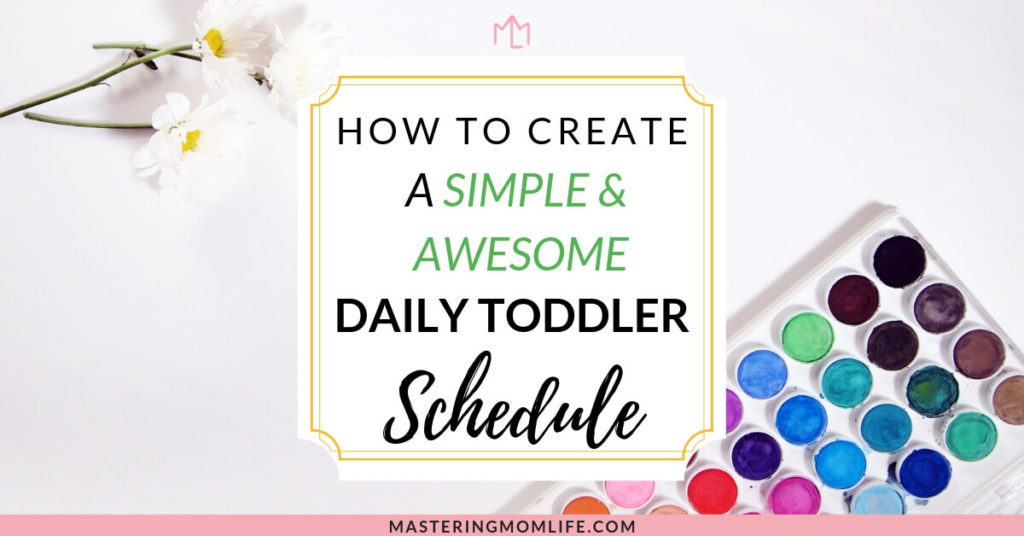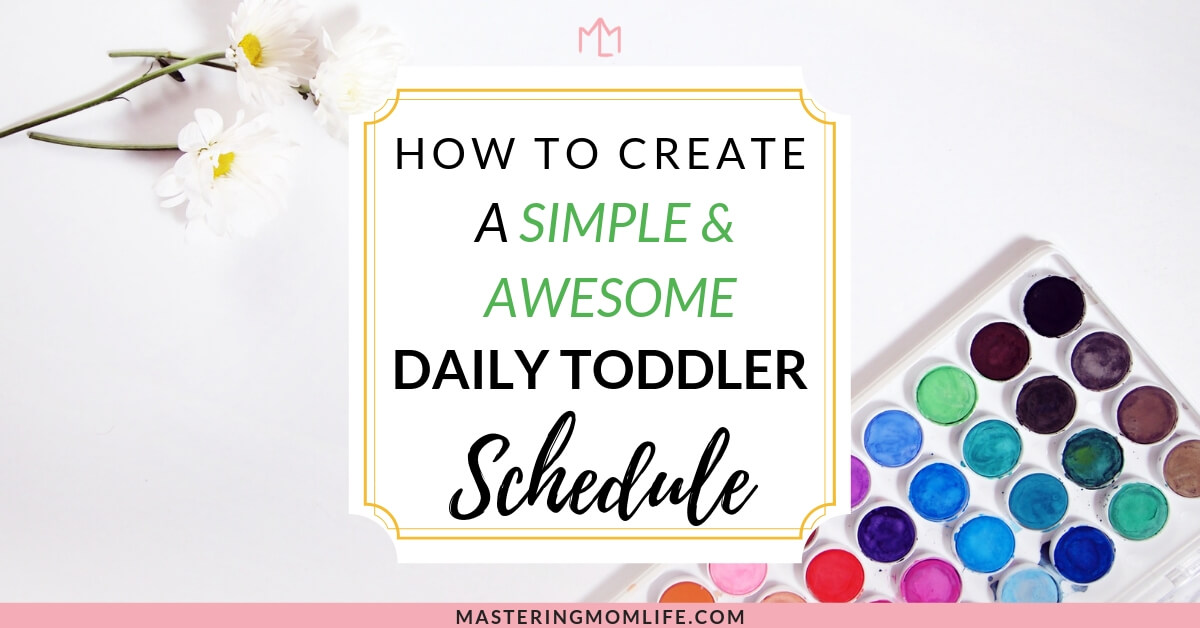 2:00- 4:00pm Activities
This is another time slot for activities! Every afternoon I try to take my daughter out (weather permitting) so she can have some outside time. We'll run errands, go to stores, or go for a walk. I try to especially get out of the house once a day when it is Spring and Summer.
We live on the beach so I walk the boardwalk every day and take her to the park 3 times a week. Try to think of fun ways you can take your toddler out!
4:30/5:00pm Dinner
Depending on what our afternoon activities looked like, I'll start making dinner. If I was out of the house that afternoon and it's a day that we have budgeted to eat out, I'll pick up some take out or wait until my husband gets home to go out for dinner as a family.
Want to read some tips for eating out with your toddler? Read my article here!
5:30-6:30 Family Play
I think it's so important to spend time with your children as a family. Every night we dedicate an hour after dinner for family time. Maybe we'll watch a special show or start a movie or go out for an early evening stroll or just camp out in our living room playing games.
Of course, our schedule doesn't ALWAYS let us have this time together, but I like to have family time at least 3 times a week!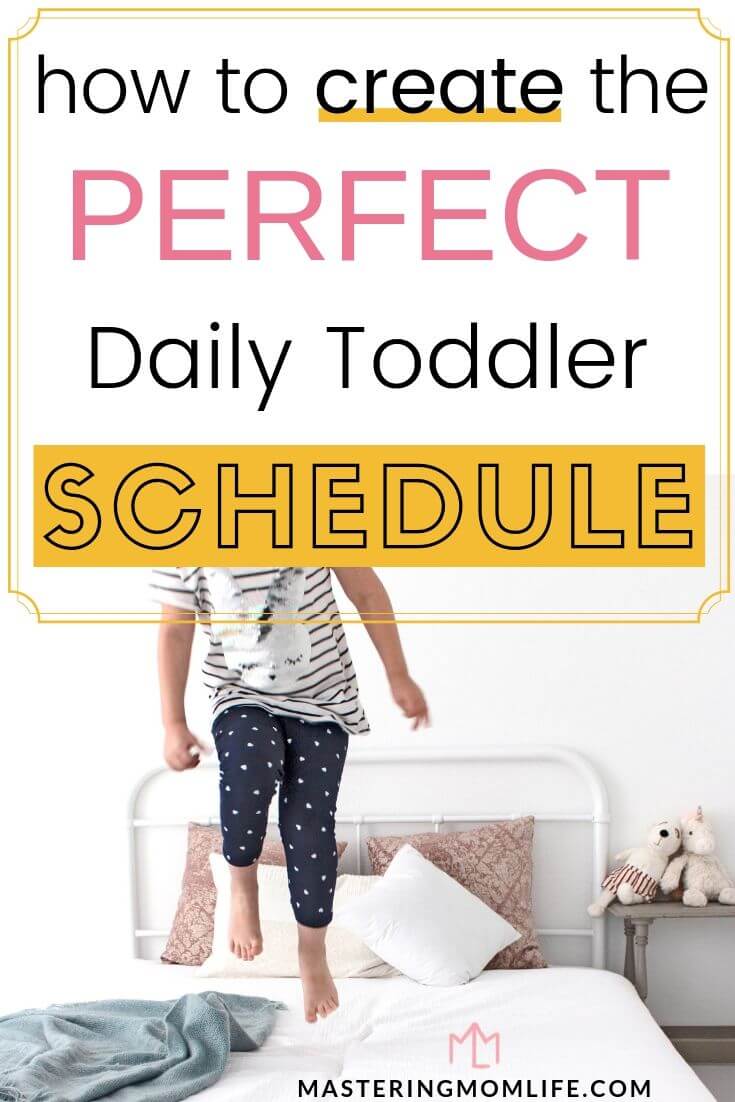 6:30pm Bath
We start our daughter's bedtime routine around 6:30 every night. It's actually funny because when I lose track of time my daughter will run to the bathroom door and start knocking asking saying "bath, bath". So children definitely love routines!
Our bedtime routine starts with her bath. If you want to read more about the awesome benefits and importance of a bedtime routine, read my article here!
7:15/7:30pm Bedtime
After bath time, I get my daughter dressed in her pajamas, give her a little lotion massage, have some extra snuggles and cuddle with her in our bed and then take her to her room for bedtime.
She is still in the "baby to toddler" transition phase so she has been drinking a 7 ounces of milk before bed. After her milk, she goes right into her crib/toddler bed and falls asleep. She usually sleeps 12 hours and wakes up at 7 the next morning where it all begins again.
>>And that's a simple and easy daily toddler schedule! See, not so bad!
Free Sample Toddler Schedule
Remember, if you want to steal this schedule (THAT WORKS!) be sure to get the printable download of this daily toddler schedule!
You can use the schedule as is or change it to fit your needs and your toddler's activities. I've been doing this schedule for months now and my daughter is thriving every single day.
This schedule is so structured yet FLEXIBLE that it allows me to drop my daughter off at her grandparent's house or even go away on vacation and she doesn't fall out of schedule!
It's seriously a miracle!
Download your copy of the daily toddler schedule here
So there you have it! Remember, you can easily create your own simple and awesome daily toddler schedule by using these tips and taking my schedule as a template and changing it to fit your home. It's reeaalllyyy easy!
Here's a recap:
Wake
Breakfast
Play
Lunch
Nap
Wake
Snack
Activity
Dinner
Play
Bath
Bedtime
Remember, having a daily toddler schedule helps you know your overall plans for the day and also improves toddler development because your toddler is learning routines, which is very healthy for their growth!
Keep in mind, having a schedule doesn't mean that you are tied down to doing the same exact thing each day. It just means that you have an overall outline for the day that you can fill with whatever you want!
Having a predictable routine will help your toddler learn independence and even help you anticipate your toddler's needs. It's a win-win.
Now when you glance at the clock and think it's 9 in the morning, it's really 3 in the afternoon because the day flew by! Score.
Happy toddler days!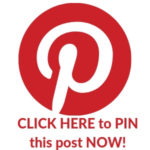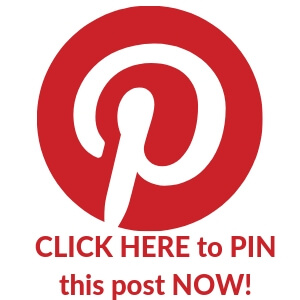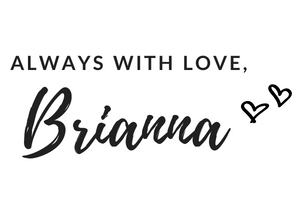 Wait?! Do you love free printables??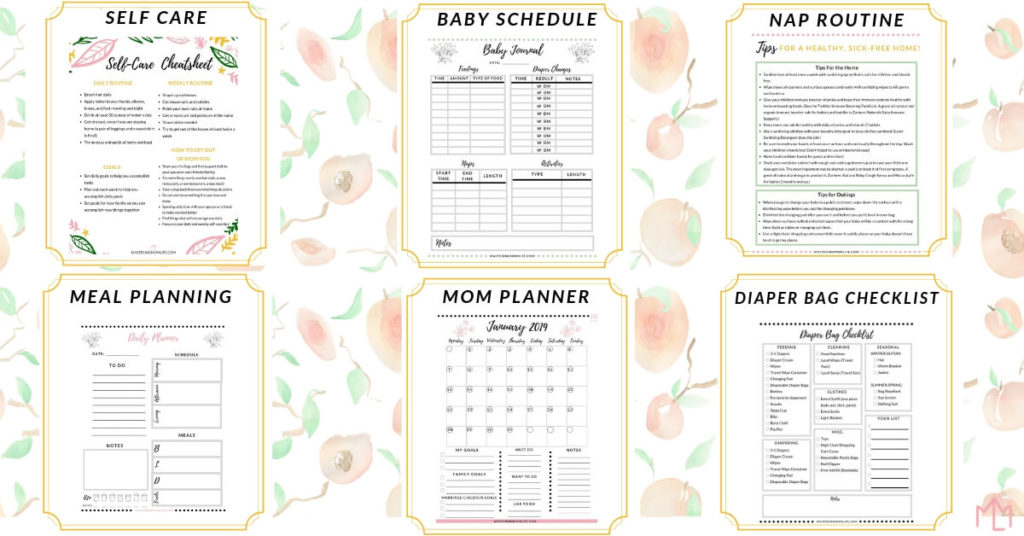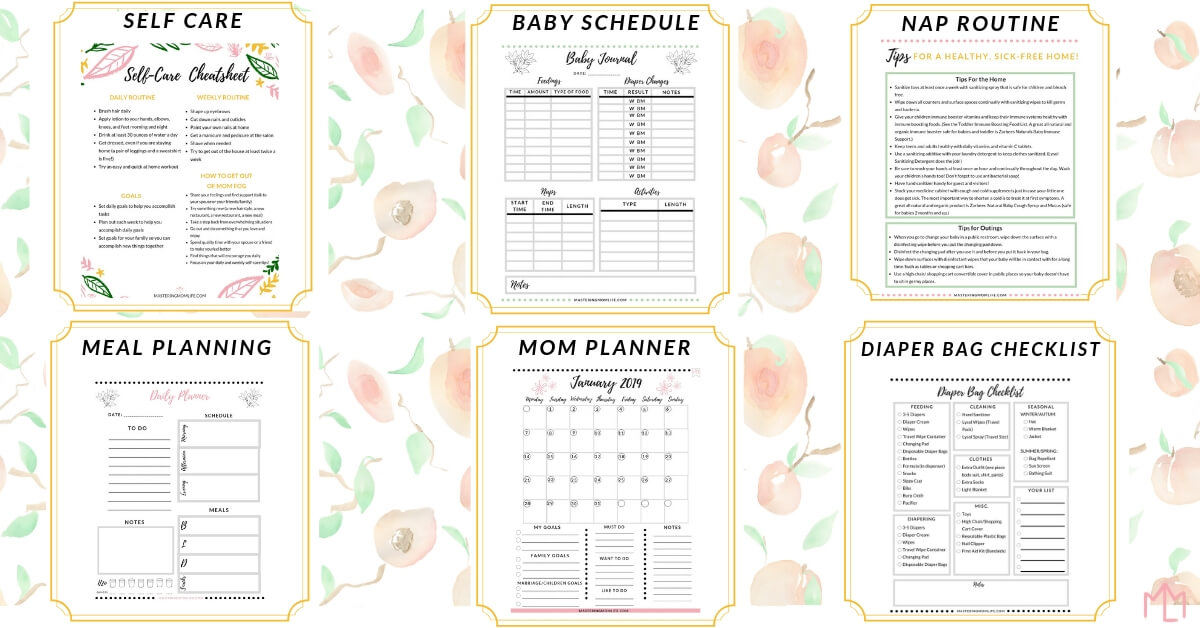 Become part of the Mastering Mom Life Insider tribe and get instant, FREE, private access to my resource library filled with printables + worksheets to make mom life easier!