Inside: The not-your-average stay at home mom planner to kick stress to the curb.
What if you could finally manage the chaos of your everyday #momlife…from nap times to meal plans…without wanting to pull out your hair??
Your stay at home mom life JUST got a million times easier!
Easily juggle your daily tasks AND your little's one's activities in ONE place!
Finally spend less time stressing over your to-do list and more time checking it off.
You can get everything you need below!
No more losing your mind trying to find the perfect flexible organizer to help you finally get it together- you can download it right now!
Imagine if you could…
Accomplish long baby naps & easy feedings
Run an errand without forgetting something
Stay on top of the endless piles of laundry & mountain of dishes
Tend to your self-care without feeling guilty
Avoid feeling frazzled when that last-minute "something" pops up
Have a simple plan of action for your daily #momlife routine
You got this, mama!
It's time to easily organize your entire mom life and eliminate the frustration of your endless responsibilities!
Kick stress to the curb by using a flexible organizing system that is unique to YOU.
You Got This, Mama: Stay at Home Mom Planner + Organizing System
This organizer + planner is perfect for the stay at home mom of little ones who needs help staying on top of ALL. THE. THINGS.
You'll get an entire planning system— 60 pages of awesomeness to help you feel confident and in control!
Don't feel tied down to someone else's mom routine and baby schedule—easily create your own routine so you, your little one, and your family can thrive.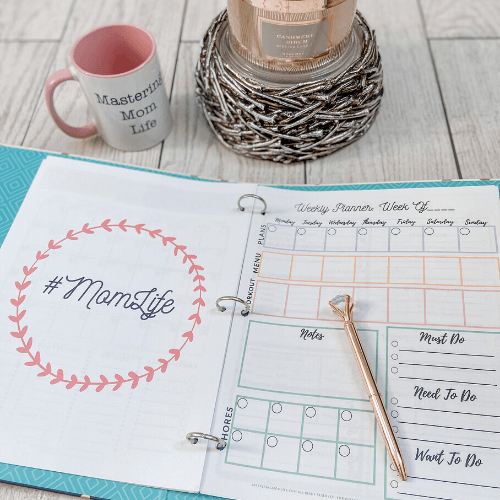 Finally, be able to
Get your baby on a rockin' routine and anticipate his/her every need
Juggle your baby and toddler without feeling torn in a million directions
Have a simple plan of action for your daily #momlife routine
Get ahead of the game and meal plan like a boss (with little to no prep time)
Find time for self-care (because YOU matter)
Quickly head in and out of the grocery store (and not forget anything)
Finish all your chores before you're a mile behind
You are not alone!
As a busy stay at home mom in NYC, I felt like I was drowning in a sea of dirty dishes, always waiting for naptime to get a second to breathe, and constantly one step behind my to-do list.
But I found that with a solid schedule, an easy routine, and a brilliant planning organizer you can easily get organized and take control of the chaos.
Now I breeze through my day!
Want to join me on my SAHM Stress-Free Movement??
Grab the You Got This, Mama Stay at Home Mom Organizing System to get started!!
Here's a glimpse at everything you get!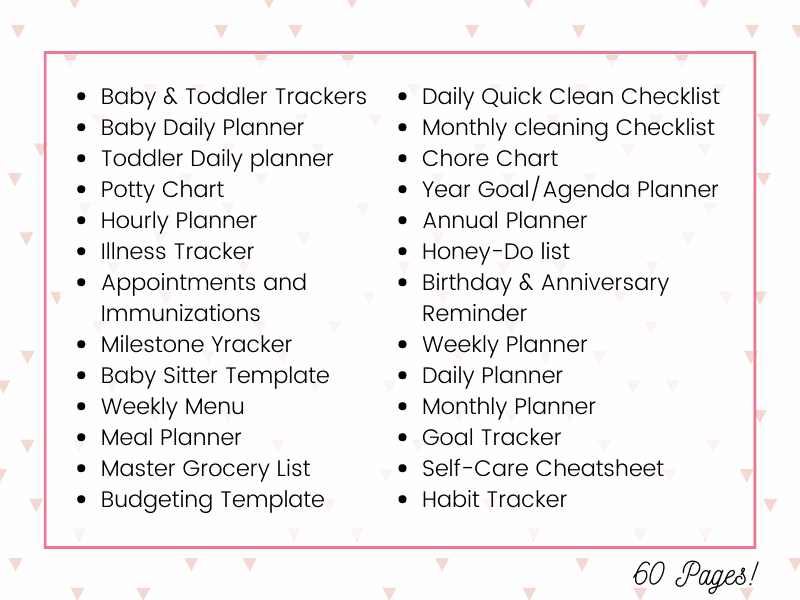 HOW TO USE
Download the planning system with the click of a button.
All pages are quick and easy to print.
I know some moms who print the organizer and laminate the pages to keep reusing with a dry erase marker.
Or print out key pages you'll use every day and place them in a 8.5×11 frame that you can also use with a dry erase marker.
To take advantage of the whole organizer, print and place in a binder. Even use sheet protectors to personalize them so you don't have to keep copies of the same page!
With 60 pages of every day #momlife planning templates, you'll be able to tackle each of your tasks with ease and confidence.
Kick Overwhelm
You don't need another planner that overwhelms and guilts you into feeling like you need to "have it all together".
This is a flexible planning system that works FOR you and WITH you to help you feel in control.
Finally, a flexible organizer that is unique to YOU. Your tasks. Your needs. Your family.
A planner that GROWS WITH you…not that you grow out of!
For a super limited time, the You Got This, Mama! SAHM Organizing System is ONLY $9! Don't pass this up!
Don't want to fully commit to the WHOLE planner? Get 15 pages free now!
** Please NOTE: This is NOT a Physical Product. This is a Digital Product and nothing will be mailed to you**
**To maintain the integrity of our products, please note- digital resources CANNOT be returned or refunded. all sales are final. Thank you for understanding!
Want to come back to this post later? Pin it to your favorite Pinterest board now!