Make this your easiest Christmas ever!
Master Christmas better than Mrs. Claus! Say goodbye to holiday overwhelm and hello to spending more time with your family!
One time special offer Act Fast!
Christmas List & Budget Planner + Spreadsheet!
The ultimate resource to help you make Christmas gift giving & shopping a breeze! PLUS update your planner in real time with a click on your phone using the accompanying planner spreadsheet!
Are you ready for an easy Christmas?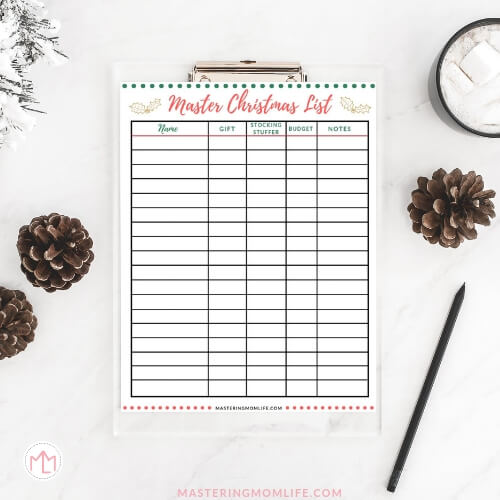 Create perfect Christmas Lists!
7 templates to help you accomplish ALL of your Christmas tasks — Including gift lists, master to-do lists, food shopping lists & more!
4 list templates to help you stay on  your Christmas! Including food budgets, decor budgets, & a budget for each person to help you find the perfect gift without breaking the bank!
5 easy to use templates to help you track all of the different sales so you can find everything you need at the lowest price!
OVER 15 PAGES + A DIGITAL SPREADSHEET!
BONUs #1: Black Friday Sale Tracker
Easily track ALL of the Black Friday & Cyber Monday sales that you want to jump on! Be prepared & stay ahead of the game with this Black Friday Sale Tracker!
Bonus #2: Christmas Card Tracker
Christmas Cards are one of my favorite traditions! If you are planning on sending out beautiful family Christmas cards, this tracker will help you easily keep track of the addresses and who you sent a card to!
No, the Christmas List & Budget Planner is a DIGITAL product. Nothing will be shipped to you. Upon purchasing, you will receive instructions to access the instant download.
I designed this Christmas Planner from experience! It's designed to help you with real life Christmas planning struggles. It's not just a "pretty planner"!
Give heartfelt gifts without going over budget
Get all of this for 55% OFF! One time offer only!
Designed by Simplifying DIY Design, LLC. All rights reserved to mastering mom life.