Do you want to take control of your life?
NOT YOUR TYPICAL "MOM PLANNER"….
Would you like to effortlessly plan and organize your everyday tasks and escape the overwhelm of the mom life juggle??
Yes?! Then this is totally for YOU!
Mom's Master Planner is for the mom who wants to
effortlessly organize, plan, and track your life
in one easy to use place!
My Mom's Master Planner will help you eliminate the stress of organizing your life by giving you the proven planning model you need to get everything done!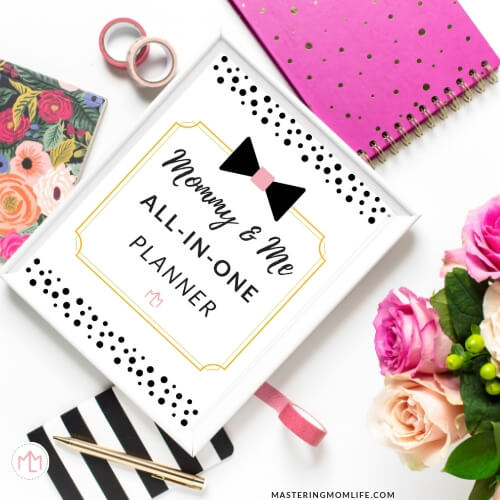 eliminate mom life stress
say yes!! to an organized, stress free mom life for only $15!
INCLUDES 50+ PAGES TO HELP YOU MASTER MOM LIFE:
Baby Daily Tracker 
Breastfeeding Tracker
Daily Baby Schedule
Mommy & Baby Daily Planner
Baby Daily Journal
Baby Illness Tracker
Appointments & Immunizations
Milestone Tracker
Self-care cheatsheet
Self-care routine
Habit Tracker
Self-care tracker
Monthly Planner Sheet for each of the 12 months
Daily Planner
Daily Notes
Weekly Planner
Annual Planner
Goal Tracker
Birthday Calendar
Master Grocery List
Budget Sheet
Weekly Menu
Daily Quick Clean Checklist
Monthly Cleaning Checklist
Chore Chart
Chore Checklist
Information for Baby Sitter
Baby Sitter Child Tracker
A value of $55 of printables for only

$15
Don't wait, grab your Mom's Master Planner now and get your mom life organized!
*a digital planner you can use electronically or print yourself!

This planner is a great way to get your ducks in a row as a mom of little ones. It covers everything from baby's schedule, to managing your home, to fitting in self-care as a busy mom.
This planner is a complete lifesaver!!!
Hi there! My name is Brianna and I'm the founder of Mastering Mom Life and the creator of the Mom Master Planner!
I started Mastering Mom Life to help busy moms escape the stresses of motherhood by learning how to effectively manage their time and home while helping their babies grow and develop! 
My mission is to help you learn how to master EVERY aspect of mom life by discovering practical solutions and tips for motherhood, parenting, family, and marriage so you can not just survive but thrive mom life!