We decided to take our daughter to Disney World for her first birthday! We wanted to stay on site so we could take advantage of Disney's transportation and save money on renting a car. I also wanted Baby L's first Disney trip to be full of Disney Magic so we chose to stay on site. We originally were going to wait to take Baby L to Disney World but we received this amazing special offer code to stay at All Star Movies Resort for only $73 a night! We couldn't pass it up! So here it is…our stay at Disney's All-Star Movies Resort (with a one year old!)
This was our first time staying at Disney's All-Star Movies Resort as a family and we enjoyed our stay very much! If you are considering staying at Disney's All-Star Movies Resort with your family I hope this review will be of help to you!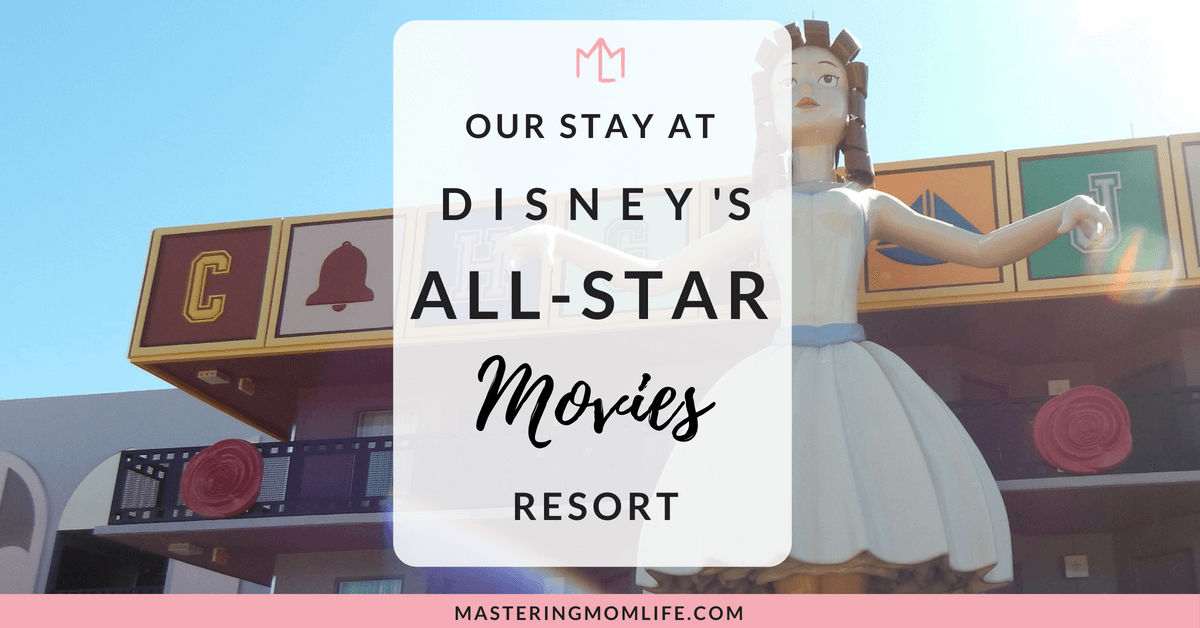 Here's our review of Disney's All-Star Movies Resort:
Perks of Staying at a Disney Resort:
Disney's Magical Express– Disney's Magical Express is an awesome perk that you get when you stay at a Disney Resort on site where they transport you for FREE to and from Orlando International Airport from your resort. Disney's Magical Express comes with another amazing luggage service where they pick up your checked bag for you and deliver it straight to your room! No waiting at baggage claim- just jump on the Disney bus waiting for you and head straight to your magical vacation!
Merchandise to Resort Service– When you stay at a Disney Resort you have the option to send the merchandise you purchase in the parks straight to your resort so you don't have to carry bags with you all day. We utilized this service everywhere we went! This was awesome for us because we weren't afraid to purchase souvenirs. We knew we didn't have to carry bags with us for the rest of the day!
60-day Booking Fast Pass Plus– Fast Passes are absolutely amazing! In short, it is reservation of a timed slot for each ride that allows you to get on a ride at that time without waiting in line. You simply book the ride or attraction you want to get on, chose a time, and arrive at the ride at that time (all can be done on the My Disney Experience website/app). Each guest is allowed to book 3 fast passes at a time per day. Regular guests are able to book their Fast Passes 30 days in advance of their arrival. Disney Resort guests get to book their Fast Passes 60 days in advance of their arrival! Trying to ride a new ride or trying to avoid a 2 hour wait for a popular attraction?? This is the way to go! You can even Fast Pass shows, parades, and firework shows!
Magic Bands– Magic Bands are these awesome devices that you wear on your wrist (they even clips that you can hang on a keychain) that links to your "My Disney Experience" account and resort stay. Magic Bands are the key to your room, the holder of your Fast Passes, and you can charge food and merchandise for the duration of your stay. It basically holds all of the information you have chosen for your vacation on your "My Disney Experience". You simply tap the band and voila- magic! You receive personalized Magic Bands for FREE whenever you stay at a Disney resort. You get to pick a color too!
Extra Magic Hours– Extra Magic Hours are just for Disney resort guests. It's a perk where resort guests get to visit a particular theme park one hour more than regular park guests. The hour is outside of the scheduled theme park operating hours so that's why it's "extra". There is Morning Extra Magic Hours where you can arrive at the park one hour before scheduled opening or Evening Extra Magic Hours where you can stay in the park for 1-2 hours past closing time.
Disney's All-Star Movies Resort- Value Resort:
Disney resorts are categorized by Value, Moderate, or Deluxe. Disney's All-Star Movies Resort is a Value Resort, so the prices are cheaper than Moderate and Deluxe Resorts and the rooms are smaller as well. No matter what resort you stay in, you get all the same perks mentioned above. I appreciate the Value resorts because not only are the prices great but the resorts tend to be more themed than Moderate and Deluxe resorts. But you obviously can't expect the same amenities from a Value resort that you would get at a Deluxe resort. Value resorts are also "motel style" meaning when you walk outside your door you are outside. The Value resorts also have standard room options and preferred room options. The standard rooms are rooms anywhere in the resort and the preferred rooms are guaranteed to be closer to the lobby and food court. The lobby is where the food, gift shop, front desk, and buses are. The resorts can be quite large and can be a long walk to your room from the lobby so some people pay a little extra for a preferred room. I absolutely love extravagant theming at resorts so it works out great for me that these just so happen to be the resorts with the low prices!
Price:
Disney's All-Star Movies Resort is a Value resort, so the average cost per night is about $100-125. We were able to get an amazing deal for $73 a night! This included the preferred room too, which is where you are guaranteed a room next to the main lobby, Cinema Hall, and your room isn't too far from transportation and food. For the price, the resort was great. You can notice that the resort is older than most and, in some areas, a little outdated. The room was in no doubt clean and the towels and linens were not of poor quality. I must admit it was a little more outdated than the other Value resorts I've stayed at. Some furniture was chipped at the edges and the bathroom door was jammed sometimes (maintenance was able to fix this for us in under 5 minutes). In my opinion, a Disney Value resort is a million times better than a regular old motel you would get for a hundred bucks a night anywhere else. They were undergoing renovations so I think all of the rooms are going to completely updated and renovated in the next year so that's a great plus!
Size of Room:
The size of the room in Disney's All-Star Movies Resort was standard for a double bed hotel room. (The room size is 260 square feet.) The vanity area with the mirror and sink is outside of the bathroom that has the toilet and shower/tub. There is a curtain that divides the vanity/sink area form the rest of the room so you can get dressed or have some privacy. We didn't have a problem at all fitting out family of 3 (2 adults and a baby).
Amenities in Room:
Flat screen TV
Mini-refrigerator
Safe with a key
Exposed closet
Hair dryer
Alarm radio clock
Big 3 drawer dresser
Night stand with a drawer and compartment underneath for storage
Table with 2 chairs
Towels and linens
2 lights above both full beds
Phone with speed dial resort departments
Crib and Sleeping Arrangements:
Disney offers a complimentary crib but the "crib" is a pack and play, not a standard crib. This did not bother us because when my daughter was a couple months old we were able to train her to sleep in both a pack and play and crib so that when we slept over at my mom's house Baby L could sleep in a pack and play. That being said, we have a crib mattress in our pack and play so it feels comfortable like a crib. The Disney pack and play did not offer any mattress. The bottom of the pack and play has a padded board that they offer to be used for your baby to sleep on. This was a little disappointing to me because I didn't want my tired baby who has been out in the parks all day to be sleeping on a board for the 5 nights that we were there.
They informed me that most moderate and deluxe resorts have travel cribs that are actual rolling cribs but Value resorts do not. I did not have resources to rent or drive to buy a crib so we had to figure out a way for Baby L to be comfortable. We ended up wrapping the bottom padded board with extra, soft blankets and folded them tight underneath so none of the blankets would move. With the extra blankets wrapped tight at the bottom of the crib, it was much softer and seemed more like a mattress.
At home, Baby L has her own room and sleeps best when she is by herself. She often wakes up if she hears me or my husband. She also loves her schedule and is like clockwork when it is time to go to sleep. Because the hotel room is just one room I was afraid that she wouldn't be able to sleep because she would hear my husband and I. Especially because she goes to bed at 8 pm and my husband and I would still be up trying to enjoy our vacation nights. So, what we did was we put her pack and play where the vanity was and closed the curtain to make it seem like she had her own area and was alone. The vanity area had a perfect sized space that the pack and play fit perfectly. Then we turned the lights off and put her sound machine on like we do in her room at home. She slept fine all through the night for all the nights! During the day we would move the pack and play to the window and let her look outside at the characters so we could have the space in the vanity area to get ready.
Theme:
Disney's All-Star Movies Resort has 4 themes or "sections" of the resort: Fantasia, Toy Story, 101 Dalmatians, Mighty Ducks, and Herbie. The main pool is in the Fantasia section right when you walk out of the lobby/food area. The main pool is Sorcerer Mickey on his red-curtained stage and water fountains out of his hands. (It reminds me a lot of the Fantasia show in Hollywood Studios.) The 3 preferred room sections are Toy Story, Fantasia, and 101 Dalmatians. We requested to be in the Toy Story section but that area was under renovations so the rooms were closed to guests. The cast members at the front desk were wonderful in accommodating us even though we didn't get our preferred section and they put us in the main Fantasia section with a great pool view on the first floor.
I love the theming of this resort because there is larger than life characters! I love taking pictures with the figures and statues because it feels like you're right in the movie. My favorite section was Toy Story! There is a huge Woody and Buzz Lightyear and in the middle of the section, there are huge walls that makes you feel like you are a toy in Andy's room. There are also statues of Rex, Bo Peep, and RC Racer. It was so much fun to take pictures!
Transportation to Parks:
A great perk of staying at a Disney resort is the free transportation to and from all of the Disney Parks! The buses come right after each other and you are in the parks within 15 minutes! At Disney's All-Star Movies Resort, the bus was located right outside the lobby, Cinema Hall. We didn't run into any issues with the buses at all. One morning the Magic Kingdom bus line was wrapped around all of the other bus lines and I thought it was going to take an hour for us to finally get on a bus. But the buses came back to back and we were on a bus within 20 minutes. The buses can get packed because you want to fit as many people on the bus so there isn't any wasted space. People are usually really friendly and respectful when it comes to space on the bus. We had our travel stroller that folded really tiny so my husband slung it on his shoulder and I sat with Baby L on my lap. Disney buses do not allow car seats and all strollers must be folded to be able to get on the bus.
Food:
The food court at Disney's All-Star Movies is called World Premier Food Court. It is located inside of the main Cinema Hall lobby. It's a cafeteria style food court and there are 3 different counters with different food options and menus. I really enjoyed this style of food because my husband and I were able to eat something different each time. The cashiers are located in the middle of the 3 food counters so you can go to each different section if you want and pay at the end. There is also a delicious dessert section where they offer ice cream, sundaes, milkshakes, and have 2 cases of dessert including cupcakes, cheesecake, layered cakes, specialty items. You can also find a Mickey Premium Ice Cream Bar right at the resort. (These are one of my FAVORITE Disney snacks!) You can also purchase a refillable mug that costs $17.99 and you can use it for the duration of your stay for unlimited refills. There is a refill station in the food court that has any Coke product, iced tea, coffee, tea, water, and milk. You can refill your mug with any beverage. If you buy beverages separately it can cost you around $4 a cup.
Staff:
The staff at Disney's All-Star Movies Resort was great. Every cast member we encountered was polite, kind, friendly, and respectful. They always offered us a smile and since we were wearing buttons that said we were celebrating our daughters first birthday we got loads of free stickers and little gifts all the time! It was awesome and my daughter LOVED the attention!
Gift Shop:
The gift shop at Disney's All-Star Movies Resort had everything you can think of. Not only did it have super cool merchandise but it also had a section that resembled a convenience store where you can buy a gallon of milk or water or beverage and had bags of potato chips, boxes of cookies, and snacks (even Entenmann's products). It also had a section of things that you can buy in case you forgot to pack something. It had all the necessities you can think of from aloe, Band-Aids, tweezers, diapers, wipes, hand sanitizer and so much more. I noticed that it even had things that you couldn't find in the parks! If you bought something in the park and had it sent to your resort this is where you came to pick up your package as well.
All-Star Resorts Proximity to each other:
My parents came with us to celebrate Baby L's first birthday and they stayed at Disney's All-Star Music Resort. There are 3 All-Star resorts: All Star Sports, All Star Music, and All-Star Movies. The resorts are right next to each other and only a parking lot away from each other. We were able to walk to see my parents in their resort and they were able to meet us at ours. It was great! So if you ever have family and you want to stay at different resorts but close enough to be next to each other the All-Star resorts are a great option.
Soooooo as you can see my family very much enjoyed staying at Disney's All-Star Movies Resort! Not only was the price unbeatable but our stay was so much fun! Baby L loved it and I don't regret for a second taking her to Disney for her first birthday. She may not remember it, but she'll have pictures to look back at for the rest of her life.
We do travel to Disney quite a lot, even though we live in New York we always find great flight deals. So far, we've at Art of Animation, Pop Century, Port Orleans, and now All-Star Movies Resort. I look forward to coming back to Disney World and staying at another resort!
Have any questions or want to share your experience at Disney's All-Star Movies Resort? Feel free to drop me a comment!!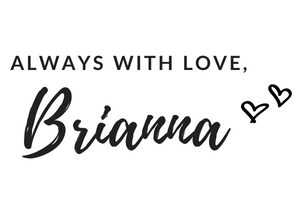 Packing your little one to Disney?? Check out my posts "What to Pack for a One Year Old for a Disney Vacation" and "Tips to Taking Your One Year Old to Disney"! Find out my tips and tricks to taking our toddler to Disney and making our vacation fun an stress-free!