I envy those moms who cook like master chefs. The moms who love to cook up a feast and spend hours doing it. I wish I was them!
But I'm more of the "what's the fastest and easiest meal I can get on the table after a long day a battling 10 piles of laundry" kind of mom.
And because of this, I usually shy away from my meal planning and meal prep.
If you find meal planning realllyyy tasking, overwhelming, difficult and never seem to find the time to actually do it– you are not alone. I'm right there with ya!
BUT I was tired of constantly dreading dinners and being pressed for time every day when my husband asked me what was for dinner.
So instead, I pressed on and tried to create a system that worked *for me*. Not one that made me feel guilty for being the "perfect" kind of mom.
And if you felt anything like I did, I would love to share my easy meal planning tips with you!
I created an easy meal planning system that not only is stress-free but is also friendly for the "not so chef", busy mom.
And now it only takes me 15 minutes a week for my meal planning and prepping!
This easy meal planning system is super flexible and allows you to set it up in a way that works best for you (and that's affordable!).
This easy meal planning system will give you the flexibility to plan your meals at the pace you're comfortable with and plan meals you're comfortable with making.
Maybe you want to just plan for 5 days or even 3 days. It's totally up to you!
This system is an outline for easy meal planning that you can fill in with your own details! I'm super excited to share it with you today!
Busy Mom's Meal Planning Toolkit
To help you easily meal plan, I created a Meal Planning Toolkit specifically to help busy moms!
The toolkit includes 5 pages of printable templates and planner sheets that will help you accomplish each other these 5 steps to easy meal planning.
I personally use this toolkit every week when I meal plan and it takes me less than 15 minutes to meal plan for the week from start to finish. It's my all-in-one meal planning resource!
Download the toolkit now!
So, let's dive into the easy meal planning system!
5 Steps to Easy Meal Planning
This post contains affiliate links. As an Amazon Associate I earn from qualifying purchases. Please view Mastering Mom Life's Terms, Disclosure & Disclaimer Policy and Privacy Policy. I wholeheartedly believe in all of the products I recommend and use them all! 
I always avoided meal planning because I thought it was only for the moms who had a really large recipe box and was able to pump out 7 dinners a week from all of the recipes they knew how to make.
And I definitely did not fall into this category.
But once I actually created a meal planning system and started to use it, it has been a complete lifesaver!
1. Go Hunting
Step 1: Write out the recipes you know how to make or want to make
Honestly, the first and second steps will probably take the most time but after you set this up you never have to work on it again (unless you want to update it).
The first step to easy meal planning is to actually find the recipes that you would want to make.
You'll hunt down simple recipes that work for you.
Since I'm not a "chef mom", this usually involved me combing Pinterest for easy family meals. When I found meals I thought I could make, I save it to a board I created.
Then I used that board as my recipe archive.
Be sure to find recipes for all of the meals you are planning to make.
Maybe you just want to start meal planning your dinners. Or maybe you want to save an assortment of meals just so you have them handy, like breakfasts, lunches, and dinners.
Then I either print the recipe or write it out on a recipe card. Since this is "easy meal planning for the BUSY mom", I usually go for the printing method, but sometimes when I have some downtime I'll actually write out recipes on a recipe card to make it nice and pretty.
This usually involves some work, but trust me it will be worth it!
Then, with the meals that I know how to make from memory, I even take the time to write out the ingredients and the recipe. This may seem like a waste of time but you'll see why this is a lifesaver in the next step!
Like I mentioned before, this step is usually one of the most time consuming, but once you get it out of the way, you really don't have to do it again until you want to.
2. Organize
Step 2: Organize recipes in a system you like (recipe box or electronically)
Now that you have the recipes that you want to make, it's time to organize them. I purchased this really cute recipe box where I can store all of my recipes. You can purchase it by clicking here.
I used to just have them all on my Pinterest "food" board, but it was really hard for me to view the recipe and make the meal all while trying to keep my phone open to the recipe.
So, what I did was print the recipe (step 1) and organized it in my recipe box according to what type of dish it was. For example, I have a section for appetizers, breakfast, lunches, dinners, side sides, and desserts.
Then I quickly alphabetized each section so I can easily find the recipe I am looking for. See? Wasn't that easy??!
Remember, don't forget to write out the recipes you know how to make from memory too. The goal of this step is to have ALL of the recipes you would make in the future all in one place so you don't have to worry about thinking about what to make when it comes time to make a meal or meal planning. You're thinking now so you don't have to later- score!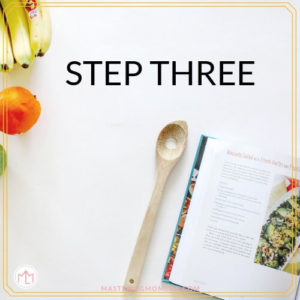 3. Start planning!
Step 3: Use those recipes to plan your weekly meals!
Now that you have all the recipes that you would make accessible and organized, all you have to do is plan your meals from those recipes.
I found the key to easy meal planning is to plan a specific time a week that you want to dedicate 15 minutes to meal planning. I usually choose one day a week that you want to start your week and then use those 15 minutes to plan the meals you want to make that week.
For example, my husband works Tuesday-Saturday so technically our "week" starts on Tuesday and our weekend is "Sunday and Monday".
Since Tuesday is our "first day of the week", I'll make a conscious effort to sit down Monday night for 15 minutes to do my meal planning for the week.
Only 15 minutes to plan my meals for the week?? That's a busy mom's dream come true!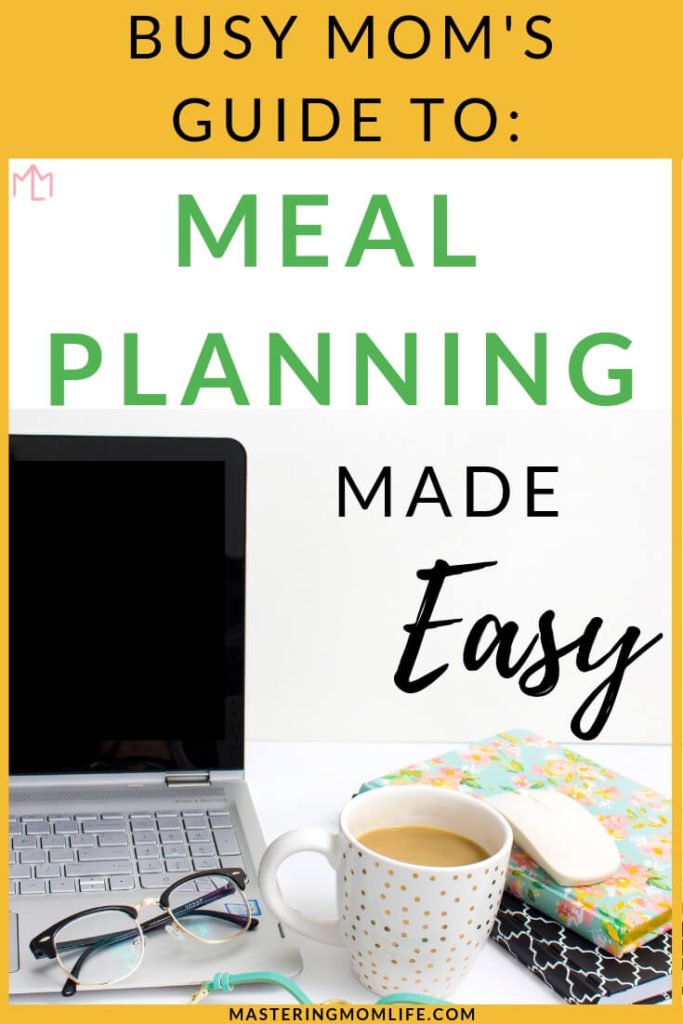 Here is where the flexibility of this meal planning system comes into place.
Maybe you just want to plan lunches for the week. Or maybe you just want to plan 3 dinners because you want to eat out a couple of meals. Whatever works best for you and your family!
All you have to do is find and take out the recipe card or print out that you created in step 1 and organized in step 2. Then, write down the meals you want to make that week!
And a bonus thing that I do is take out those recipes that I am making for the week and put them in the front of my recipe box.
This way, all of the recipes are easily accessible when I go to make them. Then when I'm done making the meal, I store the recipe back in the organization system (such as my recipe box).
To help you easily plan all of your meals for the week, I created a Weekly Meal Plan Worksheet for you to write out all of the meals you want to make in one place.
The Weekly Meal Plan Worksheet is in the Free Meal Planning Toolkit for the Busy Mom! (don't forget to download it!)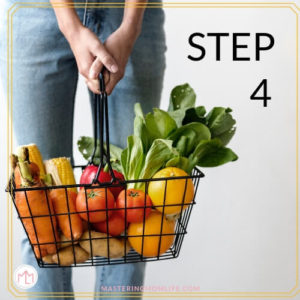 4. Easy Grocery Shopping
Step 4: Make a list of groceries you need for that week based on your recipes.
Now that you have all of the recipes you want to make that week, it's time to actually plan out WHAT you need for those recipes.
I found that the best thing to do make a list of the ingredients I need from each recipe all on one sheet of paper.
I easily do this by using my Weekly Grocery List and Recipe Ingredient List, which are two templates I created that allow to me make a list of all of the ingredients I need so I'm only taking one master list to the grocery store when I do my shopping.
I created two different list templates because some weeks, depending on how organized I want to be, I use one over the other. It gives me the option to list things in a different format!
I included the Weekly Grocery List and the Recipe Ingredient Master List in the Free Planning Toolkit for the Busy mom!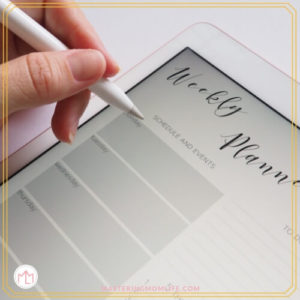 5. Bonus step: Meal Board
Step 5: Write out the meal plan on a family meal board.
I didn't always use a Family Meal Board, which basically just a dry erase board that I keep in my kitchen for my family to see.
But when I actually started meal planning, I decided to have my meal plan for that week visible for my husband to see so I don't keep getting asked the question "what are we eating today?".
So, what I did was, I printed out my Weekly Meal Plan Worksheet and inserted it into an 8.5 x 11 picture frame and used the glass as a dry erase board.
That way, the menu worksheet always stays in the frame and all I have to do is write over it on the glass and clean it off weekly when I create a new weekly menu!
If you don't have to do this, I also see weekly menu dry erase board at Target and Walmart and even the local dollar store that you can use too. It's totally up to you if you want to have a Family Meal Board!
RECAP: What my weekly meal planning looks like 
Sit down for 15 minutes every one night a week to plan my meals
Figure out how many meals I want to make that week and which meals they are
Take out my recipe box and choose which meals to make for which day
Write out my meal plan or the week based on the choices I made
Accumulate all the recipes for the week that I want to make and write down the ingredients I need for each recipe for my grocery list
Finalize my grocery list
Make my meal on a particular day
After using that recipe, place it back in my recipe box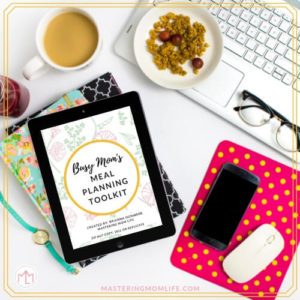 Busy Mom's Meal Planning Toolkit
If you're totally convinced that this easy meal planning system is right for you then I totally recommend you downloading my free Busy Mom's Meal Planning Toolkit!
The toolkit has everything you need to easily meal plan and has all of the templates, worksheets, and lists that I discussed above. The Toolkit is a 5-page bundle that will help you accomplish your meal planning goals!
What's included in the toolkit:
Weekly Meal Plan Worksheet
Weekly Grocery list
Master Recipe Ingredient List
Download the toolkit now!
Wasn't that super simple!?!
I'm always running around completing errands so I didn't think that meal planning was going to work for me and my family but once I started a system that worked for me, it's been an absolute lifesaver!
I don't always meal plan, because let's face it, sometimes we can get really busy and even lazy- but when I do choose to meal plan it's always really easy thanks to this super quick system!
I hope I was able to help you with your meal planning mission!
Happy meal planning!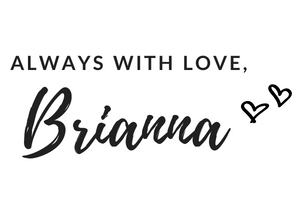 Wait! Do you love free printables??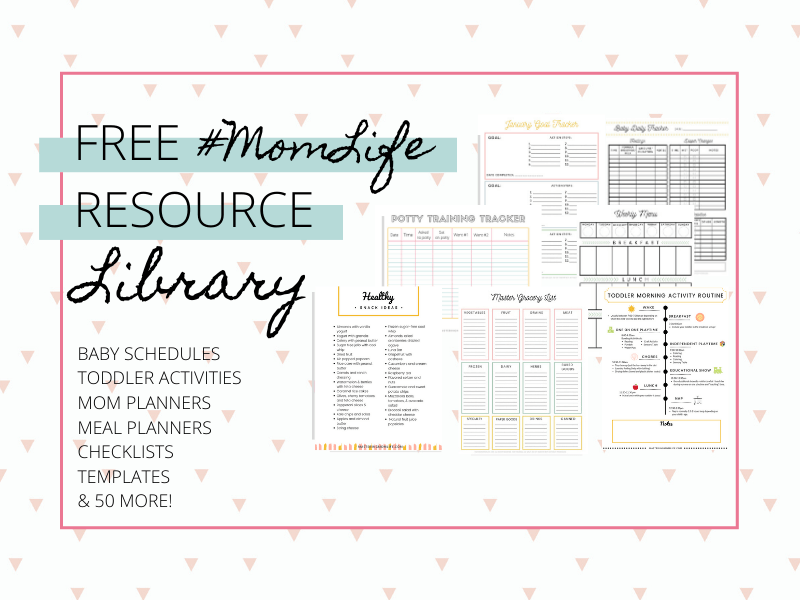 Become part of the Mastering Mom Life Insider tribe and get instant, exclusive access to my Mom Treasury filled with FREE printables + worksheets to make mom life easier!