Inside: To help you heal as fast as possible, here is the ultimate list of essentials for a quick and pain free postpartum recovery! Plus a FREE essentials checklist!
The miracle of life is amazing! But… it's also extremely painful.
Right after delivery, I remember thinking to myself "Why in the world did no one explain this pain to me like the worst pain I will ever experience??"
Between pain from switches, pain when you potty, inability to remotely touch "down there", and even painful to walk, let's just say it's faarrrr from a feeling like you're at a party.
Hello, postpartum recovery!
No time to read this now? That's okay! Save it to your favorite Pinterest Board for later
The good news is, there are things you can do to help you heal faster and feel as pain-free as possible, which is an amazing silver lining after what you just went through!
Today, I'm going to share with you the ultimate list of postpartum recovery essentials to make you feel better and feel more like yourself in no time!
But instead of jumping right to gory details of how your body will feel, I wanted to give you the solution to the pain instead of just talking about the pain. Sounds good right?!
To help you heal as fast as possible, I wanted to share with you the ultimate list of essentials for fast and pain-free postpartum recovery!
Not only did I just list out the essentials in this post but I also created a checklist for you to print out and use so you don't have to worry about forgetting everything you need! Download the Ultimate Postpartum Essentials Checklist now!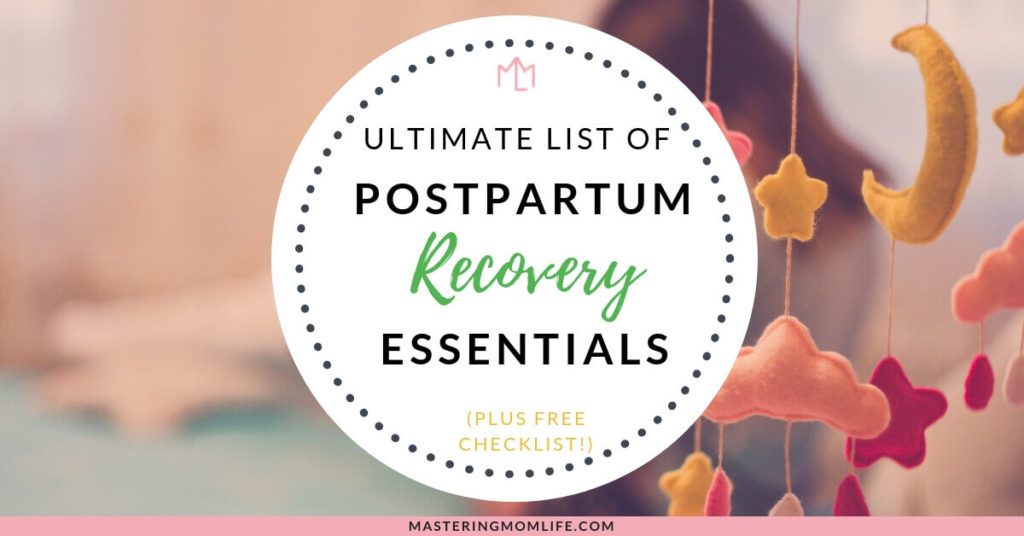 Save a trip to the store!
An awesome thing about this post is that every single item that I mention as an essential is available on Amazon and can be shipped to you within 24-48 hours (depending on where you live).
(Not an Amazon Prime member? Sign up now for a 30 Day Free Trial– Plus get Amazon Family discounts on everyday baby essentials such as diapers and wipes.)
I didn't have an amazing list of essentials prior to my postpartum recovery so I had to purchase the essentials quickly.
I obviously wasn't able to stroll to the store and I didn't want to burden my husband with picking up a bunch of feminine products, so Amazon became my friend.
Not only was I able to purchase everything on my phone and it gets delivered straight to my house preventing a trip to the store but I also saved a bunch of money because the items were cheaper on Amazon compared to my local drugstore!
I included all of the links to the products below so if you want to purchase something just click on the link- super easy!
So, let's dive in postpartum recovery essentials!
Best Essentials for Postpartum Recovery
This post contains affiliate links. Any purchases you make through these links, I will receive a small commission at no extra cost to you! As an Amazon Associate, I earn from qualifying purchases. Please view Mastering Mom Life's Terms, Disclosure & Disclaimer Policy and Privacy Policy. I wholeheartedly believe in all of the products I recommend and use them all! 
Postpartum Recovery: Bathroom Essentials
Mega pads
After you give birth, your nurses will supply you with a bucket of mesh underwear and super long, thick, mega pads.
It's no surprise that you will be bleeding pretty heavily after delivery but it may surprise you HOW much you may be bleeding.
Each woman is different so no 2 experiences are the same but when you get released from the hospital you want to make sure that you have enough pads handy. Bleeding can last anywhere from 2-6 weeks so make sure to have enough!
I tried 3 different brands but these are the ones that worked the best for me! They are not only come in different length sizes but they have wings so the pad can stay in place and it prevents overflowing and accidents.
The best pad that I tried that is not super thick and uncomfortable but is super absorbent is here: Stayfree Ultra Thin Overnight Pads with Wings
Dermoplast
Another postpartum recovery essential is Dermoplast.
Dermaoplast is this miracle spray that you spray in you "down there" and it brings instant relief and numbing to your pain.
If you have stitched because you tore or if it hurts to sit then this spray reaallyyy comes in handy. The hospital gave it to me in my postpartum recovery basket that they put by my bedside and when I used life-changing. I used it every time I used the bathroom and it brought me SO much relief.
You can find Dermoplast here!
Peri bottle
Staying on the topic of bathroom postpartum essentials, a peri bottle definitely goes on that list! Since you are sore and swollen down there it can be painful to use the bathroom, let alone wipe.
The nurses discouraged me from actually wiping, instead they advised me to just use a peri bottle to spray warm water to clean myself.
This peri bottle was amazing! The warm water is so soothing and it does a great job at replacing the need to wipe agitate your sore region.
You can purchase a peri bottle by clicking here: Perineal Lavette Irrigation Bottle (3 Pack)
Pain Reliever
Now, I know some people do not take medication or pain but for me, pain medication was a postpartum recovery essential.
It necessarily doesn't help you recover quickly, but it makes your recovery period more tolerable.
Before I was discharged from the hospital my doctor actually prescribed me a mild painkiller so if pain medication is something you feel you will need then maybe sure to ask your doctor.
But buying a regular over-the-counter pain medication is totally fine as well.
And please DO NOT feel guilty or ashamed because you feel you need some sort of pain relief. Stitches in your tender area are exactly how it sounds: a little painful and uncomfortable. My doctor recommended I alternatie between Tylenol (acetaminophen) and Advil (ibuprofen) every 6-8 hours for the first week home.
Remember to please and always ask your doctor before taking any medication!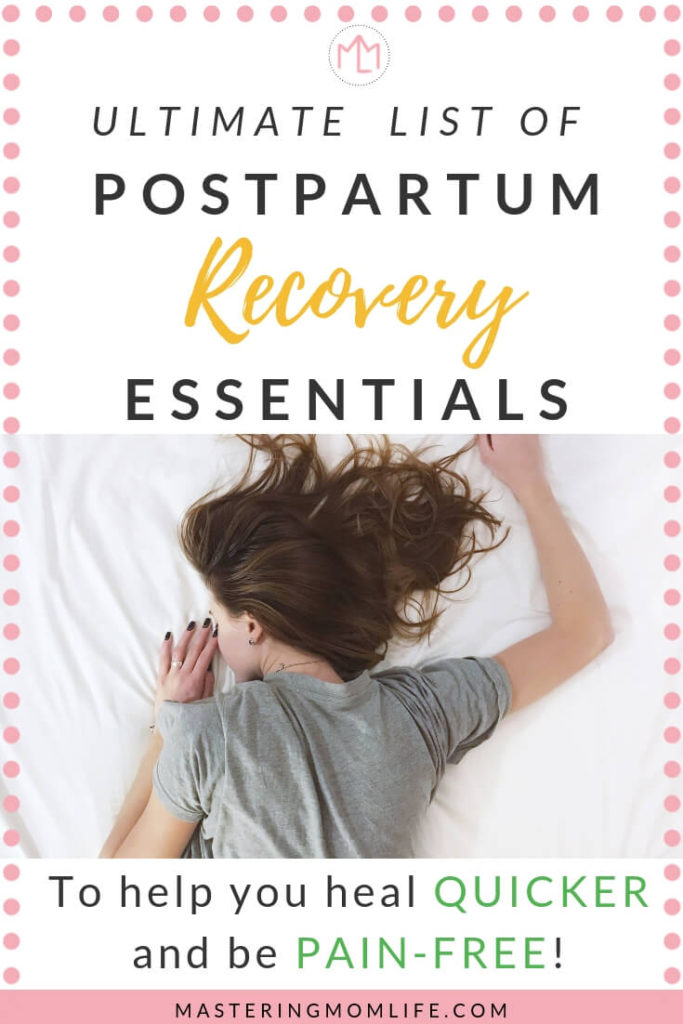 Mama bottom balm
Because your region "down there" feels like you got into an epic fight and lost, you're going to want to apply some relief balm to help heal your perineal.
This balm really helped me and gave me the must-need relief I needed.
I couldn't apply it right away because it still hurt to touch down there but after a week or so the balm was smooth and light enough for me to begin to apply it. It's also organic and made from natural herbs and essential oils so you don't feel like you are putting any chemicals down there!
This is the balm I purchased: Earth Mama Organic Perineal Balm
Hemorrhoid Cream
This postpartum recovery essential is for one of the worst things that I have experienced: hemorrhoids.
Oh, how I hate that H word!
I experienced hemorrhoids from the middle of my pregnancy all the way through my postpartum recovery. And let me tell you, it was not fun! If hemorrhoids are something that you didn't go through during pregnancy or after having your baby then you are without a doubt beyond blessed and I am extremely jealous!
One of the things that gave me great relief from hemorrhoids is the actual cream made for hemorrhoids. You apply it straight on the area that is inflamed or that is in pain or uncomfortable and you'll feel immediate relief.
You can also use the Earth Mama Perineal Balm that I mentioned above. You can apply this balm as many times as you like and it is super easy to use. It's also 100% organic and not harmful to you at all!
The cream I purchased: Preparation H Maximum Strength Cream
Tucks Pads
Like I mentioned, having the dreaded H word is absolutely the worst (yes, I'm still talking about hemorrhoids)! 
In fact, they are so uncomfortable that I even added 2 MORE things to this postpartum recovery essentials list to make your situation less horrifying and help you feel relief.
Tucks pads are absolutely amazing because they are specially designed to bring cool relief to your tender bottom.
Stool Softener
Another postpartum recovery essential to help you combat and even prevent hemorrhoids is a stool softener.
There is nothing worse than feeling splitting pain down there and then realizing that you have to "go to the bathroom". I've heard of some women even stopping themselves from going to the bathroom because they did not want to aggravate or worsen their hemorrhoids.
The good news is that to prevent hemorrhoids from returning or happening, the KEY is soft stools. Yes, I know this is totally gross to talk about but it's also very real and useful information.
Start taking stool softener BEFORE labor and chances are when you have to use the bathroom after delivery is won't be as bad because your stool will be soft and your boy does not have to push when you go to the bathroom.
You've already done enough strenuous pushing and you don't want to have to push more out of your body!
Continue to take a stool softener until you feel comfortable, your body is regulated and your hemorrhoids have subsided. I still take it sometimes because it's always better to be safer than sorry!
Colace is the best stool softener I found and I have tried A LOT of different ones, trust me. I have experimented more than enough so you don't have to!
Don't forget to download your FREE Postpartum checklist so you don't forget an essential! Sign up now to get the free checklist now!
Around the House Postpartum Essentials
Hemorrhoid & Postpartum Pillow
Okay, this is my last postpartum recovery essential regarding hemorrhoids, but trust me- you're going to want to get ALL of the tips you can!
An absolute lifesaver for me was a donut pillow. Hemorrhoids are seriously not fun to sit on and if you are still recovering from your labor and delivery odds are most of your regular positions are going to be sitting or lying down.
You don't want to aggravate or irritate your bottom so sitting on a donut pillow will allow you to sit in a comfortable position while having your bottom remain untouched. It's a brilliant invention!
I purchased this pillow and it truly was a purchase I would make over and over again!
Comfortable Underwear
Another important postpartum recovery essential is comfortable underwear. When you're in the hospital they will give you these mesh underwear that is sort of "boy short" style. I thought that I would absolutely hate them but the mesh underwear was actually comfortable and was really useful.
When you leave the hospital, you can ask for a couple of more so you can take them home with you if you like.
But you want to make sure that you have comfortable underwear. You don't want to automatically start wearing your pretty, lacy undergarments because the truth is you might dirty them and they might be really uncomfortable at first.
Because you're going to be bleeding and still achy down there, you want to make sure to have comfortable, cotton underwear that even is a size larger than you normally wear.
These are the underwear that I purchased and they lasted me through my postpartum time: Essentials 100% Cotton Bikini Panty (6 pack)
Heating pads (icy hot)
It's no secret that you're going to be sore! Your back, your abdomen, your bottom- everything. So, it's really great to have a heating pad on hand. When your uterus is shrinking back to its normal size it also contracts and can feel like intense period cramps. A heating pad can help with these pains as your body is adjusting.
I also purchased Icy Hot patches that stick to your body and give you a tingly and cooling sensation. These really helped me when my lower back would hurt because I would put a patch on and just forget that it was there and it would really help my muscles!
You can find those icy hot patches here: Icy Hot Lidocaine Patch
You can purchase a really good, inexpensive heating pad here: Sunbeam Electric Heating Pad with 3 heat settings
Nipple cream
If you are breastfeeding, then you are going to definitely need some nipple relief cream. Your nipples can start to get red and cracked and even start to really hurt so to prevent this from happening to you it's best to start using a nipple cream right away.
You don't want your baby's feeding time to be miserable for you because your nipples are in agony!
I used this organic nipple butter. It's made with 100% organic beeswax and does not need to be wiped off before nursing! It's called: Mama Earth Organic Nipple Butter
Nipple pads
Another important postpartum receiver essential regarding breastfeeding is nipple pads. If you are breastfeeding then you will begin to notice that you can start to "leak" breastmilk at any time, even when you are sleeping.
Even if you are NOT breastfeeding, your breastmilk will still come in and you will feel your breasts start to get firm and "full".
You will also start to experience your breasts leaking because your milk is still there. It's best to wear nipple pads or nursing pads so your milk doesn't get all over your shirts.
At first, I didn't know I even needed nipple pads until one morning I woke up and my pajama shirt was soaked with 2 huge wet circles. After that, I started wearing nursing pads all day and even at night.
You can purchase nursing pads here: Lansinoh Stay Dry Nursing Pads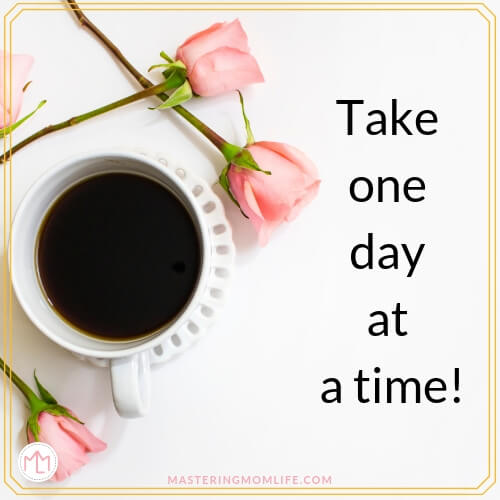 Probiotics
Probiotics is another great postpartum recovery essential because it will help you stay regular and keep your body's digestive system healthy and support your daily immune system health.
Probiotics will also combat any antibiotics that you were taking if you needed antibiotics while you were in labor and delivery. Sometimes you can have a fever in labor and delivery and they will give you antibiotics to prevent the baby from getting an infection.
If you had antibiotics during labor it can affect your body for weeks afterward so I always like to have probiotics handy, especially when I was recovering.
The best probiotics I've ever taken was Garden of Life RAW Probiotics Ultimate Care. These probiotics are 100% GMO-Free and made with real foods that are clean, organic, and traceable.
Belly Lotion
I absolutely love to feel moisturized and I was so worried about the stretch marks on my body. So, a part of my postpartum recovery essentials was a special mama belly lotion to help hydrate the skin and ease stretch marks.
The more hydrated and moisturized you keep your skin, the better it will heal and prevent permanent stretch marks.
I started using this lotion when I was 6 months pregnant and it significantly reduced my skin from stretching! Then I used it 3 times a day for about 2 months after my delivery and I started seeing my stretch marks fade!
Even though it's a "belly lotion" you should use it on your arms, breasts, thighs, and legs- basically anywhere that you want your skin to look better!
As with everything else that I've been recommending to you, this Mama Lotion is 100% organic and has organic herbs and essential oils in it to calm your stretch skin and encourage your skin's natural elasticity.
You can find the belly lotion here: Earth Mama Belly Butter

Sitz Bath
A sitz bath is a mini bath for your bottom and region "down there". It's absolutely amazing and one of the best inventions, in my opinion!
Sometimes when you need immediate relief down there and you don't want to apply creams or sprays, the best option is a sitz bath. Sitz baths are great for vaginal soreness, tears, episiotomy, perineal bruising, and hemorrhoids. If you suffering it prenatal hemorrhoids you can use this too!
You simply purchase a sitz bath bowl that goes over your toilet. You fill it with warm water and add comforting elements to it like essential oils and herbs for pain relief and to soothe you.
I used to purchase herbal sitz bath's, which came in little pouches and looked like a tea bag that you steep in the warm water and fills the water with soothing essential oils and herbs. It worked WONDERS!
I purchased this: Earth Mama Organic Herbal Sitz Bath (6 count)
Epsom Salt
Epsom salt is really good for your muscles when you are feeling sore. It also really helps with the swelling reduction! When my doctor cleared me to be able to take baths I used to take an Epsom salt bath once a day for about 2 weeks.
It would reduce my swelling (from water retention) and make my achy body feel rejuvenated. You can even add some drops of essential oil to your bath for ultimate soothing and stress relief. You can even buy Epsom salt with lavender to help you sleep better!
You can buy some of the best Epsom salt here. It's called Dr. Teals Epsom Salt Soaking Solution in Eucalyptus and Lavender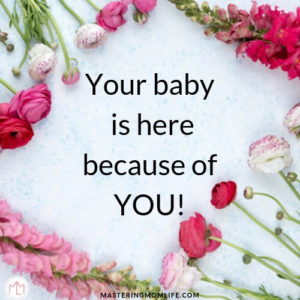 Gigantic water bottle
Water is SO important during the postpartum recovery period. If you're breastfeeding you're going to need to be drinking a tooonnn of water and even if you aren't breastfeeding, your body needs a lot of water to stay hydrated and healthy.
It's a good idea to buy a pretty water bottle that you are going to use daily that would make you want to drink water. It can also be your gauge as to how much you are drinking.
I purchased this water bottle and I knew that I needed to drink 3 of these every day to meet my water quota. It has an infusion part so you can add fruit to add some flavor to the water too!
Recovery Journal
This recovery essential is optional but it really helped me in my recovery journal. Having a recovery journal can help you keep track of how you are feeling daily and see the progress of your health.
It doesn't have to be a full-length diary, but even simple notes that you've jotted down about how you felt that day.
And if you ever are experiencing something out of the ordinary, be sure to write it down so when you visit your doctor you can have a clear track of information about how you have been feeling. I find that most of the time my doctor will ask me a specific question about my health and I would draw a complete blank!
But having a journal helps me not feel so much pressure to have to remember everything.
This is a really great postpartum wellness journal!
Rest
You cannot BUY this postpartum recovery essential.
It's simply to rest, rest, rest.
Do NOT try to overdo it and overwork yourself. Make sure you are following your doctor's orders and instructions. When you are feeling tired, lay down. When you are feeling light-headed, sit down. When you are aching and swollen, take a bath.
When your region "down there" is in pain, take a sitz bath. I know there are a million little things to do when you have a newborn but you have to remember to take care of yourself!
Ask for help when you need it and remember that you are your baby's caregiver and need to be healthy in order to keep your baby healthy!
And that's all for my postpartum recovery essentials list! All of these items are impossible to remember, especially when you are pregnant and about to give birth or home after delivery and are taking care of a newborn.
I wanted to make it super easy for you to remember these items so I created an Ultimate Postpartum Recovery Essentials Checklist for you to download or print!
Ultimate Postpartum Essentials Checklist
The checklist includes everything in this post PLUS some extra items to add further comfort for you!
Don't feel like you need to remember all of these items, instead, download the list so you know for a fact that you are getting all of the items you need for a quick and easy recovery!
There's nothing worse than being in pain and feeling uncomfortable and you don't have anything to bring your relief. Let me help you recover easily, quickly, and in the most pain-free way so you can feel better in the blink of an eye! Download the Postpartum Checklist now!
Well, there you have it! To help you heal as fast as possible, I wanted to share with you the ultimate list of essentials for fast and pain-free postpartum recovery! I hope I was able to bring you comfort and relief knowing that you don't have to suffer through postpartum without any help!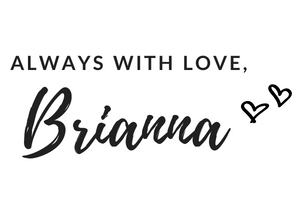 Please know that I am not a doctor or physician and I am not medically trained. All tips and advice given is based on my own experience and given to me by my own doctor. If you have any questions or concerns, please contact your doctor. This post is solely to offer encouragement from my experience and not designed to offer medical advice or treatment.