Inside: The key to dealing with hemorrhoids during pregnancy is to prevent worsening symptoms and to be intentional about the proper prevention, care, and treatment!
Hemorrhoids kicked my butt! (Literally…)
I was 7 months pregnant and unable to move for hours at a time. I was in excruciating pain and tried to keep my tushy up in the air for as long as possible. I wanted to die.
I was NOT prepared for hemorrhoids.
Hemorrhoids during pregnancy can be very overwhelming, painful, debilitating, and frustrating. But you can conquer the horror of hemorrhoids with some key tips!
The key to dealing with hemorrhoids during pregnancy is to prevent worsening symptoms and to be intentional about the proper care and treatment so you can heal quickly and easily!
Today, I'll be going over EVERYTHING you need to know about hemorrhoids during pregnancy including causes, prevention, treatment, and care. Plus, some "been there, done that" tips and tricks from moms who have battled hemorrhoids.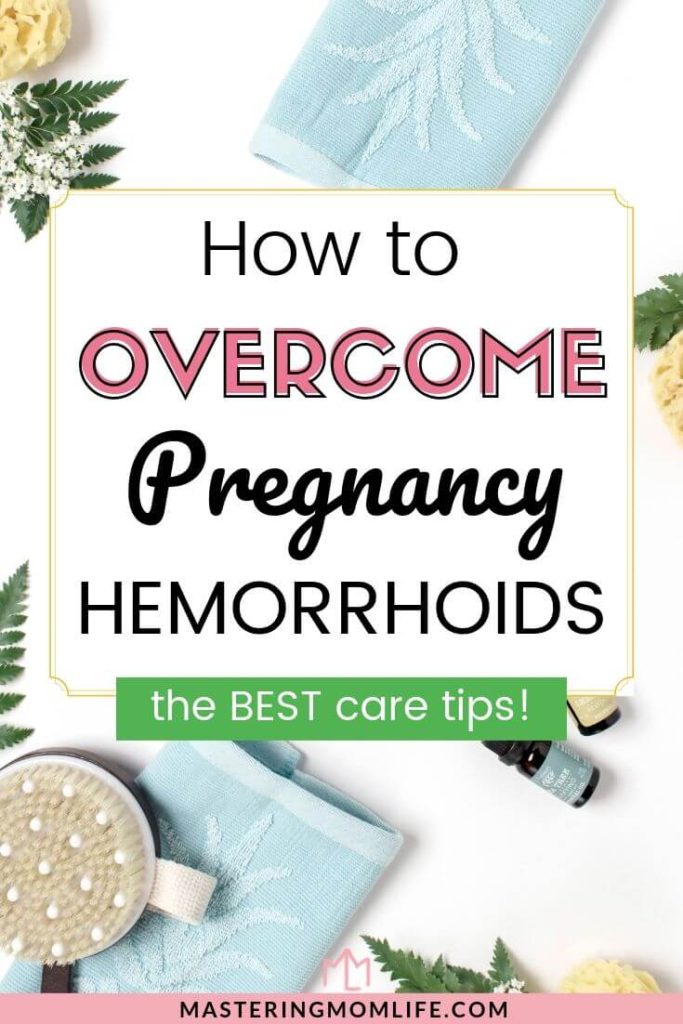 Everything You Need to Know About Hemorrhoids During Pregnancy
This post contains affiliate links. Any purchases you make through these links, I will receive a small commission at no extra cost to you! Mastering Mom life is a participant in the Amazon Services LLC Associates Program. As an Amazon Associate I earn from qualifying purchases. Please view Mastering Mom Life's Terms, Disclosure & Disclaimer Policy and Privacy Policy. I wholeheartedly believe in all of the products I recommend and use them all! 
Causes:
What are hemorrhoids?
Hemorrhoids are swollen veins in the rectum that form from increased pressure from pushing and straining. They also develop from sitting on the toilet for a long period of time due to continuing diarrhea and constipation.
Hemorrhoids during pregnancy are SO common because you can experience both constipation and diarrhea while you are pregnant.
Hemorrhoids can be internal, where they are swollen veins in your rectum, or they can be external, the veins swelling and fall outside of the rectum. (I know, not a pretty conversation at all!!)
Hemorrhoids, both internal and external, can bleed.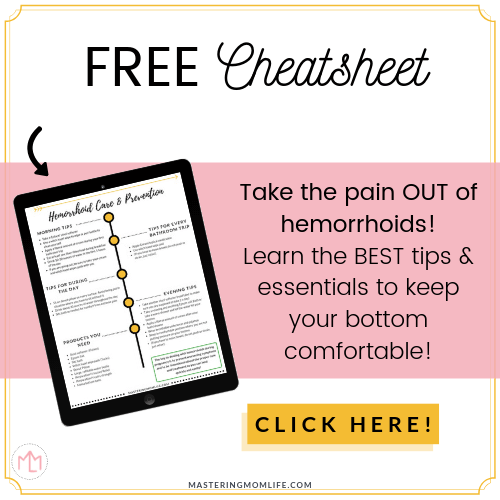 Prevention:
One of the greatest ways to combat hemorrhoids is PREVENTION!
Take stool softener–
One of the main keys to preventing hemorrhoids in general or preventing them from getting worse is to keep your stool soft. (I know, it's not a pretty conversation but I promise it'll be worth it!)
As I mentioned, hemorrhoids usually come about when you are pushing too hard, and too long. When your stool is soft, it irritates your bottom less because you are not pushing longer or hard.
Moisturization–
One of the best ways to keep your hemorrhoids from flaring up or from getting worse is to keep cream on your bottom constantly. Like any other part of your body, when your bottom moisturized, it is less itchy less red, less inflamed and overall less painful.
Different cream options:
Preparation H Cooling Gel with Aloe and Vitamin E
Earth Mama Organic Perineal Balm
Preparation H Maximum Strength Cream
I have actually purchased 3 different creams and use them for different times. The first cream is for instant cooling relief for when I am at my worst and in a lot of pain. The next cream is for use throughout the day to prevent the burning and itching sensation. I like to use it more liberally because it's all-natural and organic. And the last cream is used for night time to get me through the night.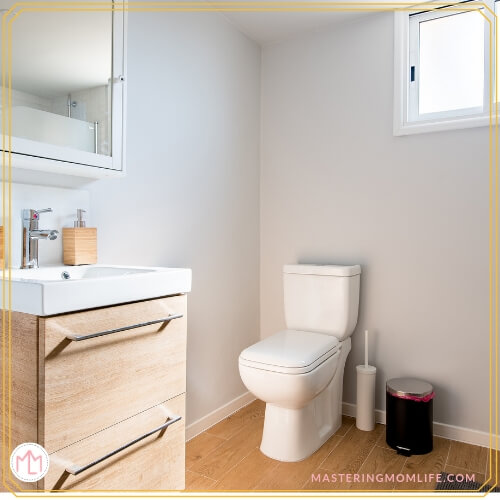 Go When You Gotta Go
As soon as you feel the urge to use the bathroom, go to the bathroom. When you hold it in it becomes hard and backed up and can cause hemorrhoids. This can also cause constipation that can lead to the formation of more hemorrhoids.
After labor and delivery, especially if you have a vaginal birth, hemorrhoids are prone to return. This is due to the constant pushing during delivery and the strength of those pushes. Having and doing a daily hemorrhoid prevention regimen will help you postpartum!
Treatment:
Internal and Oral creams/medications
Don't underestimate the power of a good pain reliever when you are experiencing intense pain. There are a couple of medication options. You can take oral medication or topical medication.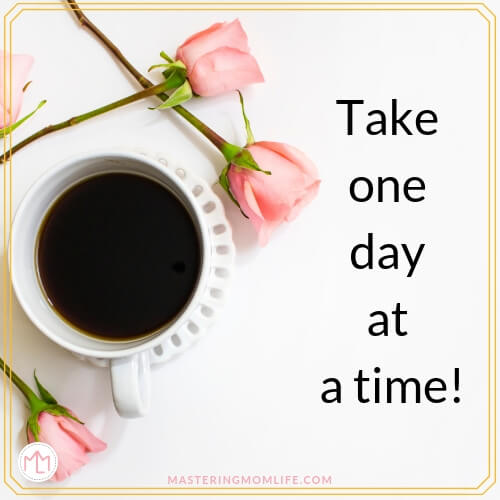 Oral Medication
Be sure to ask your doctor about the oral medication you can and cannot take. I'm going to be 100% honest, there was one day that I was in excruciating pain and I took 1 200mg ibuprofen for the pain that I was experiencing. I vowed to take NO medications during pregnancy but those hemorrhoids just were literally so excruciating.
My doctor advised me to take the medicine and I did for one day. And it was like night and day!
Prescribed Topical Medication
I had 4 hemorrhoids at the same time that were unbelievably agonizing. No topical over the counter cream was working. Because I did not want to take oral pain medication for the second day in a row, my doctor prescribed me this special medicated foaming topical cream. And it worked!
So, for specific medicated treatment options, be sure to ALWAYS talk to your doctor and get professional, medical advice. Especially because you are pregnant and you want to keep our baby's health a priority.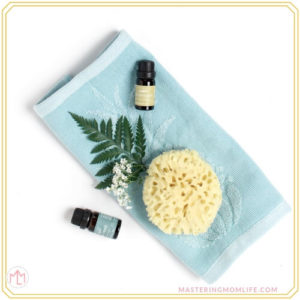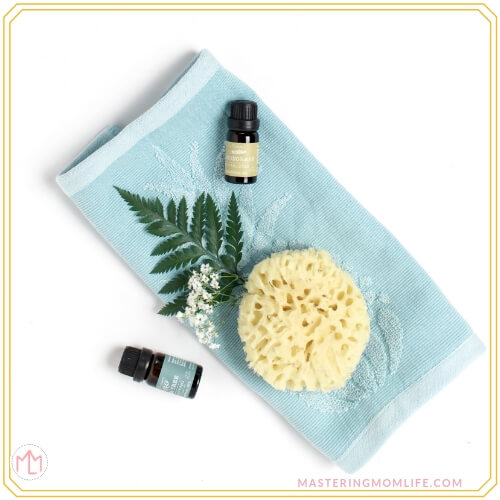 Home Remedies
Of course, like anything else under the sun, there are home remedies for hemorrhoids during pregnancy. We'll get into most of them during the "care" section of this post, but here are some of the home remedies that you can do:
Sitz baths
Epsom Salt
Witch Hazel
Aloe Vera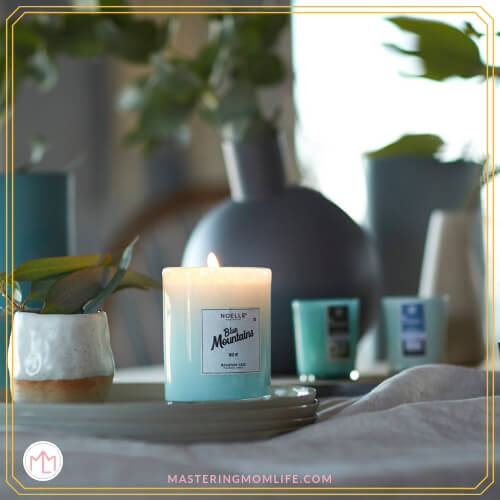 7 Care Tips:
The success to hemorrhoids during pregnancy going away is to take proper care of them. Ultimately, the way you treat them is going to dictate how worse or better they get.
Here are some care tips for hemorrhoids during pregnancy:
1. Donut Pillow-
The worst thing you want to do is irritate the hemorrhoids by constantly sitting on your bottom and putting pressure down there. Of course, it's impossible to stand all day, so you can get a pillow that literally looks like a donut. The donut pillow helps you to sit without "sitting on your bottom". This will relieve all of that awful pressure that you feel when you sit down.
This donut pillow is orthopedic and memory foam. It's designed for hemorrhoids, pregnancy, and postpartum. AND it's inexpensive!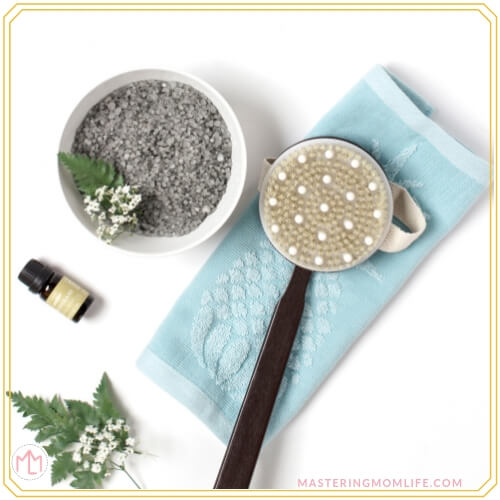 2. Baths–
Another really great way to care for hemorrhoids is the take a bath with Epsom Salt. The warm water and Epsom salt can soothe any inflammation, swelling, and irritation. If you are not too far along in your pregnancy where you cannot take a bath yet, then you can do a sitz bath.
A sitz bath is a little bowl that goes over the toilet that you fill with warm water and it is essentially a bath for your bottom and not your whole body. If your hemorrhoids are really inflamed and really bothersome and painful, you can take several sitz baths a day for 10-15 minutes each time.
You can even get a sitz bath soak, which contains lavender, geranium and essential oils specifically for hemorrhoid relief. It can even be used for postpartum!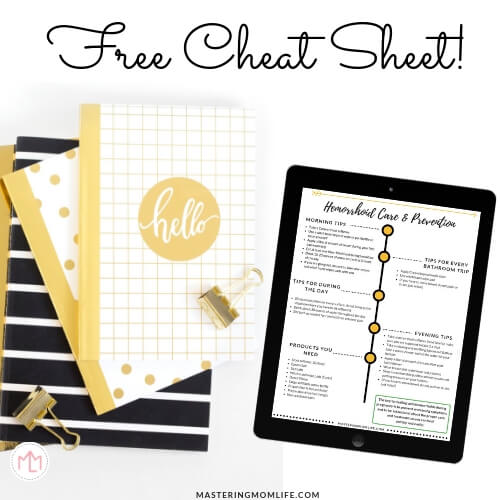 BONUS: Don't forget to download the Hemorrhoid Care & Prevention Cheatsheet so you can know the exact steps to heal your hemorrhoids. Also, it comes with a checklist of all the things you need for a speedy recovery! CLICK HERE TO GET IT NOW!
3. Cream–
Just because you have a hemorrhoid doesn't mean you won't have to use the bathroom. And each time you use the bathroom, it can become worse due to the irritation and increased pushing.
To prevent this, every time you use the bathroom apply this cream. It will instantly provide relief and soothe the pain. AND it will make it easier to use the bathroom because you won't be afraid to actually use the bathroom!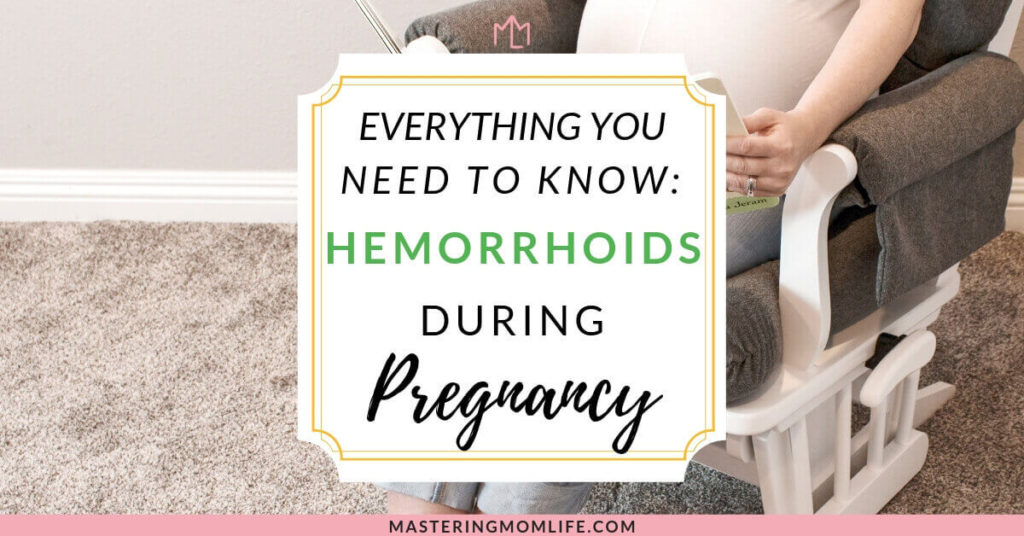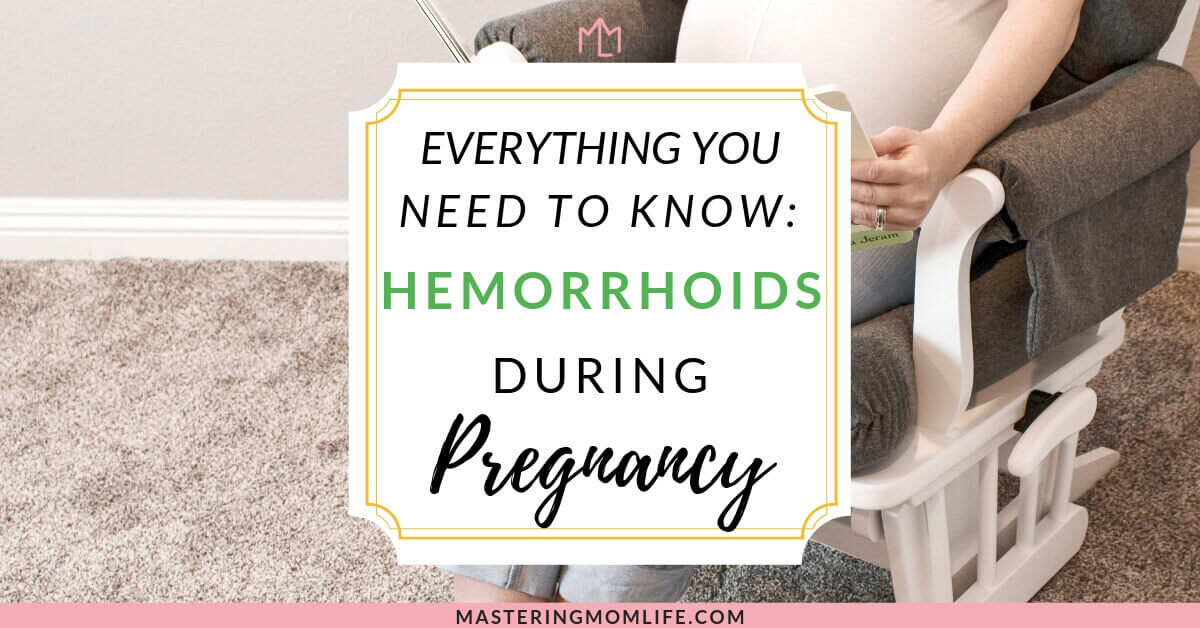 4. Stool softener–
Just like for prevention, one of the best ways to combat hemorrhoids during pregnancy is to keep your stool soft. The worst part about hemorrhoids is that they can never "heal" fully because you have to use the bathroom daily. So, they are daily irritated.
Because you can't just "stop using the bathroom so they can heal", you need to make sure your stool is soft. This will prevent your existing hemorrhoids from being aggravated, getting irritated, and becoming inflamed.
One of the best doctor and nurse recommended stool softeners is Colace.
Hard stool = pushing = hemorrhoids.
So…
Soft stool = no pushing = no hemorrhoids.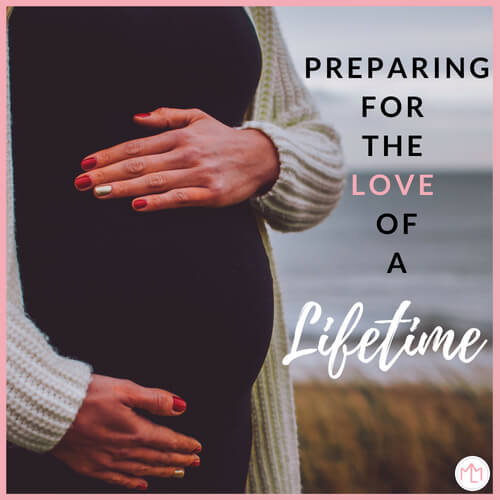 5. Peri Bottle/Wipes-
The proper care of hemorrhoids is to not irritate them. Especially after you use the bathroom because they are already aggravated from you moving your bowels. So to not add any more pain or irritation, you don't want to use hard toilet paper. Instead, you want to use soft, comforting, soothing wipes.
There are these amazing wipes called Tucks Cooling Pads, that are designed especially for hemorrhoids. They have witch hazel in them too! You can get them here! (I have them on auto subscription on my Amazon prime account and get it on discount!)
But unfortunately, there are also times that even wipes will feel like sandpaper because of how raw your bottom is. So instead of wiping at all, you can use this handy, dandy, life-changing peri bottle! You just fill it with warm water and squirt it on your bottom instead of wiping. It cleansing and soothing.
Momma Tip: You'll be using a peri bottle after labor and delivery too! They give you a peri bottle to use in the hospital so you don't have to use toilet paper on your super tender, raw, and painful lady bits.
6. Drink lots of water and eat fibers-
Another way to prevent and combat hemorrhoids is to drink lots of water and eat plenty of fiber-filled foods. This will regulate your bowels and keep your bowel movement soft. Don't underestimate the power of water!
7. Don't Push, Just Relax-
Because hemorrhoids are caused by straining and perpetual pushing, you want to be sure you are NOT pushing when you use the bathroom. The stool softener will make your stool soft and the water and fiber will reduce the risk of constipation so your bowels should be moving smoothly.
Instead of pushing, just sit and relax and let your body do the rest. Grab a book or your favorite magazine and just wait for your body to naturally move your bowels. Sometimes it takes a couple of seconds and sometimes it takes a couple of minutes. But being sure to not strain is the best way to care for existing hemorrhoids and prevent further ones from developing.
What to do If your hemorrhoids during pregnancy are very, very painful:
Hemorrhoids can be VERY, VERY painful. There are some cases where you will need to stay home from work and possibly not be able to move a muscle. I won't say this is often, but it can be normal. Depending on how many hemorrhoids you have and how inflamed they are, the pain can be very intense. Be sure to drink A LOT of water and watch what you are eating.
The most comfortable positions are to sit on a donut pillow in a reclined position or lay face down (with more pressure on your side and now your baby bump) with your bottom a little propped up.
Talk to your doctor. Keep her/him updated and heed their advice!
Free hemorrhoid prevention & care cheatsheet!
I created this cheat sheet to help you battle and overcome hemorrhoids by giving you actionable steps to help you stay comfortable throughout the day!
I suffered terribly with hemorrhoids during pregnancy and I WISH I had a cheat sheet on the proper care and treatment because then I wouldn't have had to go through the painful trial and errors of what works and what doesn't. I wanted to give you this Cheatsheet so you can sail through this pregnancy symptom!
The cheatsheet includes a list of things to do throughout your day so you can care for your bottom. I include everything in this post and put this information into actionable steps for you to take. Plus, I give you the ultimate hemorrhoids care checklist of everything you need to keep pain at a minimal and comfort at a maximum!
Get the cheatsheet now!
Well, there you have it! I hope I was able to help you feel a little more confident in battle your hemorrhoids during pregnancy.
Remember, the key to dealing with hemorrhoids during pregnancy is to prevent worsening symptoms and to be intentional about the proper care and treatment so you can heal quickly and easily!
Be sure not to push or strain, it'll only make it worse!
Now when hemorrhoids are kicking your butt, you can kick them right out 🙂
Do you have any remedies or tips from your own experience for the soon to be mamas battling the horror of hemorrhoids? Write them in the comments below!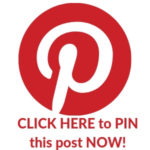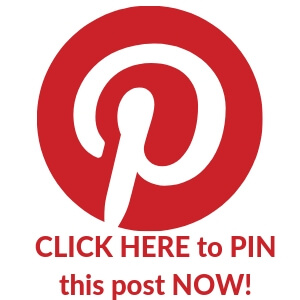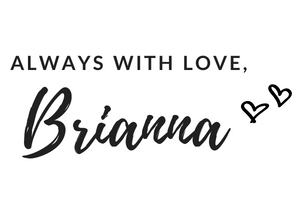 Joining Amazon Family has been the best decision I made! Not only do you save money on almost everything that you purchase, but you can put things on monthly and bi-monthly subscriptions. Such as wipes, diapers, creams- just about anything! It saves me money and sanity because I never have to forget to pick something up if it runs out because I know it's getting delivered to my door! PLUS save 20% on diaper subscriptions when your little one gets here! SCORE!
Join for free today and start a 30 day free trial!
WAIT! Do you love free printables??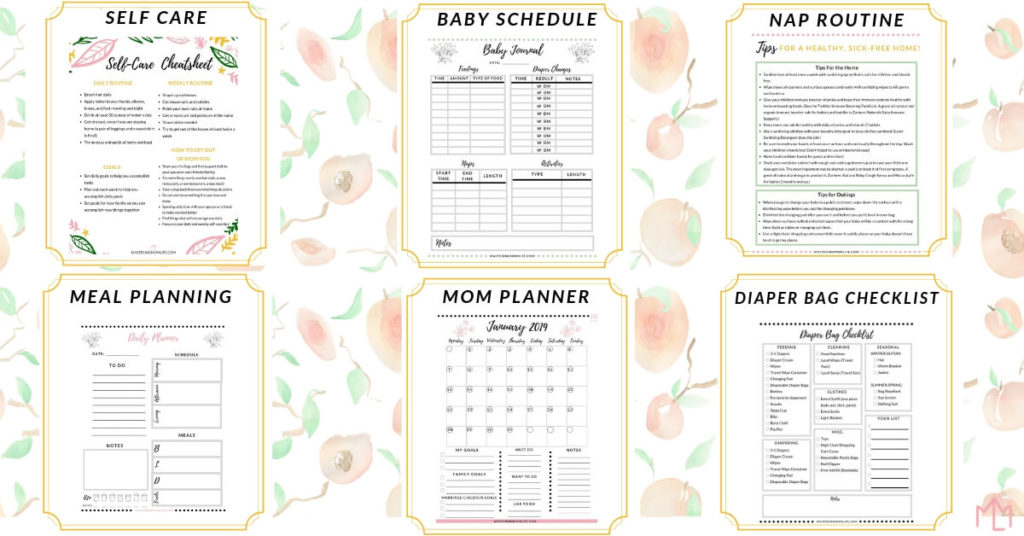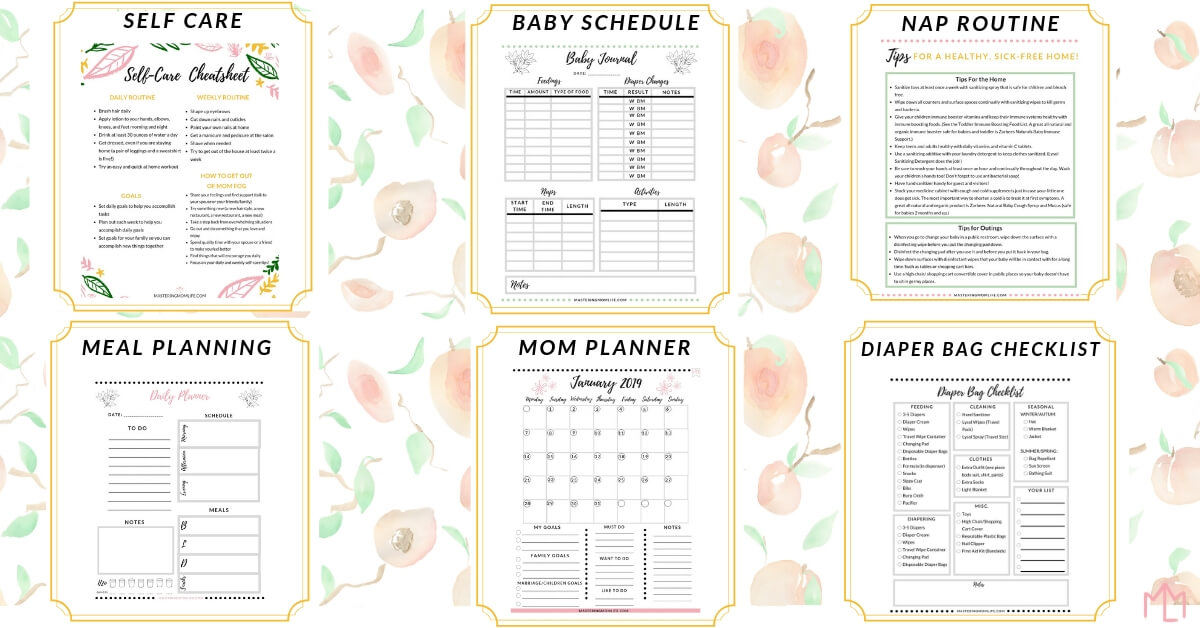 Become part of the Mastering Mom Life Insider tribe and get instant, FREE, private access to my resource library filled with printables + worksheets to make mom life easier!
Maybe you'll like this post too!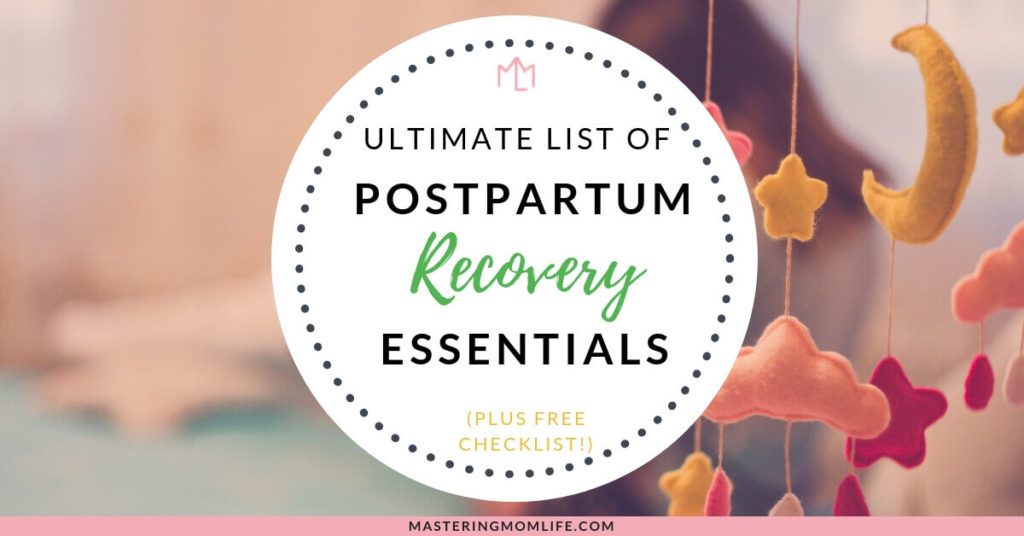 Disclaimer: Please know that I am not a doctor or physician and I am not medically trained. All tips and advice given is based on my own experience and given to me by my own doctor. If you have any questions or concerns, please contact your doctor. This post is solely to offer encouragement from my experience and not designed to offer medical advice or treatment.