Being married is absolutely amazing, but it also takes a lot of work to keep healthy. Every once and a while your marriage needs a jolt of electricity. This can be because your battery is completely dead or just because you want to add some energy! There are A LOT of ways you can add life to your marriage and one of the really awesome and fun ways to put some much-needed focus on your relationship is to do a marriage challenge!
So, what is a marriage challenge? A marriage challenge is a little course or set of actions that you do with your spouse to strengthen your relationship. A marriage challenge can be anything that the two of you agree to do together to focus on your relationship.
Why do couples need a marriage challenge?
A marriage challenge can be really great for your relationship because not only does it draw you and your spouse closer but it also can really help the areas of your marriage that you feel are weakening. Doing a marriage challenge does not mean that you are weak or that you "need help". It doesn't signify that your relationship is failing or that you are not good enough. It's so important to focus on your marriage and give your spouse the attention they need so your marriage can be healthy any and continue to grow. The great things about being married are that as you grow you are also growing in your relationship with your spouse. You want to make sure that the foundation of your marriage is strong enough to withstand the calamities and disasters that can tear your marriage apart.  Marriage challenge can help you pinpoint those spots that may be faulty and add strength to the areas that you need it the most.
Do I need a marriage challenge?
Marriage challenges are REALLY helpful for all marriages and for all stages of marriage. But sometimes when your life becomes mundane your marriage can become complacent and dull. A marriage challenge can help you add life to your marriage, put focus on the areas that you need help in, and give you and your spouse an opportunity to grow and learn new things together. Here are some really great reasons to do a marriage challenge with your spouse- if you want to:
Make more time to be together
Focus on your marriage
Put the focus back on your marriage after having children
Keep your marriage alive after having a baby
Improve your everyday communication
Emphasize the reasons you first got married
Practice forgiveness and grace
Focus on your long-term growth together
Solidify your goals as a couple and as a family
Keep your relationship healthy and long lasting
If it's hard for you and your spouse to have a tough conversation without getting into an argument
If you need some time to get to know each other again
Marriage Revival

Challenge
I absolutely love marriage challenges and I actually created my own marriage challenge that has helped my marriage, along with a lot of other marriages! Not only did I create a really great marriage challenge and challenge program, but I also wanted to offer it for free! The challenge I created is called the Marriage Revival Challenge, focusing on adding life to your marriage.
Why and How I created this Challenge?
My husband and I created this challenge without even knowing it after my daughter was born. We were both super burnt out and just couldn't get back in the rhythm of being husband and wife after becoming a mom and dad. So, for each day of the week, we would dedicate the day for a particular theme. Then we would make sure that we were doing actions in relation to the theme of the day. For example, if we were focusing on communication, then we would say Tuesday is communication day so we would make sure we sat down for a half hour before bedtime and talked about what was on our mind. (Which is something we would rarely do since having a newborn!)
So out of those weeks, I decided to actually create a 5 Day Marriage Challenge!
What will you get out the marriage revival challenge?
It's so important to remember that no challenge will "miraculously" fix your marriage. I created this Marriage Challenge not to give you all of the "answers" but to give you the tools you need to enhance and improve your marriage. Someone can tell you how to better your marriage a million times but unless you actually DO it, is up to you. I created this challenge to help you and your spouse get on the same page and work together to better your marriage, whether that means enhancing your relationship that already is amazing, or changing your mediocre relationship to something that is amazing. Here are some of the things that your relationship will get out of the Marriage Revival Challenge:
Put focus back on your marriage after becoming a parent
Relight the fire of affection
Improve your everyday communication
Redefine what closeness is
Develop and work toward attainable goals together
Start the rebirth of your marriage after the birth of your child
Give your marriage a jolt of electricity and something to look forward to each day of the week
Put much-needed focus back on your marriage
So much more!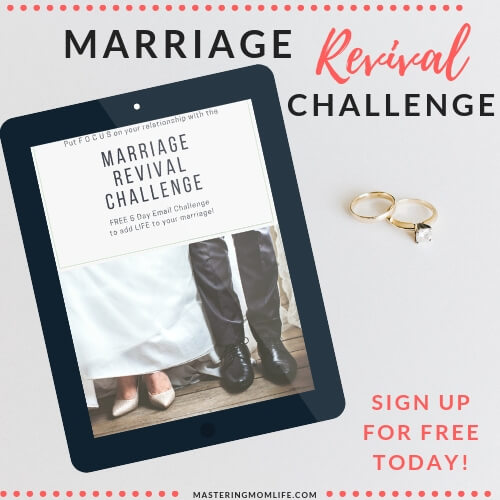 Remember, only you can determine what you will get out of this challenge. If you choose to take this challenge seriously, you are giving yourself the opportunity to have the relationship you always dreamed of!
No matter what stage of marriage you are in- whether you have been married for 6 months, 5 years, or 15 years, the Marriage Revival Challenge can help rebuild your marriage or simply enhance it!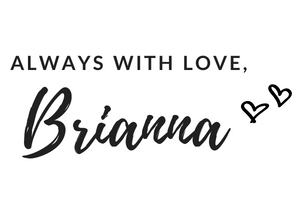 Disclaimer: All opinions in this challenge are my own and results are based on my personal experiences. I am not a medical or clinical professional. Please see a professional for specific results. View the Mastering Mom Life Disclaimer, Disclosure, and Privacy Policy for more information.