If you are a stay at home mom wondering if you can eventually be a work at home mom then this article is definitely for you! If being a work at home mom is something that you dream of doing one day or even someday in the near future, you're definitely going to want to know the key steps to be a successful and sane work at home mom.
Is it even possible to be a great stay at home but also an amazing work at home mom? Absolutely! These key steps will help you thrive in your work while continuing to be a successful, and most importantly SANE, mom- making you an amazing work at home mom!
Being a work at home mom doesn't mean that you neglect your "stay at home mom" duties. "Work at home mom" has a lot of different definitions to different people. Some people think of a mother who is uninvolved in her children's lives and just focuses on working. Some people think of a mother who is trying to juggle her kids and her daily tasks and is overwhelmed and stressed out. But to me being a work at home mom means, simply put- I am able to complete work tasks while giving my full 100% as a stay at home mom.
No matter what you choose to do that would make you a work at home mom if you follow these key steps you can make sure that not only your job will be done efficiently, but that your household will be still running smoothly.
I love being a stay at home mom! Giving my baby the one on one teaching and attention she needs while being able to watch her grow right before my eyes are absolutely priceless. I put all of my focus on being there for my daughter as she was an infant so I can tend to her without any work distractions or overwhelming deadlines and schedules. But now that Baby L is a little older and entering her toddler stages, I thought it would be a really good idea to start a side hustle or a little job that I can do while I'm home. This blog has given the reason to say now I can transition to being a work at home mom!
Even though it was hard to figure out how exactly to be a work at home mom, once I set limits and boundaries, gave myself the liberty to fail, and found the strength to not give up is when I found a system of steps that I needed to take in order to have my home and work life thrive!
To further help you become a successful and sane work at home mom, I created a Work At Home Mom Planner for you! The planner is like  toolkit that has all of the resources I still use every day to help me be a successful work at home mom. This planner has helped me transition smoothly from just being a stay at home mom to a work at home mom because it has the tools and resources I used to put a system of order in place to help me do both of my jobs (being a mom and a work at home mom) efficiently and effectively! The toolkit has 4 different planner sheets and templates. Be sure to download it now!
4 Steps to be A Successful Work At Home Mom
1. Be organized
The number one step that I had to take in order to be a successful work at home mom was to get organized. Being a stay at home mom is hard enough, with trying to track your daily tasks, tending to your baby, cooking dinner, running errands, and a million other things. Add to that list a whole other set of tasks that you need to do for your job and you have yourself a chaotic situation.
Don't be discouraged by how much you may have to change in order to be a successful work at home mom. The first thing that you need to do to keep your sanity is to get organized. Have a dedicated planner, book or binder that is just for keeping track of your daily, weekly, and monthly tasks and deadlines.
To help me with this first step, I created my own templates and it has changed my life! I have specific planner sheets for my household tasks (that has a meal planner, to do list, and chore list). Then I have another planner sheet for all things work related (that has my deadlines, tasks, and goals).
I tried having my house tasks and work tasks on the same planner but it became really frustrating and stressful so once I decided to separate the planning sheets, everything started operating so smoothly. I use both planning sheets simultaneously and it easily compartmentalizes my tasks and helps me see clearly what I need to do and what I have already completed.
If you want to see and use the planning sheets I created to be sure to download the free Work at Home Mom Toolkit! I created the toolkit specifically for moms who wanted to start working at home and added all of the resources that I created and still use every day for you to have and use!
Each Sunday night I take an hour to plan my whole week using both my house and work planning sheets. I meal plan, prioritize my tasks and go over my schedule and appointments. (My planning sheets in the toolkit help you do this super easy!). I also planned which times I was going to try to work during each day. Was I waking up before my baby? Was I working late into the night? What times did I have during the day?
Doing this has helped me SO much because it reduces the need to have to plan things at the moment and allows me to fully out my effort into the task at hand instead of doing 10 things at the same time.
I STRONGLY suggest you use a system of organization! If you aren't comfortable with using the system that I created, that perfectly fine! Use the need for a system of organization to create your own. Being organized will help you clearly plan and outline what you need to do and then allow you to see what you have completed and when.
2. Know your baby's schedule
Once you have a system of organization in place for yourself, the next step you want to take is to really establish and know your baby's daily schedule. As a work at home mom, your first job will still be being a mom. My first priority when I started to be a work at home mom was to tend to my baby to know that when I work, she will be well taken care of and content.
To be a successful work at home mom you first want your home and children to be functioning at their best. For me, this was being able to know what my daughter needed and when. What really helped me was having my daughter on a schedule.
Having a schedule for your baby will help you know and anticipate their needs which will, in turn, allow you to plan around what you know they will need to be doing at a certain time of the day.
For example, knowing that my daughter naps for 2 hours from 12-2pm every day help me know that those 2 straight hours can be completely dedicated to my job and tasks. I look at my daily tasks and try to tackle each task during that time. If I didn't know that my daughter napped like this then I would be losing those 2 valuable hours. Your baby's schedule will consist of their wake times, play times, feeding times, and nap times.
A schedule will help you plan and accomplish so much during your day! I've written all about how to know your baby's daily schedule and the importance of schedule in these posts:
The Importance of a Schedule for Your Baby
How to Start a Nap Schedule with Your Baby
Knowing Your Baby's Full Feeding Schedule
3. Establish independent play
After knowing your baby's schedule, you will know when are the times that your baby play's. Once my daughter started getting old enough for actual play time, I noticed from her schedule that she had 3 different play times (the morning after her wake time, the mid-afternoon after her second nap, and the early evening after her dinner).
Knowing her schedule and knowing these times helped me to plan a time during the day for me to work while she was awake. The question was, was she going to be able to not need the constant attention from me so I could work?
The answer to this question was simple: independent play. Having one playtime a day where she can play independently changed my day! It gave me the freedom to work and gave her the avenue she needed to learn how to play independently, which contributed so much to her growth and development!
I set up her independent playtime where I am sitting at the table and she is playing in the living room with her toys on her play mat so I am far enough that I am not sitting right next to her but close enough that I am in the same room and am watching her.
Since doing independent play time, I have been able to get work done for a consecutive 45 minutes and have seen her accomplish milestones that she wouldn't have reached unless I gave her the opportunity to independently play! During this playtime, she has taught herself to take a book off of her shelf, "pretend to read them" and then put it back on the shelf. She takes toys out of her bin and plays with them and tries to stack blocks and fit toys together like a puzzle.
I can't believe I didn't establish independent play sooner! It was a win-win.
So, independent play has been a game changer because it helps my daughter in her growth and development and has allowed me to get some more work done during the day as well!
4. Involve your spouse and focus on self-care
The last and most important step is to ask for help and involve your spouse. After all, you don't want to do this alone! Being honest with your spouse and having him on board for you being a work at home mom will help you in so many ways. Having the support of your husband is priceless!
Have an initial conversation with your spouse about your goals and plans for your work and be honest about what you are going to need from him. Because you are still a stay at home mom now adding work to your already loaded plate, you want to make sure that he is in support of your new work adventure. Maybe there is something that you used to do that he can now start doing to give you a hand with all of the things that you have to get done around the house.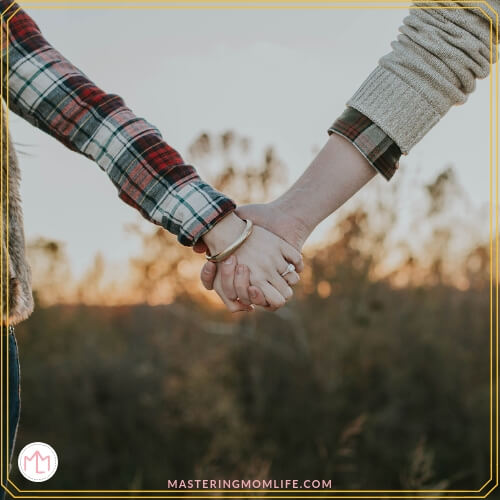 The most important thing is to not try to do everything by yourself. That is how you become overwhelmed, stressed out and eventually burnt out where now you feel like you are neglecting both your family and your job. If your spouse isn't on board or can't offer you help, reach out to a family member or a close friend that you can share your goals with and maybe they can agree to be there for you when you need help. The important thing is to NOT do it alone.
Being a work at home mom can be tough and overwhelming if you choose to try to conquer the world by yourself.
Another very important tip is to focus on self-care! It's very easy to get so busy that you feel lost. You want to make sure that you are happy, healthy, and are creating healthy daily habits! That is why on my planner sheets I have a water intake section and a workout/exercise section. Try to do some sort of exercise or workout weekly that will help you feel good and better yourself. It doesn't have to be a crazy workout routine- maybe you just want to go for a weekly walk with your baby to get out of the house and get some fresh air!
Create healthy habits and make sure to give yourself some much-needed attention and care.
Free Work at Home Mom Planner!
Don't forget to download my free Work at Home Mom Toolkit! The toolkit has daily planner sheets and weekly planner sheets to help you focus on both your household and your job. It also has resources to help you with your baby's daily schedule, including a create your own baby daily schedule template! My main goal is to help you and give you the tools and resources you need to successfully be a work at home mom!

I hope I was able to equip you with the steps to be able to be a successful (and sane!) work at home mom! It may not be easy but it can be life changing to be able to stay at home with your family while still providing for them!
As always, feel free to leave me a comment! Are there any other steps or tips that have helped you become a successful work at home mom??