Inside: Want to make an amazing Christmas list to easily accomplish your gift-giving and shopping? Follow these 3 steps for how to make a Christmas list!
Finding the perfect gift for your friends and family can be a headache and a half.
Your mom likes homemade gifts, your hubby collects model cars, your brother only wants gift cards…
How in the world do you organize your gift-giving??
If you want to easily accomplish all of your gift-giving and Christmas shopping– a Christmas list is the way to go!
The great thing about a Christmas list is that it's easy to make, can help you complete your Christmas shopping easier, and can help you accomplish all of your gift-giving. If you are wondering how to make a Christmas list, here are 3 easy steps to help you!
To further help you make a Christmas list, I created a FREE printable Christmas List Organizer for you!
How to make a Christmas List in 4 Easy Steps
Step 1:
Think of everyone you want to buy/make a gift for
The first step in making a Christmas list is to actually make a list of everyone you want or need to give a gift to. This includes friends, family, neighbors, coworkers, community members, teachers, and so on.
The whole point of a Christmas list is to complete gift-giving in the easiest way possible. So you want to make sure you have EVERYONE on that list so you don't have to keep forgetting and remembering people while you are out shopping. So, making your list of people is the first step in "how to make a Christmas list"!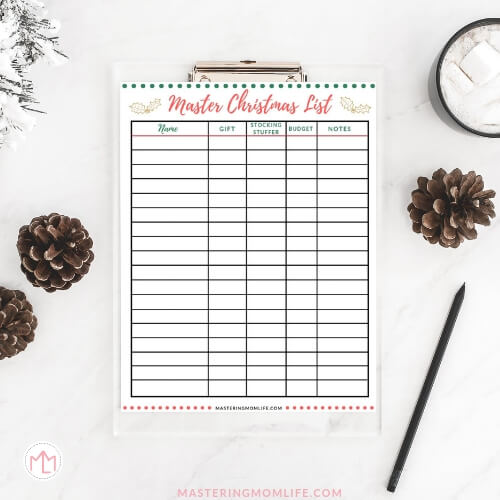 Step 2:
Use your list of people to think of gifts for each person
The second step is to use that list of people you made in step 1 and brainstorm gifts you want to get each person. I find that one of the hardest parts of a Christmas is actually thinking of WHAT to give each person.
You don't want to give them something they won't like but you also don't want to spend your whole Christmas season worrying about the perfect gift and stressing over each person.
Luckily, I found the perfect solution to this problem that helps you get each person a gift they will love but that won't drive you insane. It's simple to think of each person on your list and their likes/interests.
By doing this it will help you come up with great gifts for them that they will love and enjoy but that also won't take too long to think of.
If you're not too sure how to do this, check out my post "How to Come Up With Perfect Christmas Gift Ideas"!
My free Christmas List Organizer has a perfect template to help you write out everyone on your list interests and likes too!
Step 3:
Set a budget
The next step is to set a budget for your list. A budget is important because it can help you set a boundary on how much you want to spend on gifts. Even if you are making your gifts and going the "DIY" route, you still want to make a budget for supplies.
A budget will help you decide how much you want to spend on each person and how much you want to spend in total. Knowing your budget can also help you efficiently Christmas shop because then you will know how much you can afford for each person and how much to can spend!
PLUS — Step 4:
My Christmas List Planner help you accomplish ALL of these steps in the easiest way possible! It will help you write your Christmas list and make sure you don't forget anyone, brainstorm gifts for each person, help you plan a budget AND includes 4 different shopping lists.
Here's everything that my Christmas Planner will do for you:
Help track Christmas gift ideas,
Help you come up with a budget for each person and help you stick to that budget,
Keep track of the gifts you need to purchase,
Track sales for the items you want to buy,
Includes shopping lists that will help you master your Christmas Shopping and stay organized!
This 15 Page Planner is the ultimate Christmas Planner Resource! I already started using it and feel like I'm ahead of the game.
And there you have it! Here is your guide on how to make a Christmas list in 4 easy steps.
Now if each member of your family wants a different gift, you can easily organize your list!
Don't forget, a Christmas list will help you accomplish your gift-giving and Christmas shopping easy so make sure to make one!