We all know the importance of setting goals for our self, but have we ever thought of setting goals for our babies? We're not talking about the kind of goal that you want to kick yourself if you fail at, but about realistic goals to encourage their daily growth. We'll walk all about the reasons why you should set goals for your baby!
Some of the most important reasons why you should set goals for your baby are:
To encourage their growth,
Be able to track milestones,
Increases the bond between you and baby,
And it sets a good precedent and habit in your home.
One of the easiest ways I track my own goals, my family's goals, and my baby's goals is in a goal tracker! I created an awesome and completely FREE #MomGoals 2019 Goal Planner to help you create goals, track goals, and accomplish all of the goals you have for yourself and your family.
Download the Goal Planner now!
So, let's get down to the amazing reasons and benefits of setting goals for babies!
Why You Should Set Goals for Your Baby
Helps track milestones and growth
One of the first reasons why you should be setting goals for your baby and children is to be able to help you track their milestones and growth. Most of the time our children hit milestones and we celebrate the big ones and then kind of just expect for the rest of them to keep coming.
But EVERY milestone is a HUGE accomplishment! No matter how big or how small.
Your child will have different milestones at different ages. The best way to start setting goals for your child is to choose the next milestone that they are supposed to reach and set it as a goal. Now that the milestone is a goal and not just a milestone that is eventually coming, you begin to work at that goal and nurture the developmental processes that your baby is experiencing.
So when your baby actually reaches that milestone, it is also an accomplished goal!
For example, one of the major childhood development milestones is walking. Instead of waiting for my baby to begin to walk, I will encourage her to walk and set up the stage for her success.
So I will take her by the hands and inch forward and backward with her and put her on my feet and "pretend" that she is walking. I will create daily habits in line with her being able to reach that milestone. And in turn, accomplishing that goal.
Being able to track these milestones and your child's growth is an amazing!
You are following their growth track instead of someone else's
I know a lot of parents who get really caught up in the comparison trap between their children. Even I fall into it myself! Your first reaction is to automatically compare your child's milestones and growth to another child's, or even another child of yours.
The fact is, every child is different and every child grows at a different rate. Yes, there are ages that growth and milestones are most likely to take place but it doesn't mean that your child is behind or moving too quickly if they don't fall exactly into that box.
One of the reasons I love most about setting goals for children's is the ability it gives you to follow your child's pace of growth, and not someone else's. The goals and milestones that you set for your baby will be done at your child's time and you are able to follow their track of growth instead of someone else's.
Putting milestones and growth into terms of goals really helps you see how far your child has come. It allows you to celebrate even the tiniest of things and helps you understand your child's growth.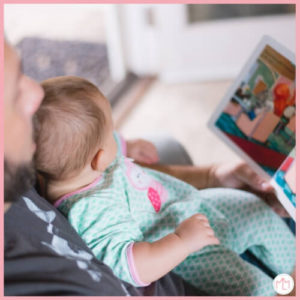 You are working with your baby toward something together 
Another reason why you should set goals for your baby and children is because it bonds you. Because you are helping your baby work toward a goal, it is bringing you and your child closer on another level. Working on something with your baby bonds you as opposed to just waiting for your baby to reach the next milestone on their own.
You become connected to your baby and to the progress of your baby's growth. You'll be able to have so many cherished memories of even the smallest things because you chose to make a goal for your baby instead of just waiting around for it to happen.
You are actively helping your baby
I love to set goals for my children because I know that I am actively helping them. I am being a part of their growth process and making everything that they do something that I want to be a part of. Babies grow SO FAST and taking the time to engage with your child and help them on their growing process can be so meaningful.
It also makes you feel like a present parent wanting the best for their child and working toward that goal together. It's a wonderful feeling!
Sets a good precedent into toddlerhood and childhood
One of the main reasons why you should set goals for your baby is because it sets an amazing precedent for your child as they enter toddlerhood and childhood (and even adulthood!). The habits and traditions that we start when our children are young are the ones that will be instilled in them and shape their life.
Choosing to set goals for yourself and your baby all throughout their childhood will show them the ability to achieve accomplishments!
Yes, setting a goal for a baby can sound a bit dumb but in the larger picture you are teaching your child to set goals, work at them, and achieve them. This is an amazing character trait that will shape them into an amazing person.
We all want our children to succeed and we can actively help them in their accomplishments by setting goals with them and helping them accomplish them!
[click_to_tweet tweet="Goals are not about failing, but about giving you a reason to keep working at something!" quote="Goals are not about failing, but about giving you a reason to keep working at something!"]
Tip: Reduce setting yourself up for failure
I want to clarify that these goals are not necessarily "timeline goals". Meaning, you think "little Johnny must be walking in 2 weeks are we failed". No no no.
I am talking about making overall goals that you want to see your baby accomplish and that you can help them achieve. This means that, if my baby was supposed to be walking by 15 months but she's 16 months and still only cruising furniture, then that's 100% okay! My goal is to see my daughter walk, not see her walk at a specific time.
Having a timeline goal is not wrong but it is important to know what type of goal to set and how to approach achieving the goal.
The last thing you want to do is set you or your children up for failure! Goals are not about failing, but about giving you a reason to keep working at something!
Download my Free #MomGoals 2019 Goal Planner Now!
The Free #MomGoals Planner is designed to help you:
Brainstorm the goals that you and your family want to achieve that month
Plan your monthly goals
Achieve your monthly goals by helping you create action steps
Complete your goal action steps with easy to use trackers
Plan your month at a glance
Create an attainable "to-do" list with prioritized sections
Make goals for not only yourself, but your children and spouse
Write your notes for the month so you never forget to do anything!
Help you break down all of the goals you want to accomplish in 2019 in an easy to accomplish way!
The #MomGoals 2019 Goal Planner is a 24-page printable calendar workbook to help you master your goals this year! Start the year off right with creating, tracking, and accomplishing your goals!
>>So there you have it: why you should set goals for your baby and children! Remember, setting goals for your children will help you track their overall growth and milestones, help you bond, encourages their growth, and sets a good model in your home.
Happy goal setting!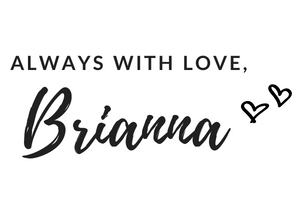 Want to learn more about goal setting?? Check out my post " How to Create Goals that You Will Actually Keep!"
You may also like these articles: