Do you want to visit the happiest place on earth but automatically think that it's too expensive and unaffordable? Think again! Planning a trip to Disney on a budget is a lot easier thank you think!
 Going to Disney World doesn't have to put you into debt! Here is a list of detailed tips for planning a trip to Disney World on a budget! With in-depth information to make your dream vacation a reality!
Free Disney Vacation Planning Printable Packet!
Here is a completely and totally free amazing resource to help you plan your Disney vacation! It includes awesome tips, packing checklists, a vacation budget template, travel information sheet, and a couple of Disney planning templates to help you plan an amazing vacation!
Get the free instant download now!
Tips for planning a trip to Disney on a budget!
1. Research best places to stay
First very important step to planning a trip to Disney on a budget is to decide where you want to stay. The key is research, research, research!
The main 2 options you have is to stay on Disney property or stay off site.
Let's go over these 2 options!
Option 1: Staying on Disney Property
Do not be deceived by these words and automatically think that this is the most expensive option! There are times that I went to Disney World and it was actually CHEAPER for me to stay on site than at a regular hotel in the Orlando area. Let me tell you why… PERKS! There are phenomenal perks when you stay onsite at a Disney Resort and they can actually save you a toonnn of money if you take advantage of them smartly.
Here are some of the perks for staying on site that are serious money savers:
Free Disney's Magical Express (transportation to and from the airport)
So if you fly to Disney instead of driving, the Disney bus comes and picks you up and drops you at the hotel for free! PLUS if you take advantage of this option they also pick up your checked luggage and bring it to your hotel for you so you don't even have to wait for it or do anything yourself!
This eliminates the cost for a taxi or transportation to the hotel. It also reduces the need for you to rent a vehicle because Disney literally takes care of any transportation you need. Of course, some people choose to still rent a vehicle so they can visit other sites and tourist places. But again, we're talking about doing Disney on a budget so this cost can be cut if needed!
Free transportation to and from the Disney parks (saving you money on parking fees at the park)
There are Disney buses that pick you up from your resort and drop you off at the desired park. There's a bus for magic Kingdom, Epcot, Animal Kingdom, Hollywood Studios, Disney Springs and both Disney waterparks.
If you drive your car you also get free parking at the Disney parks too! So you're saving about $25 a day! There is also a nightly fee for parking at the Disney Resort, so if you eliminate the need for a car, you're saving an additional $15 a night for parking.
You get to pick your Fast Passes 60 days in advanced
Fast passes are awesome because you don't have to wait in line for a ride, you just come back at you appointed time and you get straight on. People who are not staying on site choose their fast passes 30 days in advanced of their trip. But Disney Resort guests get to choose their fast passes 60 days in advanced so they get first pick at the rides and times.
This in turn saves you money because the better fast passes you get, the quicker you can do the attractions, which means you're getting the most out of your park day! Why go to one park 2 days and waste money on another ticket when you can do everything in one day? Disney on a budget money saving!
Some tips for finding cheap rates at Disney Resorts
Check for sales regularly
Go on value season
Download my free Disney Vacation Planning Printable Packet to get even more awesome tips!
Find out:
-when is the best time to travel to Disney based on their "value seasons"
-which Disney resorts are considered "value" and give you the best bang for your buck
Download the Printable pack now!
Option 2: Stay in a villa
Now that we briefly went over staying on Disney site, let's talk about how to save money if you are staying off site!
There are plenty of reasons why a family would choose to stay off site, despite the Disney perks. One reason being that they have a bigger family and staying off site is cheaper so they can get larger accommodations! I have stayed at a regular hotel, rented a villa, and rented a house through a rental site. All of these options have worked and at different times depending on my family's needs.
If you have children that you want them to be in their own room or you have a larger family that is willing to split the cost of renting a 2 or 3 bedroom place, then this option is much cheaper than booking 2-3 Disney rooms.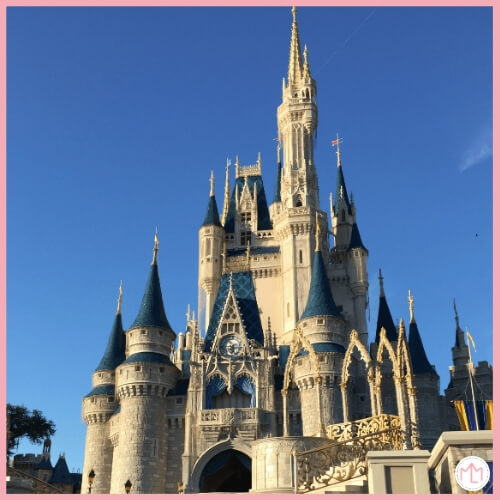 The key to this option is to really research prices and different places. You want to stay somewhere that is close enough to the parks so you're not wasting gas driving too far but also a place that is less expensive. I rented a house for only $600 for the week (8 days, 7 nights) that was 15 minutes from the parks and included incredible amenities, such as a pool, rec. room and restaurant on the complex. It was totally worth it because it was less than $100 a night.
We had to rent a vehicle and pay for parking fees at Disney but that cost was offset by spending less on a nightly rate than we would have at Disney. It worked because there was more of us chipping in!
2. Go on value season:
No matter where you stay, if you are planning a Disney world vacation on a budget, then you want to travel during offseason. Because EVERYTHING is cheaper during the offseason. Plane tickets, hotels, car rentals, and even theme park tickets! Not only will things be cheaper, but the parks won't be as crowded!
Think of off season being when kids are in school and there are no holidays or long weekend. Peak seasons tend to be when kids are off of school and people are on vacation.
Find out the exact times of value season, low season, and peak season in my Disney Vacation Planning Printable Packet!
3. Plan early
Whenever you are planning a Disney World trip on a budget, you want to make sure that you are planning early. Anything that you need to book or buy will be cheaper when you buy it early.
Planning early also gives you more time to save. The sooner that you research your trip details and decide on what you want to do, the more information you have on exactly HOW much you need to save.
4. Drive
Another option to plan a trip to Disney on a budget is to drive. If you are within driving distance to Florida and you have a large family, then driving will be a lot cheaper than flying. I know this tip is common sense, but if you have the option to drive and flights are looking too expensive, it may be the best option.
5. Look at a flight low fare/best fare calendar
If you are in your researching phase and are looking in to flights to Orlando, be sure to check the airlines low fare calendar. This is where they will show you the cost of your trip for each day of the month.
That way, you can see which days are more expensive to fly and which days are the cheapest! I've scored tickets for only $69 each way by using the low fare calendar. I was planning on flying out a Wednesday and it was $110 each way, but then I checked the low fare calendar and found out it was $40 cheaper to just fly out the next day! Score!
6. Look for perks EVERYWHERE!
Just like staying on the Disney site has perks, so does a lot of other places! From hotels, to airlines, to car rentals, and more!
For example, I flew southwest one time just so I can take advantage of the free 2 checked bags per person! It was the first time flying with our baby and we had a lot of extra stuff with us (car seat covers, diapers, wipes, extra clothes, bottles, etc.). So instead of flying another airline where each checked bag is $25, we saved $50 a person by switching airlines!
Then we chose to stay on Disney site where they handle all of our bags for us so we didn't have to worry about carrying around all of the luggage when we landed. We took advantage of all of the perks!
7. Bring the essentials with you
Planning a trip to Disney World on a budget also consists of making sure that you are bringing all of the essentials with you. Ever checked out the prices of a bathing suit on vacation? Or the price of a bottle of Tylenol? It's like 3 times the regular cost!
Vacations tend to be expensive because let's face it, things are expensive! But if you plan properly and make sure that you are bringing with you everything that you needed, you won't have to spend money on things that you had at home and just forgot to bring.
So, save your vacation money for things you actually want, and not on meaningless things that you could have brought with you from home, like a razor or bathing suit or tums.
8. Save on food costs
One of the greatest costs of any vacation is food. A really cool thing that Disney parks let you do is bring snacks and drinks in the park. So you can essentially plan your whole meals and snacks without spending a dime on food in the park! I've even brought in bottles of water and packed snacks with us so we weren't spending money every 2 hours on a little bite to eat. It's a great way to save money!
If you didn't opt for a rental car and just used Disney transportation, you can even have groceries delivered straight to your resort so you can have snacks and make your foods. It saves a lot of money!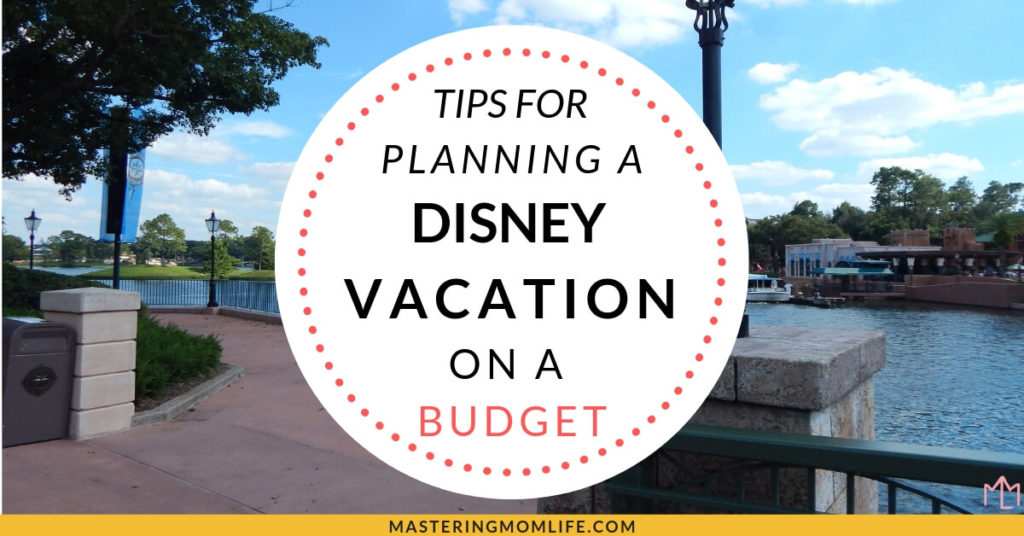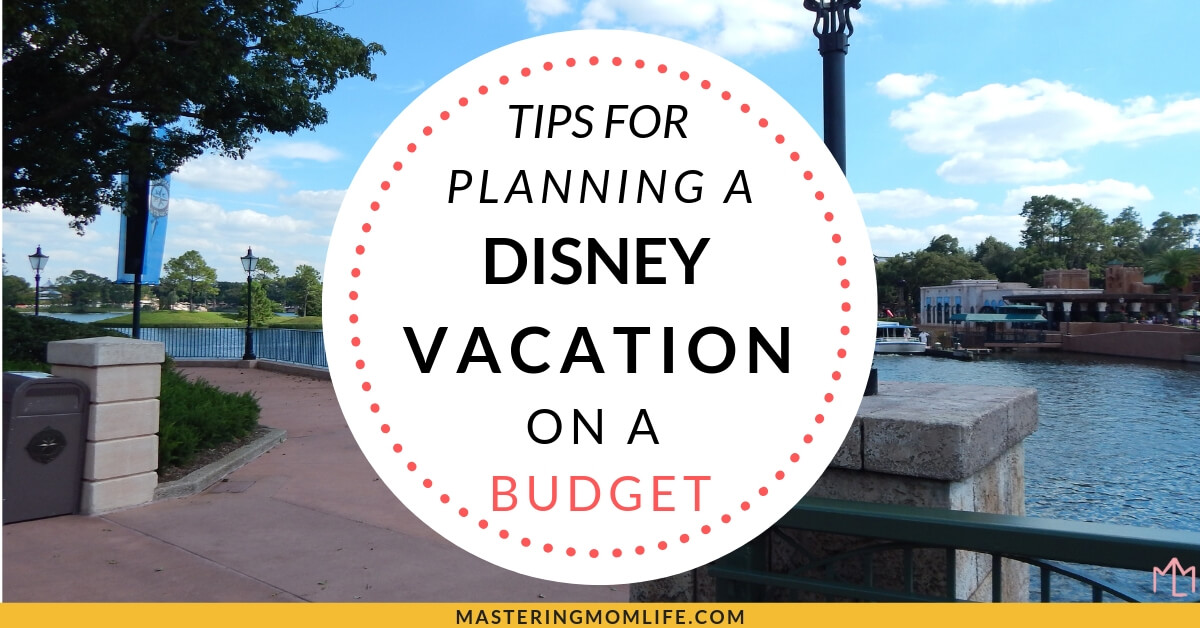 9. Buy Disney merchandise at home
A really great way to save money and plan a trip to Disney World on a budget is to purchase Disney merchandise at home before your trip. Most of the items you are going to want to buy are things that you can easily get on the Disney Store website or even at your local dollar store! Buy your own bubble machine, glow in the dark products, and Disney apparel at home!
Want your family to wear matching Disney shirts or Disney apparel? Check out Target, Walmart, and your local stores to find things on sale. Because let's be honest, one t-shirt at Disney is going to cost you about $30 when you can buy all the t-shirts for your family for that price
Save your souvenir budget for things that you can ONLY get in the parks on things that you know you are really going to want. Don't spend your budget on a bubble machine and a light up sword.
10. Use credit card points to buy Disney gift cards
If you REALLY want to plan your trip the cheapest way possible, another great tip is to use your credit card points to buy Disney Gift cards. Then it's like free money! A lot of people have credit cards where you get a percentage of cash back for every dollar you spend. Then you can cash in those points or request the cash back at certain places. For example, use your target credit card to purchase Disney gift cards, that way you're saving 5%!
A really thrifty idea that I had was to open a Disney Chase credit card, claim the free $300 bonus for enrolling and then use that money towards my trip. Then for every dollar you spend on the credit card you get a percentage that goes into a fund that you can access to use for any Disney item (including Disney store, flights, hotel stay, theme park tickets, and more!)
So what my family does is use the Disney credit card for every purchase we have (bills, grocery, gas, etc.). Then we pay the credit card off with our debit account. That way we are collecting all of this free Disney money JUST for simply using the credit card!
We've been using the Disney Credit card for over 2 years and have accumulated thousands of dollars that is FREE money! (We are saving it to use for another Disney cruise for our wedding anniversary!)
Budgeting is all about thinking SMARTLY!
11. Costco
Another great option to planning a trip to Disney world on budget is to check out Costco deals. If you are a Costco member, they have a great travel program where you can bundle flights, hotel stay, and tickets at a GREAT deal!
My mom used Costco once for a Christmas trip. All of the flights were so expensive and the Disney resorts were out of this world expensive. We thought we weren't going to be able to go. But then my mom looked into Costco and we were able to stay at a beautiful 2-bedroom villa 10 minutes from the parks and it was a fraction of the price! It included flights and theme park tickets too!
Free Disney Vacation Planning Printable Packet!
Don't forget to download my Disney Vacation Planning Printable Pack! It includes:
Tips on the best times to visit Disney World based on value seasons and important timelines to help you book your Fast Passes and Dining Reservations
A detailed Disney vacation packing list (includes a packing list for baby too!)
Disney Planning worksheet, to help you organize your Fast Passes and dining reservations plus keep track of your flight and hotel reservation numbers
Download the Disney Vacation Planning Printable Pack now to help you take the stress out of vacation planning so you can just focus on how excited you are to get away!
>> So, there you have it! Here is a list of comprehensive and detailed tips for planning a trip to Disney World on a budget!
Remember, planning a trip to the happiest place on earth doesn't have to break the bank. With these smart tips, you can have an epic vacation and not worry about spending too much money!
Happy Disney Planning!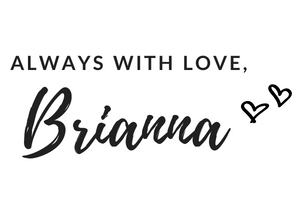 You might also enjoy these articles to help you plan an amazing trip!