Inside: Learn step by step a gentle & flexible 9-12 month baby routine to communicate & connect with your baby to help them thrive- including a nap, feeding & activity schedule!
As I tried to wrestle my daughter into my favorite pink pastel footie a thought hit me like an oncoming train—my little girl is no longer as little as she once was.
Clearly too big for this adorable little outfit, it was time to wrap my head around the cold hard facts—my baby is growing and will soon be a year old.
(cue the sobs!)
But with the new journey ahead of us comes waving goodbye to late-night feedings, midnight wakings, and the unfamiliar territory of getting to know your newborn.
Now we're onto climbing & cruising and walking & expressions…yay!
If you're trying to navigate the new terrain of your 9-12 month old, fear not…
I'll show you a simple and flexible 9-12 month baby routine to help you find simple ways to communicate and flourish your connection with your little one while removing those stressful stumbling blocks that make you question your #momlife confidence.
With this 9-12 month baby routine, you'll learn:
what to do with wake windows
a useful & easy nap routine
simple activities to keep baby busy & learning
feeding tips to make mealtimes a joy
Let's dive in!
3 Components of a 9-12 Month Baby Routine
A thriving baby routine consists of meeting your baby where they are developmentally and having flexible components that shift as your baby continues to grow and develop.
Your 9-12 month old baby is now physically exploring the world. Whether they are crawling, cruising, or walking, developmental strides such as these are the difference between a newborn and a one year old.
Your baby is experiencing the world in a whole new way.
So naturally, a 3-month baby routine will look very different from a 12 month old baby routine. But there are key foundations that will remain the same. These key principles are the foundation for every baby routine- whether 1 week old or 1 year old.
There are 3 key foundations that make up your baby routine that will never change: wake windows, activity time, and feedings.
These 3 key principles will be in every daily routine, no matter their age, but will shift as they grow and develop.
No time to read this now? That's okay! Save it to your favorite Pinterest board for later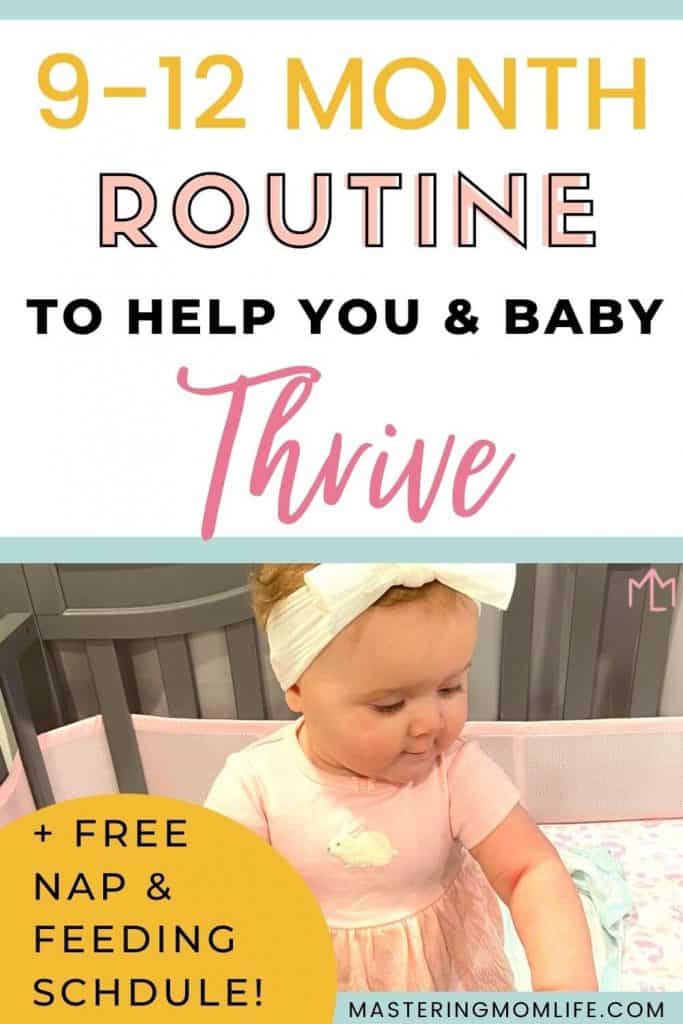 All tips and advice given are based on my own experience and given to me by my own pediatrician. If you have any questions or concerns, please contact your doctor. As an Amazon Associate I earn from qualifying purchases. Please view Mastering Mom Life's Terms, Disclosure & Disclaimer Policy and Privacy Policy.
1. Wake windows
Wake windows are the length of time that your baby is awake between each nap. It is counted from the minute they wake up to the minute they go back to sleep.
That stretch of time is called a wake window.
Wake windows will lengthen as your baby gets older. That's why a newborn can only stay up for 30 minutes but a 10-month-old will stay awake for 2-3 hours at a time.
Your baby's wake window is a key foundation of their overall daily routine. The wake window will change as they grow but your little one will always have a wake window until they drop their last nap.
The average 9-12 month old baby wake window is 2-3 hours.
I've noticed over the years that the first wake window is shorter, can even be 1.5hours to 2 hours. But as the day progresses, the wake windows lengthen a bit.
Tired Cues
This is where it's imperative to know your baby's cues. Are they showing your sleepy cues?
Rubbing eyes,
Staring off into space,
Red eyebrows,
Fussy.
Sometimes my baby can make it a full 2hour wake window in the morning but sometimes she starts showing those tired cues early and I follow what she needs.
That's the beauty of a flexible routine- it's based on YOUR BABY. Not a minute-for-minute schedule that was designed for another child.
Follow your baby's cues…it's their way of communicating with you and telling you what they need.
2. Activity time
Activities are a HUGE part of the day. It's what keeps your baby "busy" when they aren't sleeping or eating. You don't have to spend hourrsss every week planning super complicated activities that you found on Pinterest. Activities can be as simple as a walk around the block or a peek-a-boo book.
Keep it simple and attainable so you don't overwhelm yourself. I'll show you the 3 main activities I do with my baby- keep reeding!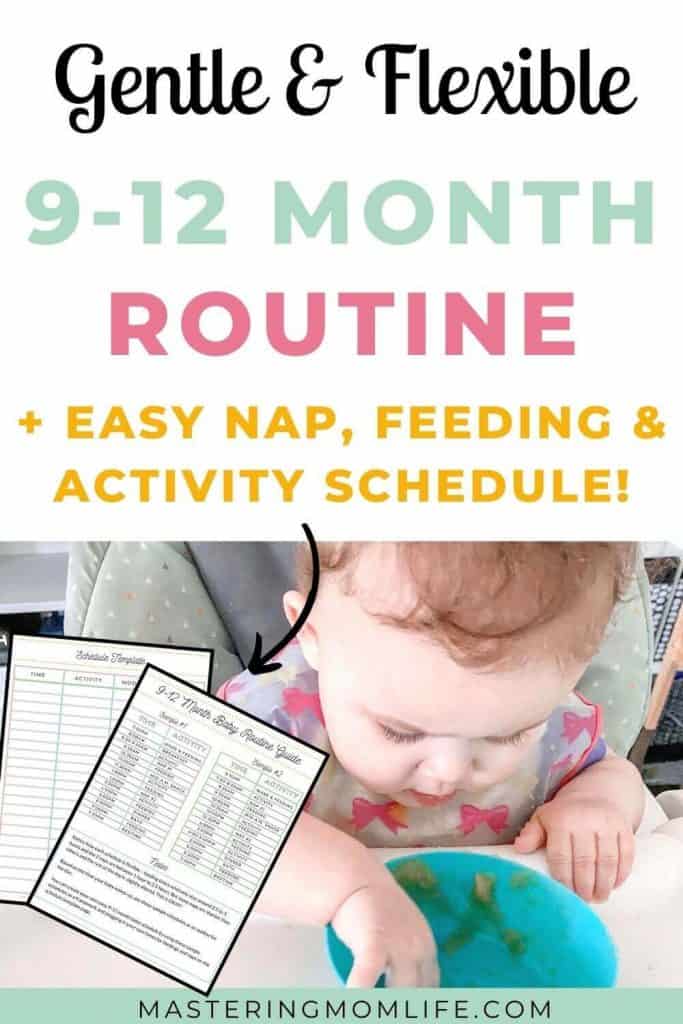 3. Feedings
At the 9-12 month old stage, babies usually eat 4-5 times throughout the day. Whether it be all formula/breastmilk or a combo of milk and solids.
The main key is to feed your baby every 2.5-3 hours.
In my 9-12 month baby routine, you'll see how I feed my daughter throughout the day and how I structure her feedings.
Hunger Cues
It's best not to follow a minute-by-minute feeding schedule and to follow your baby's hunger cues.
Some hunger cues include:
Putting hand to mouth (sign language)
Staring at you if youre eating
Moving lips
Crawling/walking to kitchen when food is
Irritibility after about 2.5 hours of eating
Let's jump into the sample schedule (what my day looks like almost hour for hour with my 9-12 month old!)
Sample 9-12 Month Baby Routine: Step by Step Schedule
Remember this sample schedule will shift based on the time your baby wakes up that day. You do not have to follow this schedule minute for minute because it will be determined by YOUR baby's time frame.
You can keep with the overall structure of the day, but the schedule will shift based on your baby's wake times, nap lengths, and feeding times.
Be sure to download the 9-12 month baby Routine Guide so you have this sample schedule saved right to your device and have it at your fingertips when you need it!
The 9-12 month Routine Guide also comes with 2 sample schedules AND an instant download/printable template to help you make your own routine/schedule!
Complete the form below to get it sent straight to your inbox!
Use this schedule as a sample pattern for your own routine 🙂
7:30 am Wake
After I hear her stirring, I go into her room, turn off her sound machine, open up the curtains, sing her a good morning song and change her diaper.
7:35 am Feeding
She usually drinks about 6 ounces every morning when she wakes up. Sometimes she will drink 4 ounces and then drink the other 2 ounces over the next 30 minutes.
8:00 am Breakfast
I make breakfast for my toddler at this time and give my 9-12 month old her "breakfast". Usually, this is something small like a couple of avocado slices or boiled pears in her high chair.
8:30 am Connection Activity
After breakfast is our first activity time! This activity time is all about connection and bonding.
Below under the Connection Activities section, I share all of the different easy activities that I rotate each week.
We'll play together for about an hour (my toddler too!) and then I'll watch for her tired cues to start our nap routine.
7:30-9:30 am Wake window
This wake window is usually about 2 hours but some days it's 1.5 hours. As she approaches 12 months, she may be awake for 3 hours and need her second feeding before her first nap.
Remember, flexibility is key when reading your baby's cues!
9:30 am Nap
I start her nap routine about 10 minutes before she goes down and she will sleep for 1-1.5 hours.
Don't forget the nap routine!
10:30 am Feeding
When she wakes from her nap I usually give her another 6 ounce bottle. Remember, we feed our children every 2.5-3 hours depending on their hunger cues.
11:00 am Mid-morning snack
My daughter will usually eat 4 ounces straight at a time and then likes to eat some sort of solid food with the rest of her 2 ounces. This is why I have a feeding at 10:30 and a "snack" at 11. This snack is just a continuation of her feeding at this time.
I'll give her a puree of some sort with the rest of her milk. At this time, she usually likes pears or apple sauce and I'll give her a string cheese or some puffs.
If you'd like to see my homemade baby applesauce recipe, follow me on Instagram and check out my highlights!
11:30 am Activity (outside/errands)
This activity time is usually an outside activity. If the weather permits, I like to get outside at least once a day. If it's raining or we're unable to go out, I like to encourage some independent playtime.
This is the wake window that I usually go out if I need to run an errand or drive somewhere. It's a good amount of time to be out and a good time to be out with kids (less traffic, fewer people out, etc.)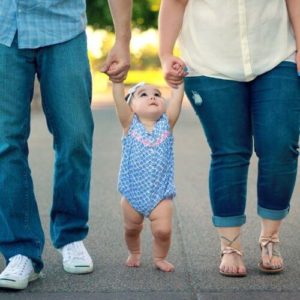 1:00 pm Feeding
Because the wake window is 3 hours and the feeding window is 3 hours, I feed her another milk feeding before she goes down for her nap.
Baby R was waking up after 45 minutes during this nap and I realized it was because she was hungry! So I started feeding her before the nap and she goes 2 hours now. Helps with her overall mood and her nighttime sleep.
1:30 pm Nap
It's naptime again! This is the last nap of the day. As your baby grows between those 9-12 months, this time with shift and the nap length will shift. Just follow your baby's hunger and tired cues!
3:00 pm Activity
After a nice long nap, it's activity time again! I like this activity time to be a combination of independent playtime and chore time. I'll get some chores done in the same room that Baby R is playing in.
4:00 pm Feeding
This milk feeding fades away as your baby grows between 9-12 months but I wanted to keep it in this schedule just in case it helps you better see the overall feeding routine we had. At this time Baby R would drink 4 ounces and mostly eat solids as she turned 1.
4:30/5:00 pm Dinner
We always include the baby in our dinnertime. My toddler pulls up the high chair for baby R and we eat as a family! I give her different amounts of food based on if she had milk at 4:00 or not.
If she didn't then we would give her a variety of things. If she did, we would give her food that we know she would like to eat.
5:30 pm Activity
This activity is usually family time. We clean up dinner, play around the house and let them get all the wiggles out before we start our bedtime routine.
6:30 pm Bath/Bedtime Routine
A consistent bedtime routine is the golden nugget of great nighttime sleep. We start out bedtime routine with a:
Bath
Put on pajamas and lotion
10-minute bonding playtime
Last feeding
Put on sound machine
Close curtains/make room dark
Lay baby down
Sing a song
Parent leaves room
Having a bedtime routine helps your baby understand that nighttime sleep is next. It creates an atmosphere of calm and tranquility and signals your baby it's time for sleep. You can read all about the amazing benefits of a bedtime routine here!
7:00 pm Feeding
This is the last feeding of the day. It's uncommon for your baby to drink more ounces at this feeding than the rest of the day. We usually snuggle up, feed baby R and then get ready for bed—we're almost done for the day!
7:30 pm Nighttime Sleep
After baby finishes their feeding, gets changed and all comfy, it's time for sleep- woohoo!
Remember to download the FREE 9-12 Month Routine Guide to instantly download 2 different daily sample schedules!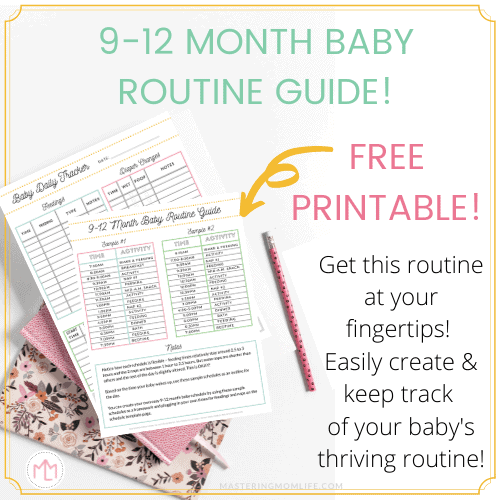 Key Principles-
Within this sample schedule here are 3 constant keys:
2-3 hour wake windows
5 feedings (combination of milk and solids)
4 activity times
Let's jump into the different activities you can do with your 9-12 month old during the day…
9-12 Month Activity Routine
The word "activities" is such a broad term.
To me, an activity can mean a walk to the park or a huge activity that took 3 hours to prep. There's a lot of room for interpretation.
And because of that, I find that a lot of moms become completely overwhelmed with how to entertain their little ones because they feel they "aren't doing enough".
It's very frustrating to feel like you have to get a mile-long chore list done every day AND plan super fun, educational 3-hour activities for your baby.
But you don't have to!
I like to sort activities into 3 categories:
Connection activities
Independent activities
Outdoor activities
Connection Activities
Connection activities are activities that promote parent/child bonding. There are activities that you and your child are doing together. You're playing with them, teaching them something new, and actively being a part of their playtime.
Here are some examples of connection activities:
You can also use connection activities to transition into independent activities. Connection activities can easily become independent activities because after you use your connection time to teach your child to do something, they can then practice it and do it themselves during independent playtime.
Independent Activities
Independent activities are things that your child can do on their own. These are supervised activities that your baby can try and accomplish without your immediate help such as trying to play with a puzzle, building blocks and tearing them down, sorting shapes, etc.
Independent activities are great for helping your child meet new milestones and developmental growth!
Independent time is great because it also teaches your child how to play without you right beside them. It gives them the room and space to figure things out for themselves and learn how to do things on their own.
Ever saw your baby figure out how to fit a square block into a square hole? It's victorious! Their little brains are constantly learning, shaping and growing, and giving them this time is important to their growth.
It doesn't mean you just leave your baby in the living room and walk away- please no. It just means your baby is playing on the floor of your bedroom while you fold clothes, make the bed, and do things you need to get done in that area.
Activities include:
Outdoor Activities
Outdoor activities are pretty self-explanatory– anything you do outside with your child. This could be walking around the block, playing in the park, roaming around the backyard or even running errands to Target!
I like to add an outside activity every day or every other day, weather permitting. Getting out of the house helps with "cabin fever" and is even good for your mental health as a mom.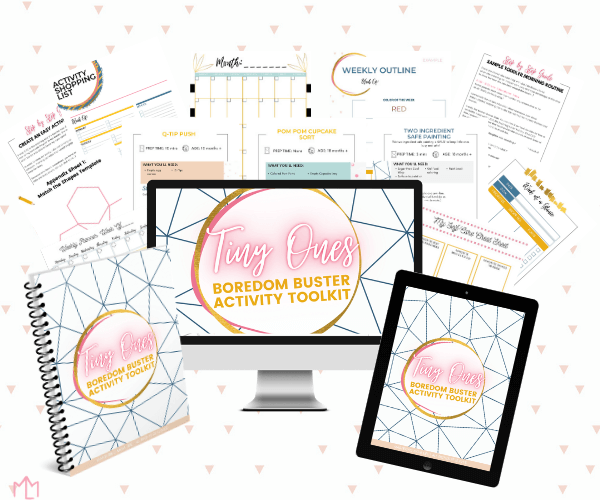 Easily Plan Activities with the Tiny One's Boredom Buster Activity Toolkit!
If you're stuck on pause because you have no idea what to do with your baby during these different activity times, the Tiny One's Boredom Buster Activity Toolkit will be a lifesaver!
The Tiny One's Boredom Buster Activity Toolkit helps busy moms create a simple activity & play routine for their little one without the stress of spending hours on preparation.
Learn how to take the overwhelm OUT of planning fun, educational & affordable activities for your children while encouraging independent play AND parent bonding.
This toolkit is specifically designed to keep your baby or toddler busy, stimulated, and having fun all while helping your baby/toddler meet new milestones and practice existing skills!
It includes over 35 activity guides for babies and toddlers from 2 months old to 3 years old, over 10 templates to help you plan an easy playtime activity routine that works for YOUR family, and over 15 printable activities pages that you can whip out when you're in a pinch.
Learn more about the Activity Toolkit Here!
9-12 Month Sleep Schedule
As you can see in this daily routine, Baby R naps twice a day with 2-3 hours of daytime sleep and sleeps 11-12 hours each night.
Your baby's nap times and nap lengths will begin to shift in between the 3 months of when they are 9-12 months. That's why knowing your baby's tired cues are super important.
Some tired cues include:
Rubbing eyes
Playing with ears
Red eyebrows
Gazing off
Slow blinking
Yawning
It's also really helpful to have a naptime routine that promotes great daytime sleep and a bedtime routine that promotes restful nighttime sleep.
Food Schedule
At this age, your baby is eating a combination of milk (breastmilk/formula) and solids. My daughter eats every 2.5-3 hours, whether it's a mix of milk and solids, just solids, or just milk.
Remember to focus on full feedings!
Follow your pediatrician's guide on what your baby should be eating and follow your baby's hunger cues.
Recap time!
There you have it!
You learned my step-by-step gentle and flexible 9-12 month baby routine, including nap, feeding, and activity schedule, to help your baby thrive!
This 9-12 month baby routine was created to flourish communication & connection with your baby without feeling overwhelmed with questioning yourself if you are "doing the right thing" for your baby all day.
YOU know your baby best! Follow your instincts and follow your baby's cues—they will never fail you <3
Don't forget to download the 9-12 Month Routine Guide equipped with 2 sample schedules and templates to help you create your own routine based on your baby's cues!
You got this, mama!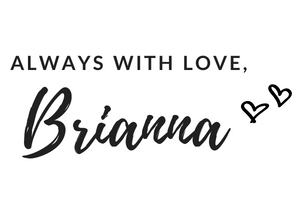 Related Reading: