Are you visiting Disney World but don't want to break the bank? Me too! Disney CAN be an expensive place but it doesn't HAVE to be. I'll tell you all of the tips and tricks on how to save money at Disney world during your vacation!
The secret sauce to save money on your Disney World vacation is to know HOW you can save money. In this case, ignorance is not bliss! I've found 12 tips to save money at Disney World that you can easily do with your family. These tips to save money at Disney could save your family hundreds of dollars per day!
I also created an awesome Disney Vacation Planning Printable Pack to help you not only plan your Disney vacation easily but plan an amazing, stress-free vacation! Get the Disney Vacation Printable Pack below!
Let's get down to these money saving tips!
How to Save Money at Disney World
1. Bring your own stroller
If you are traveling with babies or toddlers and need to use a stroller in the parks, then I strongly suggest you bring your own. Renting a stroller at the parks could cost you upwards of $40 a day.
Renting a stroller from an offsite company can cost you less, about $10-15 a day, depending on how long you rent the stroller. But if you are looking to cut costs and save money while on your Disney vacation, I recommend you bring your own stroller.
If you have a large, heavy, or bulky stroller, maybe even borrow a lightweight one from one of your friends or family members.
2. Bring your own snacks
One of the greatest things about Disney parks is the ability to bring in your own food and drinks! You can bring snacks, water, juice, sandwiches- pretty much anything! If you want to save on food costs, which can be quite pricy depending on where you go to eat, maybe pack food for one meal and only eat one meal at the park. This could have your family over $50 a day!
3. Eat Kids meals
I absolutely LOVE the kids meal's at Disney. They offer amazing food, that is healthy too, at a great price. The meals come with an entrée, 2 sides, and a drink for around $5-6! Sometimes I just order a kids meal instead of an adult meal because it's a smaller portion, less expensive, and comes with amazing options!
If my daughter doesn't eat all of her sides or doesn't drink her juice, I just bring a little cooler with me to the park and save all of the extra food for another meal. It's a real money saver!
Every quick service location offers some form of a kids meal, so keep an eye out for good meals!
4. Limit souvenir spending with gift cards
Disney World can be very expensive because of how much you are TEMPTED to buy. Disney World is pretty much one gigantic store, that every kid wants to buy everything in the store. To help limit spending, I travel with Disney gift cards. This helps me LIMIT my spending and gives my family a budget.
We decide how much we can spend on souvenirs and then get gift cards with an allotted amount. If you have several children, you can give them a gift card each with an amount and tell them that is their budget for the vacation. It also teaches them to think about what they are buying before they buy it and to weigh out their options.
So instead of buying a $50 t-shirt on day one, you'll buy an $8 pin, a $5 magnet, a $15 t-shirt at another location.
If you have a target red card you can also get those Disney gift cards 5% off! So even saving more money!
Find out more money saving tips like this and how to plan a Disney vacation on a budget by clicking here or the image below!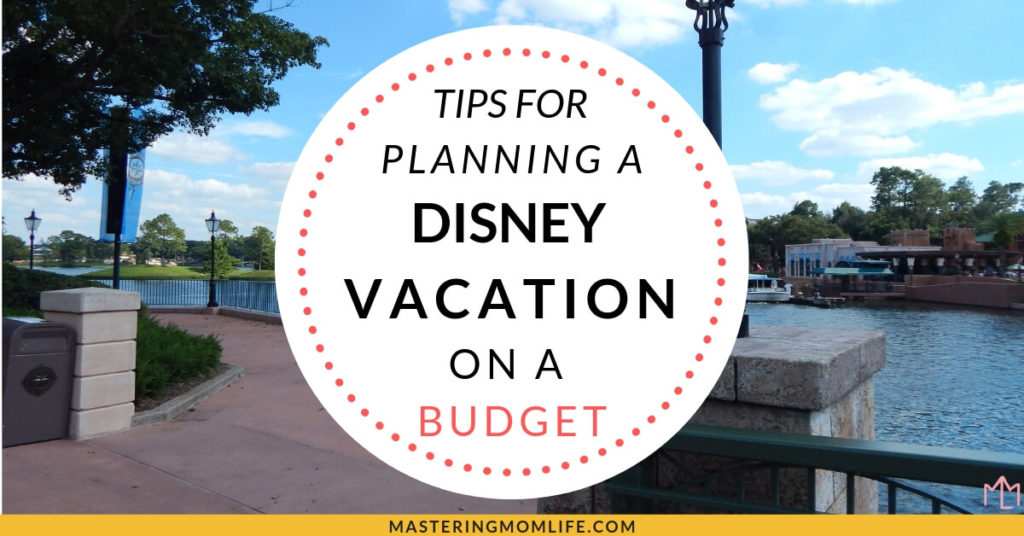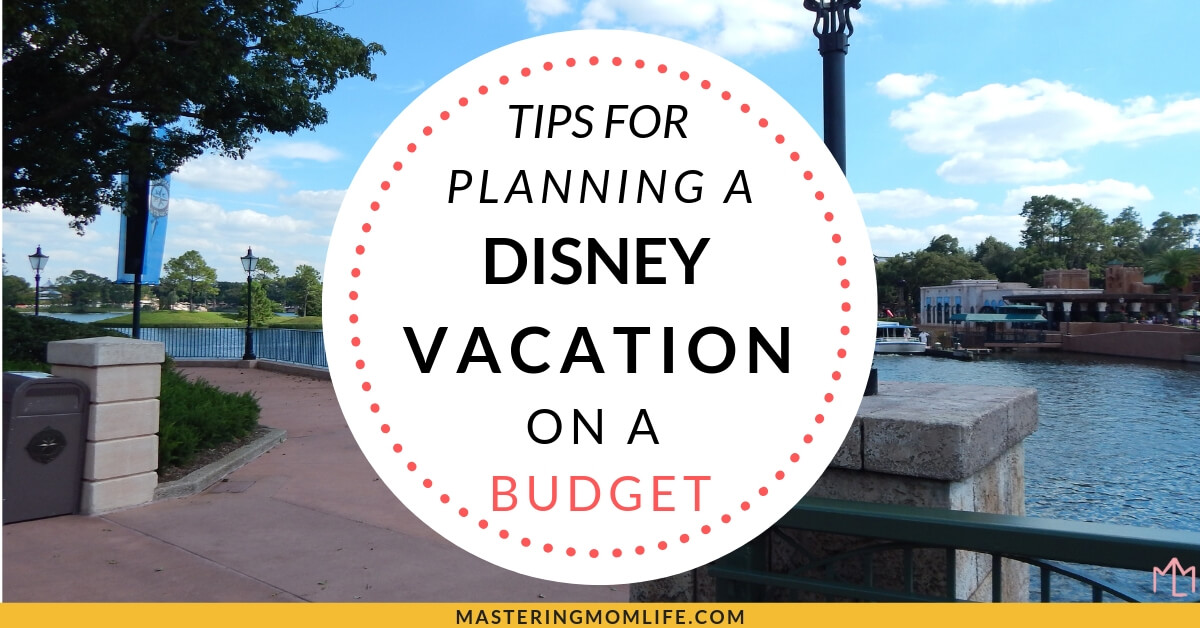 5. Order groceries / buy groceries
If you are staying on the Disney site at a Disney Resort, or even if you are staying off-site at a hotel or renting a home, you can save SO much money by buying groceries. Because you can bring snacks and drinks into the parks, you can save money by buying a case of water and bringing and taking a water bottle with you in the park.
Or you can save money on breakfast by buying breakfast bars or quick cereal and milk for your family to eat before heading to the park.
All of these little tips can really help you save money at Disney!
If you are staying at a Disney resort or at any hotel and do not have a vehicle to go to the store you have 2 options:
You can Uber to the nearest grocery store
You can order groceries and have them delivered to your hotel or resort, saving you a trip to the grocery store!
If you have an Amazon account with Amazon prime, you can order through amazon pantry and get free grocery delivery to your hotel! Saving money and saving time- SCORE!
Want to sign up for Amazon pantry or amazon prime?? Click here to get a month free!
6. Take advantage of Complimentary water
Another really great way to save money at Disney world is to take advantage of their complimentary water! A bottle of water can cost you upwards of $4-$5 per bottle in Disney parks. To avoid this cost, you can request a free cup of water at any quick service location. On really, really hot days, they even put out jars of ice water with cups for you to freely take yourself.
Or you can bring a reusable water bottle with you and fill up your bottle with the complimentary water! That way the water stays cold and you have it on you throughout the day!
---
Don't forget to download the Disney Vacation Planning Printable Pack with dining reservation tracker, Fast Pass tracker, and even Disney packing list! Get the instant download now!
---
7. Buffets
I know I tell you a lot of ways to save money on food, but this is one of my favorites. Disney buffets are known to be "expensive", but what a lot of people don't know is that breakfast buffets are almost half the cost of the dinner buffet.
If you really want to experience a character buffet or just any buffet in general, opt for breakfast. You will NOT be disappointed!
Not only is breakfast cheaper, but it also fills you up for most of the day so you are essentially eating 2 meals and are saving money!
Children under 3 eat free at buffets so you can also take advantage and bring your little ones while they are still young enough to eat for free and enjoy the food. The food is absolutely amazing and the variety is outstanding. The breakfast buffets even have dessert!
The buffets can range between $17-$35 a person, depending on the buffet.
My family always tries to get in one breakfast buffet during our vacation because we love it so much.
Even if you are not going to a Disney park, you can reserve a breakfast buffet at a Disney resort, such as Chef Mickey's. You can have the full Disney experience and meet Mickey without even having to pay for a park ticket.
Talk about money saving!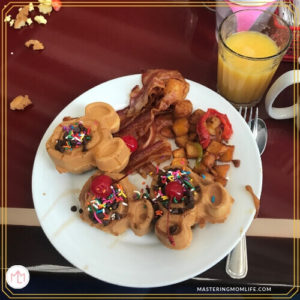 8. Use your Disney credit card
To be honest, I'm guilty of signing up for a Disney credit card just so I can rack up free money to go on Disney vacations. But it ended up being incredible because I use the card for everyday purchases that I would be making anyway, and I get "Disney dollars" for each purchase I make.
My husband and I ended up with about $1200 of FREE Disney dollars for just using the card on things that like utilities, gas, food, and shopping, that we were going to need to pay for anyway!
Plus, you get 15% off Disney purchases at Disney world AND have these amazing character meet and greet opportunities and get FREE pictures. Just for having a Disney credit card!
The credit card had no annual fee and its like having a little piece of Disney with me every day. I absolutely love it because it saves me SO much money when we go to Disney world!
9. If you have little ones, skip the park hopper
If you are already on the fence about how many days to visit the Disney parks and if you are experiencing sticker shock at ticket prices, don't worry, you're not the only one.
I found that when you have babies and toddlers, it's harder to park hop. So it's best to do one park per day. Skipping the park hop option will save you about $40-70 a person. But I only recommend this if you are planning to do the Disney parks for 2 or more days. That way, you can choose one park per day that you want to visit. After all, there are 4 parks and 2 water parks to choose from.
If you are visiting Disney for only 1 day and want to just glance over the park's main attractions and see the sights, then I would recommend just going for one day and adding the park hopper option, instead of paying for 2 different park days.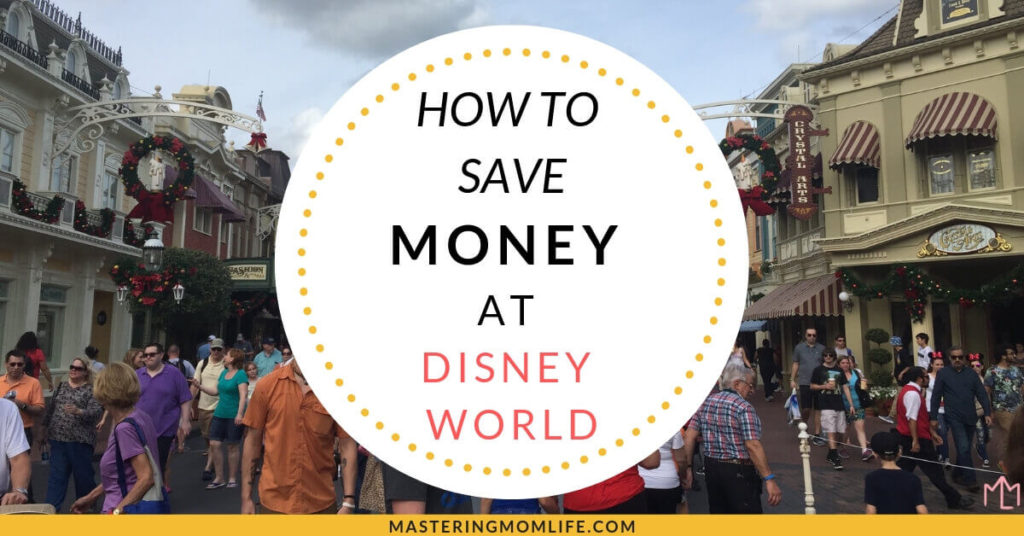 10. If you see something you want, check the Disney site for a cheaper price or sales
Disney is like a huge store where you basically want to buy everything. But it's not surprising to believe that there are things that they sell in the parks that you can purchase cheaper elsewhere. Almost everything that they sell in the parks, you can get on the Disney Store website. The great thing about this is that Disney's website often has sales and clearances, where you can save 10-25% off of the item that you see in the park.
I don't recommend this for EVERY item though. There are some items that are Disney park exclusives that you cannot get elsewhere. Those things are smart purchases because, in the long run, they will be worth more because it is limited edition.
Be sure to ask a cast member if something can be found on the Disney site or if something is limited edition.
This can save you money!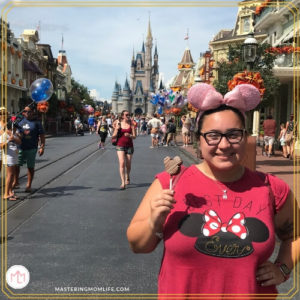 11. If you want to pin trade, order a batch of used Disney pins online for cheap and then trade them for better ones during your stay
Pin trading is a really fun thing to do at Disney World. But it can also be very expensive. If you or your child wants to experience pin trading, I recommend purchasing a bulk of used pins from Amazon or Ebay and then trade those pins for better pins in the parks. There's no use of purchasing beautiful, expensive pins if your child is just going to trade them anyway.
Instead of buying a $10 pin and trading it, purchase 20 pins for $10 on eBay and then trade those for pins that you see and want at Disney!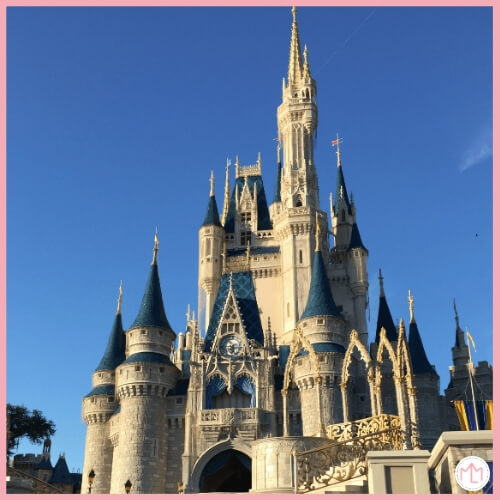 12. If you missed out on a souvenir at the park, try Disney Springs
If you find yourself out of Disney park tickets and are just really upset that you didn't purchase something while in the park, do not spend money on another park ticket. Just visit Disney Springs!
I love Disney Springs because it is essentially a Disney park, for free! Even the parking is free! They have every store you can imagine, the worlds largest Disney store, top-notch restaurants, and even an outdoor mall. It's absolutely beautiful!
I find that sometimes when I'm in Orlando and can't afford to go into a Disney park, I just visit Disney Springs and get my Disney fill that way! They have almost everything that you can find in the parks. Sometimes I don't even waste my time in the park with souvenir shopping because I can do that at Disney Springs. Why waste money on a park ticket for something that you can do for free tomorrow?!
SO be sure to visit Disney springs! It's a fun, free, Disney day!
Get your Free Disney Vacation Planning Printable Pack!
Don't forget to download my Disney Vacation Planning Printable Pack! It includes:
Tips on the best times to visit Disney World based on value seasons and important timelines to help you book your Fast Passes and Dining Reservations
A detailed Disney vacation packing list (includes a packing list for baby too!)
Disney Planning worksheet, to help you organize your Fast Passes and dining reservations plus keep track of your flight and hotel reservation numbers
Download the Disney Vacation Planning Printable Pack now to help you take the stress out of vacation planning so you can just focus on how excited you are to get away!
> So, there you have it! Remember, the secret sauce to save money on your Disney World vacation is to know HOW you can save money. Now you know 12 ways HOW to save money at Disney world during your family vacation!
Happy Disney Vacation!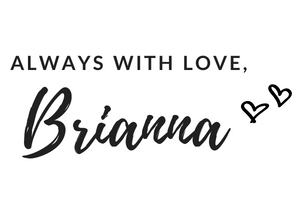 You might like these posts too!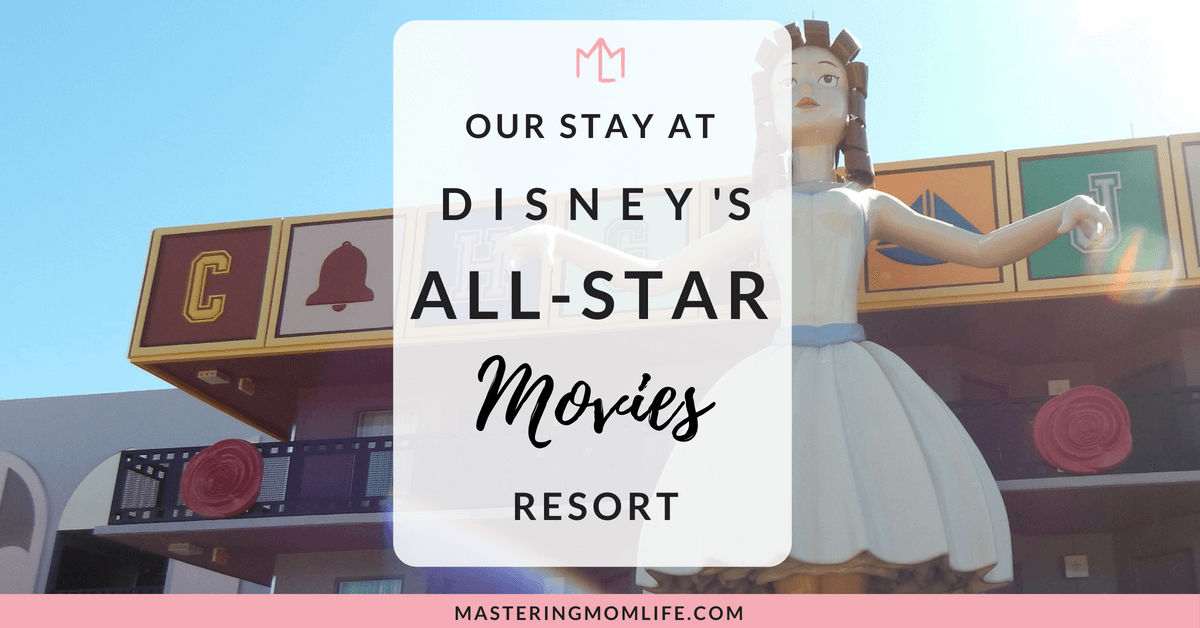 Wait! Do you love free printables??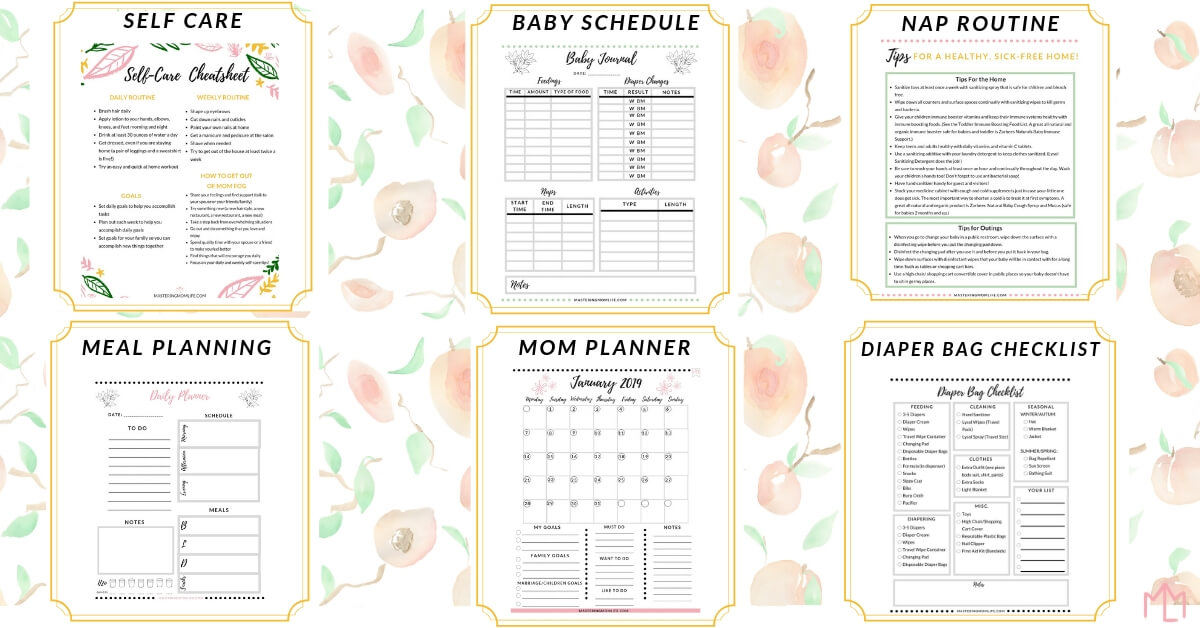 Become part of the Mastering Mom Life Insider tribe and get instant, FREE, private access to my resource library filled with printables + worksheets to make mom life easier!