Inside: Super easy baby and toddler activities to keep your little one busy & stimulated while helping them meet milestones & practice existing skills!
Tired of racking your brain trying to think of easy baby and toddler activities?
What if you could finally plan easy, fun, cheap, educational activities without spending 3 hours prepping for activities that last 10 minutes?
Finally keep your little one stimulated, busy, and reaching new milestones without wanting to pull out your hair!
Your #momlife JUST got a million times easier…
Plan a week's worth of easy activities in under 10 minutes to keep your baby stimulated and reaching new milestones.
No more losing your mind trying to find and plan fun, cheap, easy activities to help you finally feel confident teaching your baby new things- you can download it right now!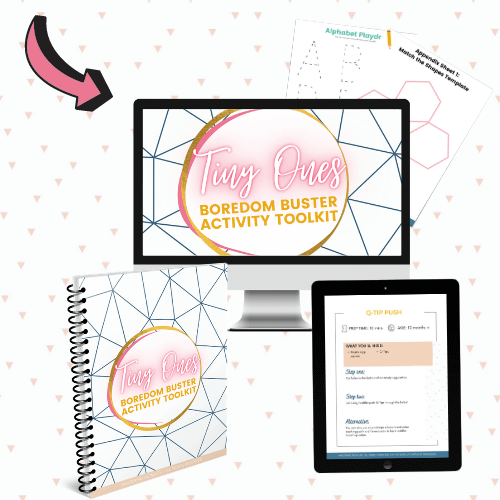 Imagine if you could…
Get your little one on a rockin' play routine without pulling out your hair
Help your baby reach new milestones & easily track their growth
Have a simple plan of action for your baby or toddler's activities
Keep your little one entertained without breaking the bank
Quickly prep each activity to maximize your time
Accomplish a well balanced play routine with independent play AND parent/child bonding
FINALLY, say goodbye to super complicated activities that your little one is going to play with for only 5 minutes…
And HELLO to a whole goldmine of fun, easy, affordable activities that will take you less than 10 minutes to prep AND that your little one will have a blast doing.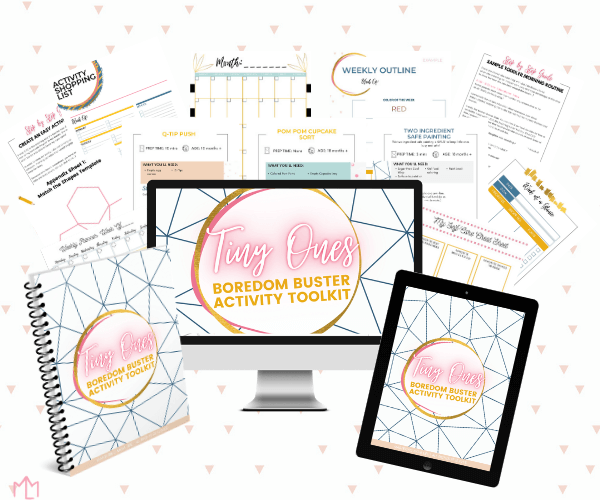 Tiny One's Boredom Buster Activity Toolkit
This treasure chest of fun, easy, educational, and cheap activities for babies and toddlers is perfect for the busy mom who wants to keep their little one growing and having fun…
…without the burden of unnecessary prep and stress!
You'll get an entire activity planning system— 100 pages of awesomeness to help you feel confident to easily prep fun activities so your baby can continue to grow and thrive!
Plus, the toolkit includes a well-balanced combination of independent play activities as well as activities to encourage parent/child bonding.
That means you'll be able to not only teach your little one to play on their own (so you can get stuff done!) but also encourage beautiful bonding time between you and your child that will also be strengthening development.
Here's a glimpse at everything you get!
10 Done For You Activity Planning Templates to help you customize each activity to fit YOUR baby
35+ Skill-Building Activities with step by step instructions & set up for babies 2 months old to 2 years old!
20 Activity Worksheets to whip out when you're in a pinch
Everything your little one needs to promote developmental milestones, play independently, and stay stimulated while having fun!
A detailed review of how to implement activities & independent play in your weekly routine
This activity toolkit is perfectly designed to HELP you take the overwhelm OUT of planning fun, educational & affordable activities for your children while encouraging independent play AND parent bonding!
It's time to easily organize & plan your little one's activities for maximum growth & development while eliminating frustration!
Don't feel tied down to someone else's play routine- easily create YOUR OWN your baby can thrive!
This is a FLEXIBLE step-by-step activity system where you can easily plan your own weekly activities by plugging in activities based on the provided activity worksheets and templates!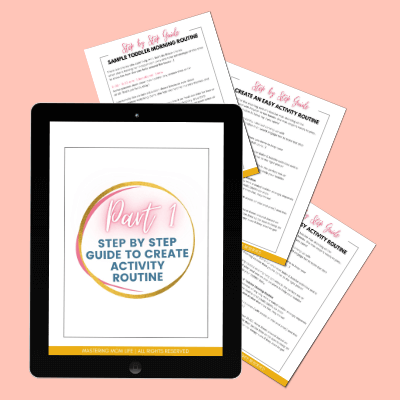 PART 1: Routine Guide
Step by Step Guide to Create Activity/Play Routine
Sample Toddler Morning Activity Routine
PART 2: Planning Templates & Activity Guides
Planning templates to help you easily plan & prep + step by step activity guides
Newborn Activities
6-12 Month Old Activities
1-3 Year Old Activities
Items Needed List
Step by Step Instructions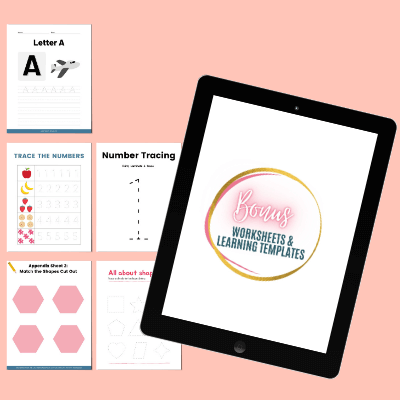 PART 4: Bonus Worksheets
Bonus templates and worksheets to accompany the activity guides
Activity Guide Appendix Templates
25+ Bonus Worksheets for alphabet and numbers
Does this sound familiar?
"I have no idea what to do with my baby all day"
"I don't have much money to spend on activities so I tend not to do fun ones"
"I don't have a clue where to even begin with planning activities"
"I'm tired of doing the same activities over and over again"
"I just don't have the time to spend prepping activities"
"My baby puts everything in her mouth so I can't do many activities"
"My toddler gets bored with things easily"
I'm right there with ya! I have felt ALL of the above!
But I can help you feel confident in your little one's development while they have fun!
The Tiny One's Boredom Buster Activity Toolkit includes 40+ low-cost, screen-free, easy activities with little to no prep.
With activities for babies and toddlers from 2 months old to 3 years old, and over 10 templates to help you create an easy playtime activity routine that works for YOUR family, this activity toolkit is your life raft back to sanity!
HOW TO USE
Download the easy baby and toddler activities toolkit with the click of a button.
All pages are quick and easy to print.
I know some moms who print the organizer and laminate the pages to keep reusing with a dry erase marker. (Like the picture above!)
Or print out key pages you'll use every week and place them in an 8.5×11 frame that you can also use with a dry erase marker.
To take advantage of the whole organizer, print and place it in a binder. Even use sheet protectors to personalize them so you don't have to keep copies of the same page!
With 10+ pages of activity planning templates, 40+ easy activity ideas, AND 25+ worksheets to whip out when you're in a pinch, you'll be able to help your little one grow in each stage of development with ease and confidence.
KICK OVERWHELM
Let's face it––there's nothing more frustrating than spending 3 hours prepping for an activity that your baby only plays with for 5 minutes.
And there's nothing more disheartening than feeling guilty for not knowing what to do with your baby all day. You are not alone!
The truth is that having an easy activity routine is a game-changer, one that will help you feel more connected to your baby, keep your little one entertained & stimulated, and even promote milestone development!
Not ready to purchase the toolkit? Grab this free activity routine!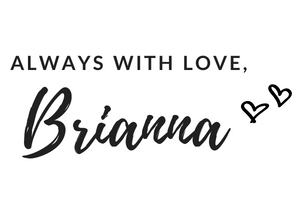 Related Reading: