Inside: The perfect step-by-step 1-4 month old baby schedule complete with an easy, flexible routine for feedings, naps, and activities to help baby thrive and make mom life easier!
I heard a screech coming from my baby's bassinet and frantically checked the time- it was 3:30am…feeding hour.
If I didn't know my sweet new baby's routine, I would have panicked and thought something was wrong. But as my little one was growing and learning this brand new world, I was learning her.
Her cues, her cries, her needs.
The 1-4 month period IS exhausting. You're still recovering from pregnancy and delivery, you're getting to know this brand new little person, caring for their every need all while juggling what is left of your normal life.
But do not fret, routines are here to the rescue!
I'll show you a 1-4 month old baby schedule and flexible routine that will flourish your connection with your baby, help you understand their cues and care for your baby in the best and easiest way possible.
By creating a flexible routine for your baby, you will begin to understand how your baby is communicating with you and what they actually need, all while gaining the confidence you need to care for them without feeling overwhelmed (or unqualified!)
You'll have a better understanding of your baby's wake windows, full feedings, and naps/sleep.
I'll share with you 2 different sample routines to help guide you through the 1-2 month stage and 3-4 month stage so you never feel confused during any step of the way!
If you want to download the sample 1-4 month old baby schedule now, click the button below to get it sent straight to your email along with all of the baby routine tips and tricks in this post! Instantly download the routine to have it at your fingertips throughout the day to help you stay confident and prevent stress.
3 Keys to a Successful 1-4 Old Month Baby Schedule
Before we dive into the actual routine, it's important to know *what* will actually be in your routine. After all, babies are new to this world and they don't have many activities they can do.
There are 3 main keys that will make up your baby's routine:
Wake window
Full feedings
Sleep
Your 1-4 month old baby schedule will be formed around your baby's cues. Their tired cues and hunger cues.
No time to read this now? That's ok! Save this to your favorite Pinterest board for later!
1. Wake Windows:
The term wake window is just a fancy term for the amount of time your baby is from one nap tot the next.
You can count your wake window starting from when your baby wakes up from their last nap to the minute they are placed back in their bed for the next nap. All of that time in between is counted as a wake window.
The wake window for a 1-2 month old is usually around 30-45 minutes. But as your baby grows each month the wake window will begin to stretch.
Such as a wake window for a 3-4 month old can be anywhere between 60-90 minutes. But if your baby is still only reaching a 45-minute wake window before becoming overtired, that's perfectly fine.
Two main events that take place in that wake window are feedings and activities.
Since your baby is still an infant, those wake windows will be short and usually only accounts for a feeding and a few extra minutes of awake time.
These wake windows will help fill your baby's tired cup- enabling them to get tired enough to have a successful nap/sleep time.
The key is to watch for your baby's tired cues and offer a nap when they are becoming tired.
Your 1-4 month old baby nap schedule will be formed around your baby's tired cues.
These tired cues include:
Rubbing eyes
Glazed & staring eyes
Red eyebrows
Yawning
Fussiness
You'll begin to notice these tired cues around the same times throughout the day. This is your baby communicating with you they are tired.
These tired cues will show you when your baby needs to nap and these times will begin to create your nap schedule.
2. Full Feedings:
The next essential key to a successful 1-4 month baby schedule and flexible routine is accomplishing full feedings.
The term "full feeding" is just a fancy way of making sure your baby is completely full after a feeding. When your baby is full after having a feeding, they are more likely to go 2.5-3 hour stretches between feedings- which can help your baby sleep better too.
Achieving full feedings can also prevent your baby from "snacking"- wanting to constantly eat every 30minutes-1 hour. Snacking can inhibit a successful daily routine because you're little one is always eating and never fully satisfied or full.
To learn how to easily accomplish full feedings or how to make sure your baby is feeding to get full, read all about full feeding in my post here.
---
Related Reading: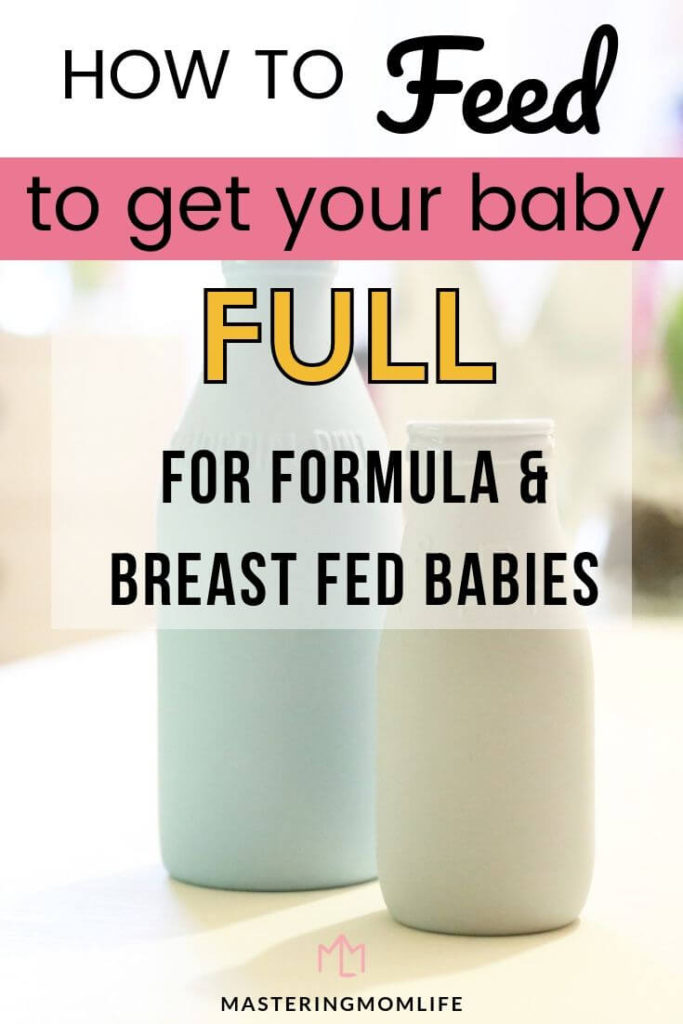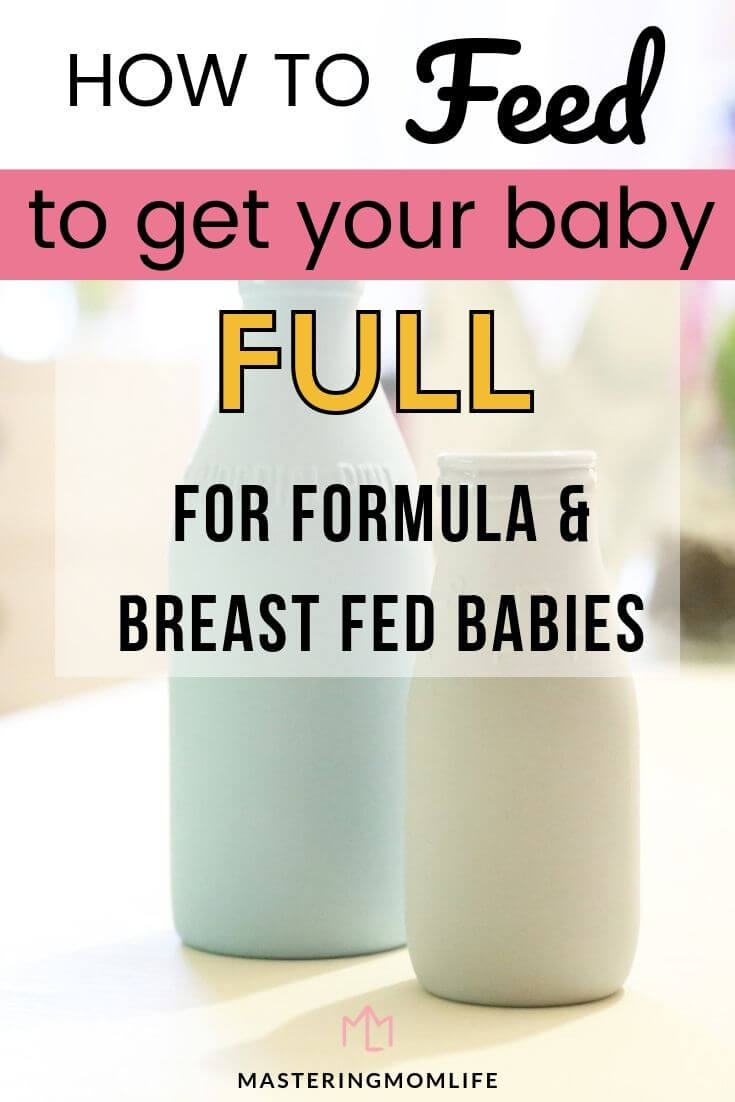 ---
3. 1-4 Month Baby Sleep:
Let's face it, a large portion of your baby's day is sleeping. At this age, your baby's wake window is a minimum of 30 minutes or if your baby is closer to the 4-month stage, the wake window can even be as long as 90 minutes.
That means your baby is sleeping every hour (between 1-2 months old) or every hour and a half (3-4 months old).
Naps at this age can last anywhere from 20 minutes to 2 hours, depending on the time of day or how your baby is feeling at a particular time.
If you are struggling with short naps, you can read my Troubleshooting Baby Naps guide.
To set your baby up for successful naps you'll want to:
1. Make sure your baby is staying awake for those wake windows (to fill their "tired cup")
2. Accomplish full feedings (ensuring your baby isn't prematurely waking up from hunger)
Okay, now that we've gone over all of the essentials of a successful 1-4 month baby schedule, let's jump into some sample routines!
1-4 Month Baby Schedule and Routine
For the purpose of this post, I will be stating times but you do not have to follow this routine based on what time the clock says.
A flexible routine is just a series of patterns throughout the day to help structure your day and offer your little one support.
Use this routine as a guide based on when YOUR baby wakes up and starts their day. If your baby wakes at 6, then follow the routine steps from that time. If your baby wakes at 8, then follow the routine steps based on that time.
The goal of this routine is not for you to be worried about "time". It is just to get familiar with the overall activities your baby does throughout the day.
1-2 Month Old Baby Routine
7:00am Feeding
7:20-8:00am Wake time
8:00-9:30am Nap #1 (First nap was short, tried to put baby back to sleep but no-go)
9:30am Feeding
10:00-10:30am Wake time (baby started showing tired cues at 10:15, did nap routine and baby was already sleeping at 10:30am)
10:30-11:30am Nap #2
11:30-12:00pm Wake time (Baby's didn't eat right after wake, didn't show hunger cues until 12)
12:00pm Feeding
12:30-2:30pm Nap #3 (Baby woke after 45 minutes so you placed baby in a carrier and fell back asleep as you sat with them on your chest)
2:30pm Feeding
3:00-3:30pm Wake time
3:30-4:30pm Nap #4
5:00pm Feeding
5:30-6:30pm Nap #5 (cat nap in the baby swing while you get some chores done)
6:30-7:30pm Wake time (bath, etc.)
7:30pm Feeding & Bedtime
8:00-10:00pm Sleep (use bedtime routine)
10:30pm Dream Feed
Baby then sleeps as long as possible before next feeding
"Master" 3-4 Month Old Baby Routine
7:00am Feeding
8:30-10:00am Nap #1
10:00am Feeding
10:30-11:00am Wake time
11:30-1:00pm Nap #2 (Baby woke at 12:00pm but you rocked back to sleep and placed in carrier/sling)
1:00pm Feeding (Baby took a while to have a full feeding and showed tired cues at 2:00)
1:30-2:00pm Wake time
2:00-4:00pm Nap #3 (Baby slept almost 2 hours because last nap was shorter)
4:00pm Feeding (baby took an hour to have a full feeding, was distracted)
5:00-5:30pm Wake time
5:30-6:00pm Cat Nap (Baby slept in safe swing while mom cleaned)
6:00-7:00pm Bath & Wake time
7:00pm Feeding (Last "daytime" feeding before nighttime sleep)
7:30pm Bedtime (bed time routine)
10:30pm Dream Feed (woke baby to offer a feeding so they can sleep 3-4 hours until next feeding)
This routine has a combination of shorter and longer naps throughout the day as we as 2.5 hour and 3 hours between feedings.
It also shows a combination of different sleep locations and methods. Sometimes baby falls back asleep on mama's chest, sometimes in the car, etc.
A flexible routine will help your baby know what is next and will help you know what your baby needs next.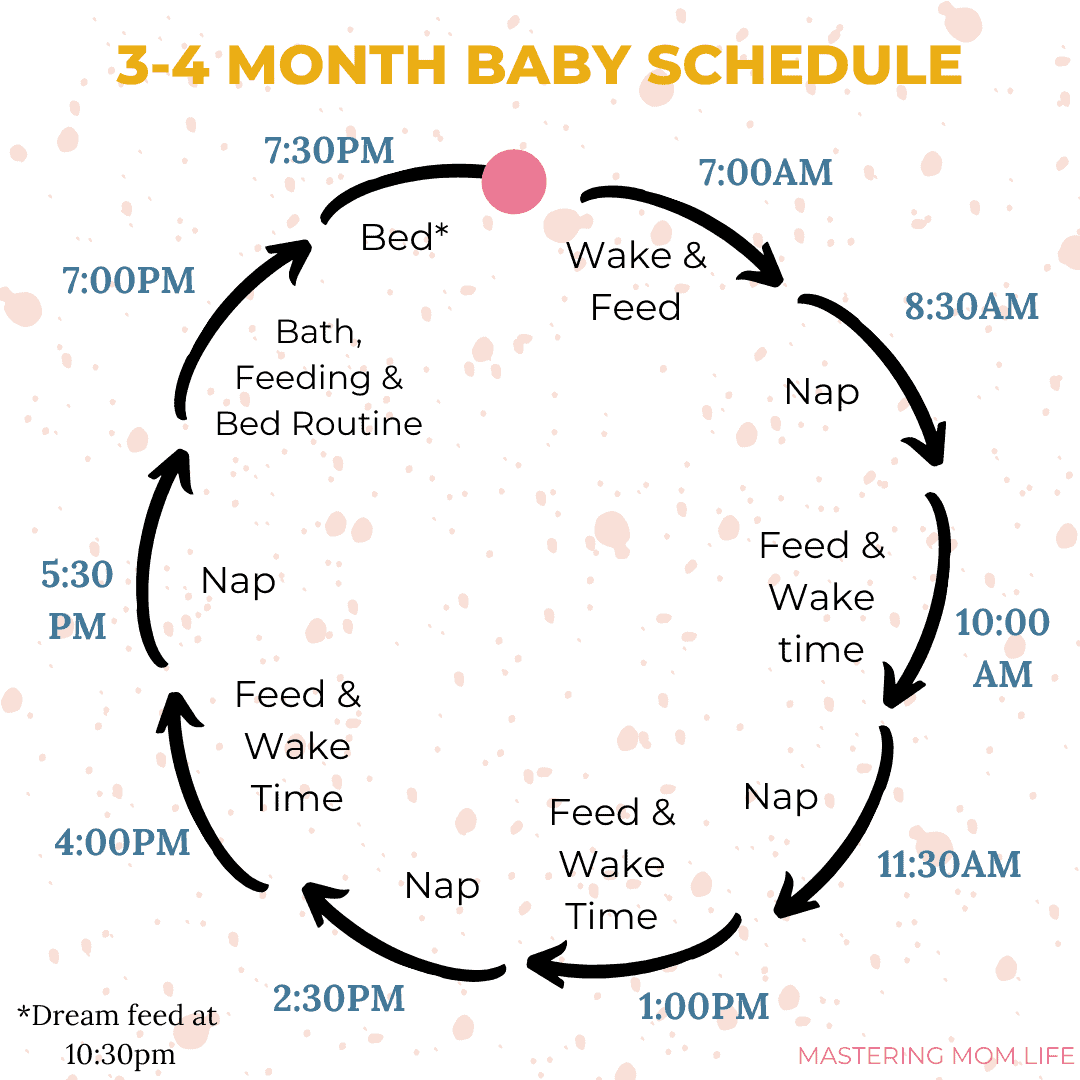 Follow your own baby's wake windows, hunger cues, tired cues, etc!
In a perfect world, your baby would sleep every hour for 2 hours and eat every 3 hours, making your mom life complete clockwork and a piece of cake. But babies are unpredictable and getting used to this world! So, you'll want to go with the flow of your little one's cues and offer them what they want as needed.
Don't forget to grab my 1-4 Month Baby Routine Guide will 2 different sample schedules and baby routines that show different wake windows, nap lengths, and feeding times that accounts for the unpredictability of your day!
You may find one of these routines is more of a fit for your family 🙂
How Long Should Naps Be?
The key to setting up good daytime sleep is a consistent nap routine. You can read all about my successful, super easy nap routine that helped my babies have better and longer naps!
A newborn nap can be anywhere from 20 minutes to 2 hours. So, if your baby went to nap at 8:00am and only sleeps 30 minutes, you don't follow the "sample schedule" and wait until 10am to put them back down for a nap.
Remember, at this age, their wake window is short. You'll want to follow the wake window time and offer your baby a nap 30-45 minutes from when they woke up.
That's why this routine is FLEXIBLE. You're not following the clock for when to do something. You're using your baby's cues alongside the timing of when your baby should be napping or eating to create a routine that helps them thrive.
Be sure to download my 1-4 Month Baby Routine Guide to see 4 different sample schedules in action including a schedule with short naps, long naps, short wake windows, and long wake windows!
Fill out the form below to get the Routine Guide sent straight to your email!
How Long Should My Baby Be Sleeping at Night?
At this age, it is still possible your baby is still waking up every 3-4 hours during the night for feedings and maybe even cluster feeding some nights.
I like to follow a simple "guide" for baby nighttime sleep. For every week of my baby's life, it's possible my baby can sleep the same number of hours at night.
For example, at 4 weeks old, it's possible for my baby to sleep 4 hour stretches at night. At 5 weeks old, it's possible to sleep 5-hour stretches…and so on until they reach 8-9 hours at nighttime sleep.
But if your baby isn't- don't worry! You aren't doing anything wrong.
By 3-4 months (12-16 weeks), it's possible for your baby is to sleep 8-9 hours with the option of a dream feed 3 hours after their last feeding before bed. The dream feed stretches your little one's sleep so they don't wake in the middle of the night.
Not every night will be the same amount of sleep. And not every night will be identical.
This is not a hard and fast rule and if your little one isn't sleeping "straight" hours just yet, that's perfectly fine. All babies are different. All parents are different. Every family is different.
Whether you are nursing, bottle feeding, pumping, formula feedings, or any combination- YOU know your baby best.
If your baby is breastfeeding, feed your baby on demand, trying to accomplish those full feedings.
If your baby is still having multiple night wakings, that's perfectly fine! As long as YOU are happy with your baby's growth and your baby is happy, developing, and meeting new milestones, I wouldn't stress about nighttime sleep unless you are ready to focus on nighttime sleep.
As long as you are watching those wake windows and full feedings, you are on the right track!
The 4 Month Sleep Regression / Progression
Babies experience the dreaded "4-month sleep regression", but it's more like a sleep progression.
At 4-5 months your baby's sleep cycle shifts and can cause sleep disruptions for a few nights because your baby is now experiencing multiple stages of sleep- including light sleep, REM, and deep sleep.
As your baby goes between these stages of sleep, it's possible for them to wake up because they are learning and adjusting to this new sleep pattern.
If your "my baby sleep all night" baby is now waking up and they are 4 months, this could be the reason.
A word about baby sleep…
There is a lot of chatter in the mommy blog world about sleep training, what is right, what is wrong, teaching your baby to sleep independently…and so on.
It can be VERY overwhelming.
If you are perfectly fine with your baby's sleep patterns, that's wonderful. If you are continuing to struggle with each month as they get older, reach out for support.
When it comes to baby sleep, just remember- if it feels wrong to you and your baby, then it's probably wrong for your family.
There is no ONE way to deal with baby sleep struggles. And sometimes, what may *feel* like is wrong, is sometimes perfectly right! Such as your baby sleeping short naps or waking up at night.
Your child is a baby- they will naturally fall into a groove of sleeping as they get older.
Don't stress, mama!
What Do I Do With my Baby When He / She's Awake?
If you're struggling with what to actually do during your baby's wake window, check out the Tiny One's Boredom Buster Activity Toolkit!
It's jam-packed will easy, fun, cheap, & educational activities for babies 2 months-2 years old. This resource will grow with your child and help them reach new milestones while practicing existing skills!
A 2-month baby won't "play" as a 12-month baby would, but you can still do fun little connection activities with your baby that will keep them engaged, show them new things and strengthen your bond. 🙂
Learn more about the activity toolkit here!
Free 1-4 Month Baby Routine Guide
Don't forget to download your free routine guide so these sample routines and schedules can get sent straight to your inbox!
The Routine Guide includes:
1-2 month routine sample
3-4 month routine sample
Daily routine "create your own" template
Baby daily tracker (to track naps, activities, diaper changes, moods, and feedings all in ONE place!)
Recap:
Remember, don't compare your baby's journey to another.
Your little one is still just that- a baby! Enjoy the snuggle as they fall asleep on your chest, savor their little breath hitting your neck and cherish every cuddle as their little body fits so perfectly onto yours.
This 1-4 month old baby schedule and flexible routine will flourish your connection with your baby, help you understand their cues, and care for your baby in the best and easiest way possible.
I hope you found the information you need to feel confident caring for your little one in the best way possible and assurance to know that you are doing great!
Remember to follow those wake windows, tired cues, and hunger cues.
YOU know your little one best!
You got this, mama!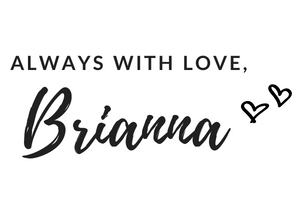 Related Reading: