Inside: Feeling overwhelmed by the newborn phase? Learn the best 0-4 weeks old newborn routine to help you learn your baby's cues and make each day as easy as possible!
It was 1 o'clock in the morning…I was rocking and feeding my newborn for 6 hours straight. My eyes were swollen from crying, my chest was sore, and my head was pounding like a construction site.
It was 24 hours of what felt like a year.
Immediately the questions flooded my mind…
Am I spoiling her?
Am I creating bad habits for later?
Why is she always so fussy?
Are her days mixed up with her nights?
To say I was overwhelmed was a complete understatement.
I had no idea what I was doing because I felt lost. I was living my life from one 2 hour stretch of sleep to another- and it was killing me.
But then I found a golden nugget: a newborn routine that actually made sense!
Not a newborn routine that sounded impossible to do with a 1 week old….
…but a newborn routine that gave me a hint of structure to my day with my baby with cues that made me feel confident so I knew she was eating enough and her sleep patterns were totally normal.
And I want to share this 0-4 weeks old newborn routine with you!
This awesome 0-4 weeks old newborn routine will help you feel less…well, helpless- so you can feel more in control and less overwhelmed, especially in those beginning days where the whole world feels like it's crashing down around you (hello hormones!).
Important: This newborn routine can be used for breastfed babies, formula fed babies, & combination feeding.
Be sure to download the FREE printable download of this newborn routine so you can easily save it and always have it with you!
In this printable, I also share with you different variations of real-life sample routines with breastfeeding, formula feeding, bottle feeding AND combination feeding! Don't forget to download it now!
So let's get down to it…
(No time to read this now? That's okay! Pin it to your favorite board for later!)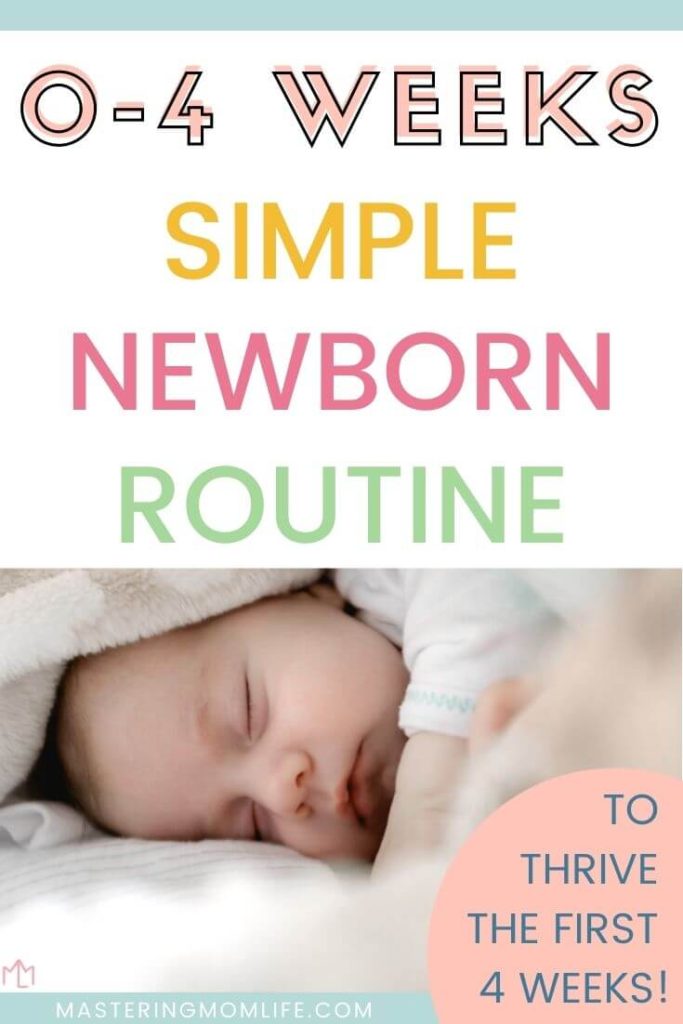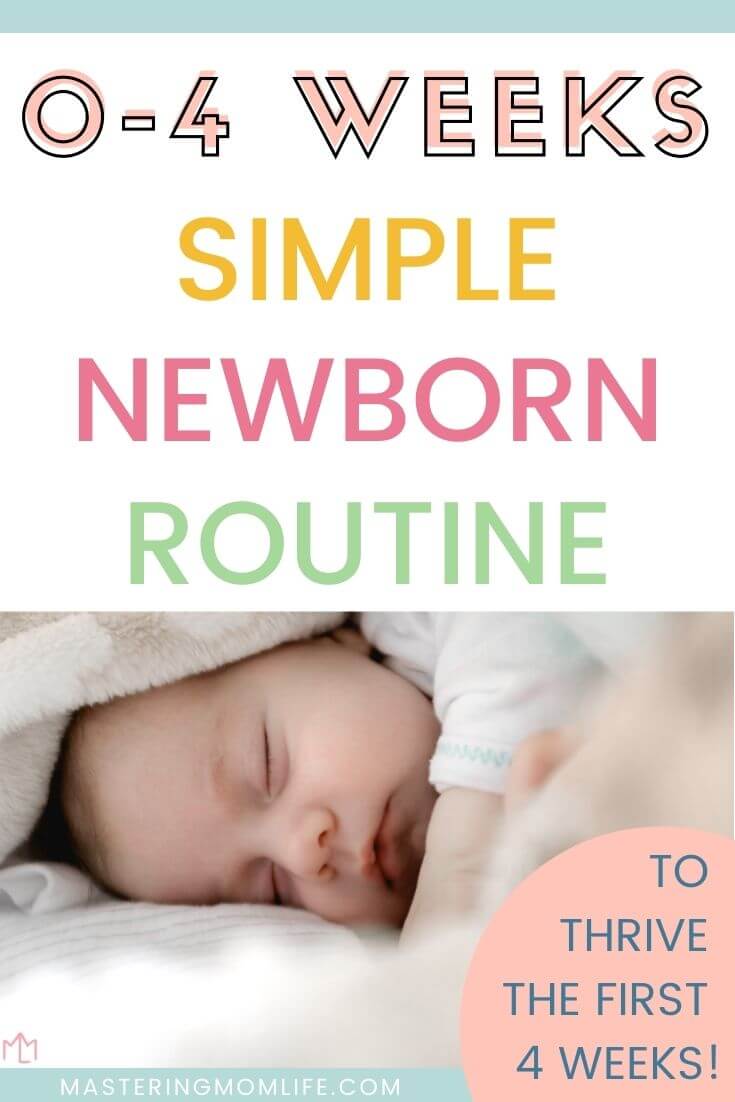 The Best 0-4 Weeks Old Newborn Routine
I started this newborn routine when my daughter was a week old and it truly saved my sanity!
But first, what is a newborn routine and how do you start one?
What is a Newborn Routine?
A newborn routine is simply a series of actions you'll take with your baby each day to help you begin a solid feeding & sleep foundation for the coming weeks.
A newborn routine is NOT a rigorous, harsh schedule.
In this 0-4 weeks old newborn routine, you are simply following your baby's cues to come up with a pattern for your day so you can meet his/her needs accordingly.
For this newborn routine you will not be dictated by the clock for feedings and naps but simply following along with the clock to track when your baby is doing what.
For example, if your baby eats every 3 hours and your baby last ate at 12 but is still fast asleep at 3:30, you know it's probably time for a feeding.
But if your baby ate at 12 and is now showing hunger cues at 2:30, you feed on demand- don't make your baby wait those 30 minutes just because the clock hasn't hit 3:00 yet.
It's all about flexibility and following your baby's cues while guiding him along the way.
With this newborn routine, you will be setting a solid foundation for when your baby is able to sleep through the night- with these simple routine tips, you're setting up the stage for a great 8-12 week stretch of easy feedings and naps/nighttime sleep.
Hello long stretches of nighttime sleep, goodbye sleep deprivation!
But remember, the goal right now is NOT to get your baby to sleep through the night. Your goal is to set the foundation for feedings, awake time, and sleep.
By doing this newborn routine you'll know when your baby needs to eat, be awake, and sleep.
You're basically just getting to know your baby better. And there's no one better to care for your baby than you, mama!
Remember, this routine isn't about following the clock so if one day your baby is eating at 10:30am and the next day she's eating at 11:15am—that's okay!
You follow her cues based on her needs within this routine.
Newborn Routine: Feeding
Let's begin with the feeding- which in my opinion is one of the hardest parts of having a newborn. Figuring out WHAT to feed your baby is going to be the first step.
Are you breastfeeding? Are you formula feeding? Are you bottle feeding? Are you pumping?
The list of feeding questions can go on and on.
But it's important to not become overwhelmed with figuring all of this out.
Maybe you breastfed in the hospital but got home and realized it wasn't a right fit for you and baby. Or maybe your baby is super fussy and you have to change your diet.
Or maybe you decided to formula feed but now have no idea what formula is best.
I personally have been through ALL of these scenarios…
I have quit breastfeeding because I couldn't find out what was making my daughter colicky.
I have switched formulas 4 times because there was blood in my daughters stool.
I have switched bottles because of gas issues.
I have changed my diet during breastfeeding.
I've exclusively pumped because I needed my husband's help during nighttime feedings and this gave us the ability for him to feed her too.
Let's just say feeding issues had me STRESSED.
When your baby is eating well and eating the right thing for HER, life gets easier.
There's nothing worse than a baby who is miserable, in pain, and gassy and they can't explain to you what's wrong. My heart literally breaks.
So first things first, feed your baby what is BEST FOR HIM.
If you're struggling with breastfeeding or latching or diets, talk to a lactation consultant. Most pediatricians can point you in the direction of someone who can help you.
If you chose to formula feed, talk to your baby's pediatrician for recommendations. Different formula has different ingredients, such as different iron contents.
If for any reason you feel the way you are feeding your baby is bothering her, talk to your doctor about it.
I've called my pediatrician at least 10 times on different occasions because my daughter was either constipated, had mucousy stools, couldn't latch, was gassy, etc.
She pointed me in the direction of a different formula or gave me a clue as to what I should stop eating.
Starting to feel confident in what your baby is eating, how much they eat, and their hunger cues is a huge part in my newborn routine.
So don't stress and take these 4 weeks to get to know your baby more and how he/she eats!
---
Read this post for more details all about full feedings!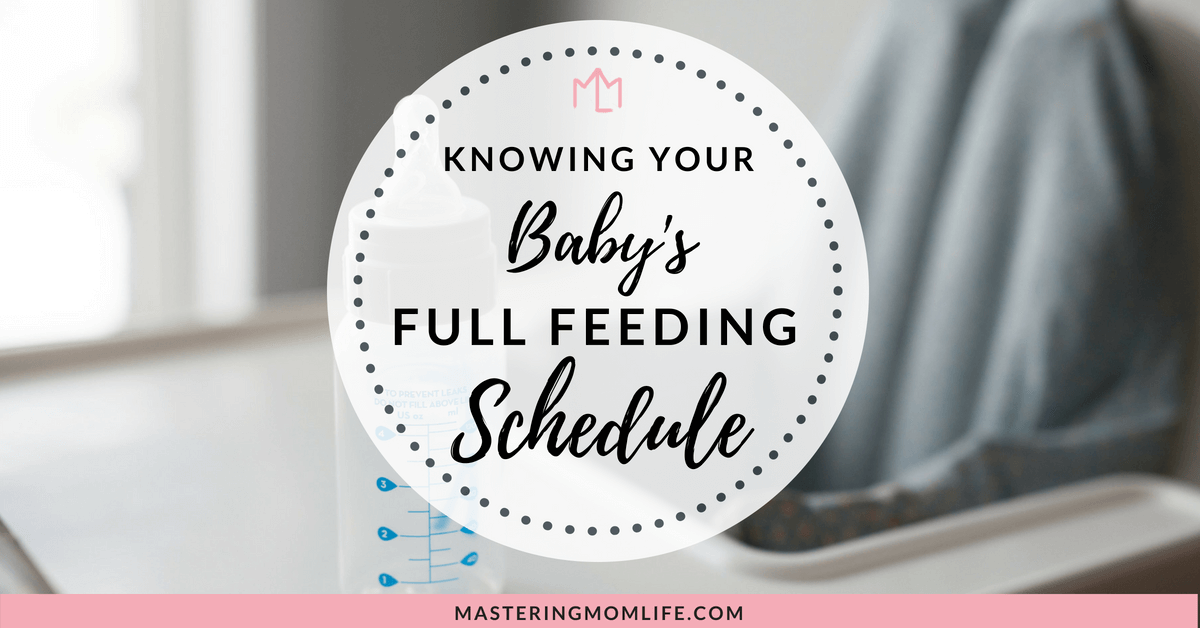 ---
Newborn Routine: Awake Time
In a normal baby schedule, after a feeding there's usually a time where your baby is up. This is called awake time.
But with a newborn, their awake time or wake window is super short.
Their awake time or wake window is the time from when they wake from the last nap to the time where they go back to sleep.
And the main thing I noticed about newborn awake time is most of the wake window is taken up by feeding.
My daughter would wake up at 10:30 and eat for like 45 minutes to an hour- which is her whole wake window! By the time she was done eating and had a full feeding, it was time to go back to sleep.
(Remember, an overtired baby is a fussy, upset baby so no one wants that!)
Even up until 4-5 weeks my daughter was taking a WHILE to eat. After about 5 weeks her feedings started to get a bit shorter because she was more comfortable with the bottle/breast. We also took the time to burp her every ounce/every 5 minutes breastfeeding to reduce gas and it worked really well for her.
Everything about a newborn takes grace and patience!
So if you find that your baby is literally eating and sleeping all day long, that's okay! His wake window is his feeding time.
Some babies eat really fast and will have a bunch of awake time before going back to sleep. This is completely normal too!
With this 0-4 weeks old newborn routine, you are simply following your baby's hunger and sleep cues to help them feel the most comfortable while maintaining some predictability in their day.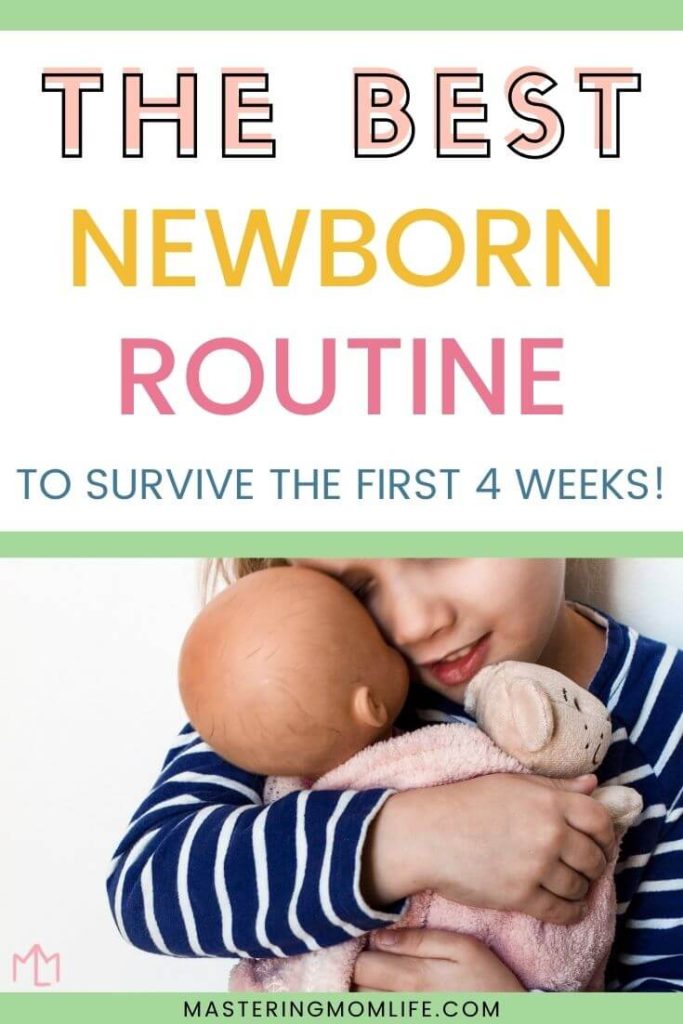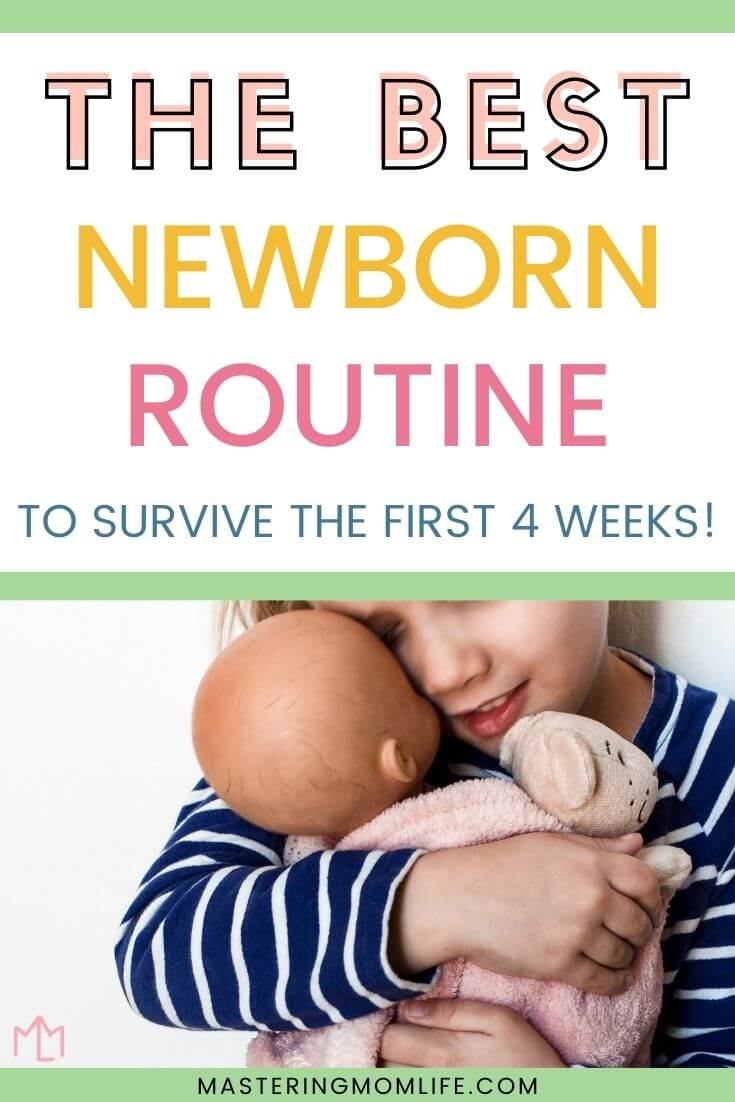 Newborn Routine: Naps
Let's talk about naps in this 0-4 weeks old newborn routine. To be honest, baby sleep always gave me anxiety.
Will my baby only fall asleep in my arms?
What if my baby gets too attached to the pacifier?
Will my baby ever learn to self-soothe?
When will my baby sleep through the night?
All of these questions were super valid for a sleep deprived mom who just wanted another hour of sleep!
But newborn sleep is super sporadic- and that's totally normal. Maybe one nap your baby sleeps 2 hours but then after the next feeding they literally only sleep for 25 minutes before waking up in a full-out scream.
Your goal is just to give your baby a nap when you see his/her sleep cue.
Sleepy Cues:
Rubbing eyes,
Yawning,
Blank staring,
Slow blinking, etc.
Maybe one nap is in a swing, the next nap is in a baby carrier, and the next nap is in a bassinet.
That's perfectly normal!
As your baby gets older in weeks, you can try to lay down your baby for one nap in their bedtime spot (such as a crib or bassinet).
This will begin to help baby learn the difference between sleep locations. Usually, the first nap of the day is easiest to accomplish so you can try to put baby down in her bassinet for this nap if you want to try it out.
Newborn naps can truly take place anywhere- as long as they are sleeping at points in the day.
---
Read this post for more awesome information about baby naps!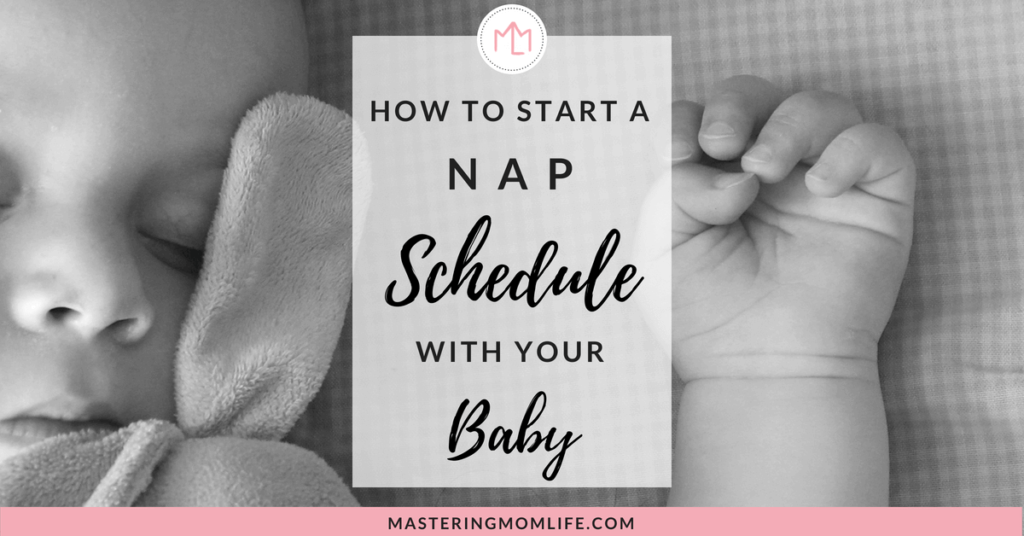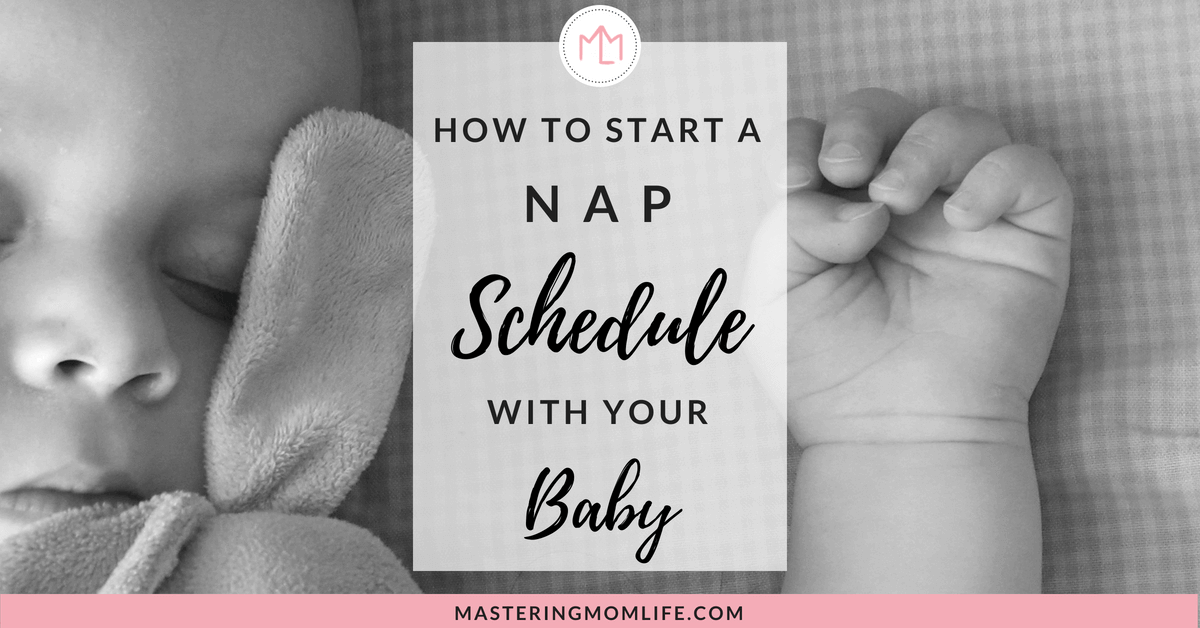 ---
What if my baby isn't napping?
There were some days where my 3 week old daughter would be up for like 4-5 hours every evening. Hello witching hour!
During this time, no matter how many times I tried to put her to sleep, she would wake up screaming 10 minutes later. She would seem constantly hungry and completely boycott her naps.
I nursed her as much as I could when I was breastfeeding those weeks (when she was cluster feeding) and when she was on the bottle I fed her every 2.5 hours or would feed her a half ounce about every half hour.
It was brutal.
And even now that my daughter is older than 5 weeks, she still goes through a period every week where she refuses to sleep.
Babies are always growing and are in different developmental stages all the time. Through these growth spurts, your baby will react differently. So just go with the flow of your baby's cues and try not to stress too much.
If he genuinely seems hungry, feed him. If she's tired, offer a nap. If he wants to be cuddled, hold him. If she'll only sleep in your arms, wear her.
You can't spoil your baby.
You are the best form of comfort and relief for your baby!
This post contains affiliate links. Mastering Mom life is a participant in the Amazon Services LLC Associates Program. As an Amazon Associate I earn from qualifying purchases. Please view Mastering Mom Life's Terms, Disclosure & Disclaimer Policy and Privacy Policy. I wholeheartedly believe in all of the products I recommend and use them all!
Tips for a Good Newborn nap in this 0-4 Weeks Old Newborn Routine:
For one nap a day, place baby in a quiet, dark area (bassinet/crib in a room)
Swaddle (I love this swaddle!)
Sound machine (We've used this Homedics sound machine for my first and the Hatch for my second)
Be sure baby had a full feeding & appropriate awake time
Newborn Routine: Bedtime Sleep
Last but not least on our easy newborn routine is bedtime sleep- which is different than a nap.
When your baby is first born they will take the same length of sleep all day, usually 2-3 hour stretches (but sometimes less).
As your baby gets older every week your goal is to complete full feedings (like we talked about above) so their tummy is full and they sleep comfortably- and eventually longer!
As I said, this newborn routine isn't about getting your baby to sleep 8-hour stretches in their first month of life. It's about laying the foundation of *good sleep patterns* so when they are developmentally ready, they can sleep longer.
During the nighttime, usually, the last feeding that I'm awake before heading to bed, I'll do a mini bedtime routine.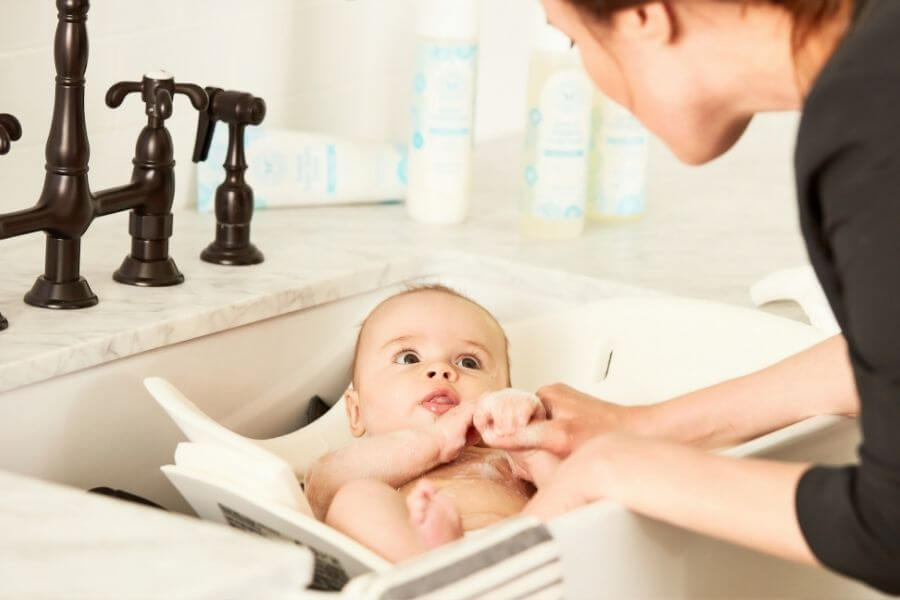 Here's my newborn bedtime routine:
I'll change my baby's clothes,
give her a wipe down so she's fresh,
and sing her a song while feeding her
When it's time for sleep, I swaddle her and put her in the bassinet/crib. (Laying the baby down in a stationary (safe) place for nighttime sleep will also indicate that it's bedtime, not just a daytime nap.)
These little things are to signal that it's nighttime sleep. So eventually as I do this for weeks and she gets older, she'll be signaled that it's nighttime sleep- which should be a longer stretch before feeding again.
I started doing this for bedtime sleep when she was 1 week old and by 5 weeks she was sleeping one 5-6 hour stretch during the night- VICTORY!
Don't Stress- Your Newborn will Change
As your baby continues to grow and develop there will be some days where it looks like he regressed. Maybe your baby is super fussy and refuses to sleep unless in your arms. Or maybe your baby is doing longer stretches of sleep and then one day wakes every 45 minutes.
Newborns are constantly growing and developing so having a routine like this one can help you keep track of when they are going through growth spurts and how you can help them through it- all while being confident as a mama!
But as your newborn reaches a month old, you'll have this routine that will grow with them, not that they will grow out of.
This is a flexible routine based on your babies cues and habits that form an overall structure for your day
And it all begins by tracking your baby's activities: their feedings, naps, and awake time.
By tracking these things and starting this easy newborn routine you'll begin to notice your baby's individual cues for when they are ready for what they need next.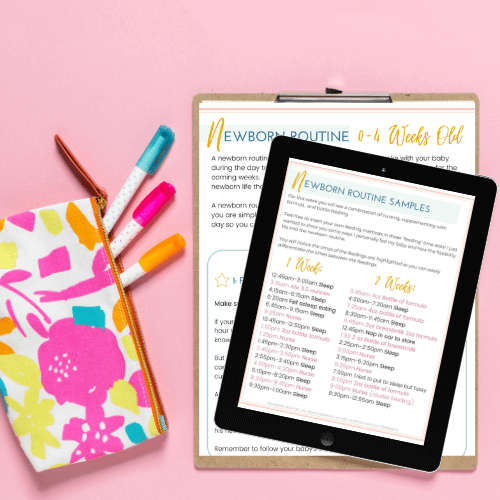 Free Printable 0-4 Weeks Old Newborn Routine + Real Life Samples
Don't forget to download my FREE newborn routine and real-life sample routines!
This routine is exactly what I personally used for my daughter and the real-life sample routine is her exact trackings each week. So you can see what I did and when!
Download the Newborn Routine Here!
Recap Time for the 0-4 Weeks Old Newborn Routine!
With this 0-4 weeks old newborn routine, you are simply following your baby's hunger and sleep cues to help them feel the most comfortable while maintaining some predictability in their day.
Remember, here's the overall structure of the 0-4 weeks old newborn routine:
feeding (every 3-4 hours)
awake time (60-90 minutes)
nap (20 minutes to 2 hours in length)
bedtime sleep (swaddle in a cool dark room in bassinet/crib)
This newborn routine personally gave me a hint of structure to my day with my newborn that made me feel confident so I knew she was eating enough and her sleep patterns were totally normal.
By tracking these things and starting this easy newborn routine you'll begin to notice your baby's individual cues for when they are ready for what they need next.
Be sure to download my FREE Mommy & Me Planner where you can track your baby's feedings, activities, and naps in ONE place. This is a planner + tracker combo perfectly designed to help mamas with their little one's routine!
Download it below by clicking the download button!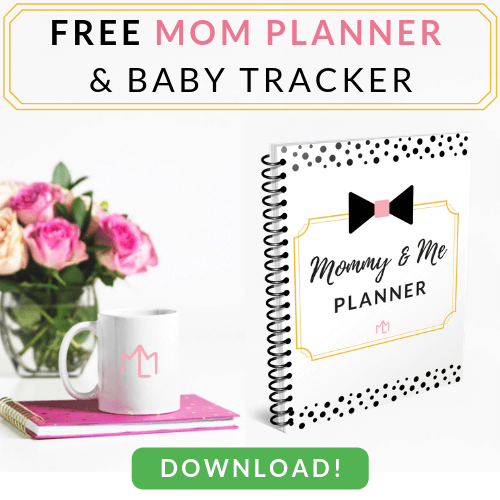 What's next?? Month 1-4!
Ready to learn how to survive and thrive in the first 4 months with your baby? Read the 1-4 Month Old Easy & Flexible Baby Routine to help you navigate months 1-4 with your little one 🙂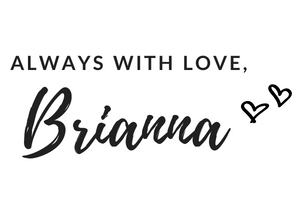 Wait! Do you love free printables??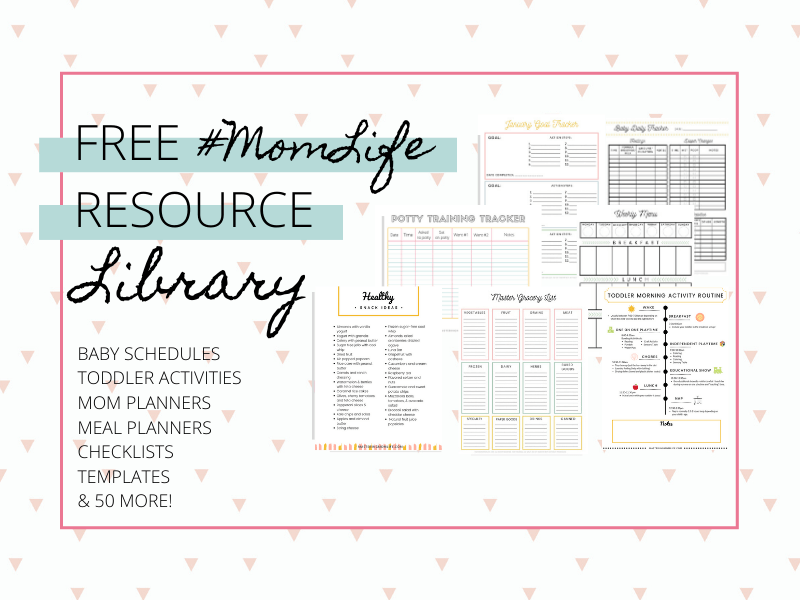 Become part of the Mastering Mom Life Insider tribe and get instant, exclusive access to my Mom Treasury filled with FREE printables + worksheets to make mom life easier!
Want to truly thrive in the newborn phase and mom life??
Check out the super SPECIAL offer on the You Got This, Mama Organizing System, to help you reduce stress, save time, track your baby's activities AND organize your whole mom life without pulling your hair out- in ONE place!
Take advantage of my LIMITED TIME OFFER here!
Check out more posts about making life with baby easier!