Inside: A gentle & flexible 5-8 month baby routine that grows communication and connection- including a nap, feeding & activity schedule!
Cooing and ooing quickly turned to mama and dada…your infant is not-so-tiny anymore…hello the 5-8 month old stage!
(cue the mama sobs!)
If you're trying to navigate the new territory of your 5-8 month old, you're in the right spot…
I'll teach you a simple and flexible 5-8 month baby routine to help you communicate and flourish your connection with your little one while promoting developmental growth.
With this 5-8 month baby routine, you'll learn:
what wake windows look like at this age
a practical and easy nap routine
stress-free activities to keep baby learning
feeding advice that make mealtime smooth
Let's dive in!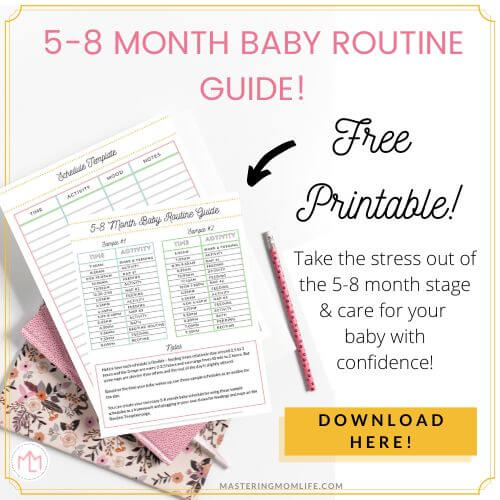 3 Main Principles of a 5-8 Month Baby Routine
A thriving baby routine consists of meeting your baby where they are developmentally and having flexible variables that shift as your baby continues to develop.
Every month that your baby grows they are meeting new developmental milestones. Because of this, their routine is ever-changing and adapting to meet their needs.
There are 3 important, unchanging components that your baby's routine will consist of: wake windows, activity time, and feedings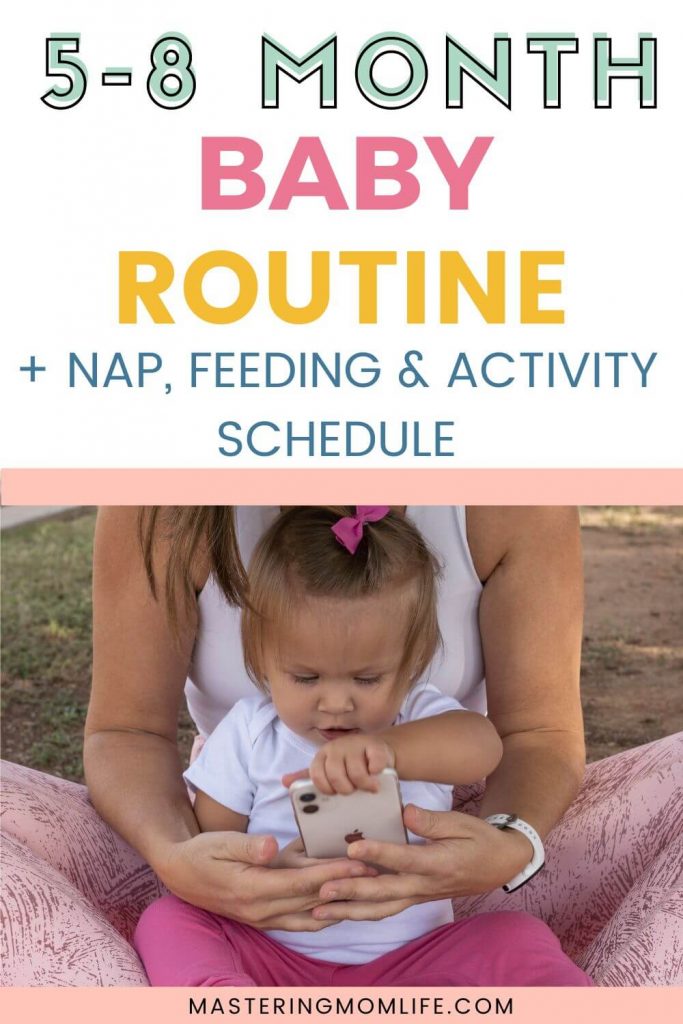 1. Wake windows
Wake windows are the length of time that your baby is awake between each nap. It is counted from the minute they wake up to the minute they go back to sleep.
Wake windows will lengthen as your baby gets older. That's why a newborn can only stay up for 30 minutes but a 10 month old will stay awake for 2-3 hours at a time.
Your baby's wake window is a key foundation of their overall daily routine. The wake window will change as they grow but your little one will always have a wake window until they drop their last nap.
5-8 month old baby wake window is 2-2.5 hours.
I've noticed over the years that the first wake window is shorter, can even be 1.5hours to 2 hours. But as the day progresses, the wake windows lengthen a bit.
2. Activity time
You can do activity time anytime during your baby's wake window. This activity time helps keep your baby stimulated and reaching new milestones!
If you're stumped with what activities you can do with your baby, check out my Tiny One's Boredom Buster Activity Toolkit.
3. Feedings
At the 5-8 month old stage, babies usually eat 4-5 times throughout the day. Whether it be all formula/breastmilk or a combo of milk and solids.
In my 5-8 month baby routines, you'll see how I feed my daughter throughout the day and how I structure her feedings.
The main key is to feed your baby every 2.5-3 hours.
You can read more about wake windows, tired cues, activity time, and hunger cues here!
Let's jump into the sample schedule (what my day looks like with my 5-8 month old!)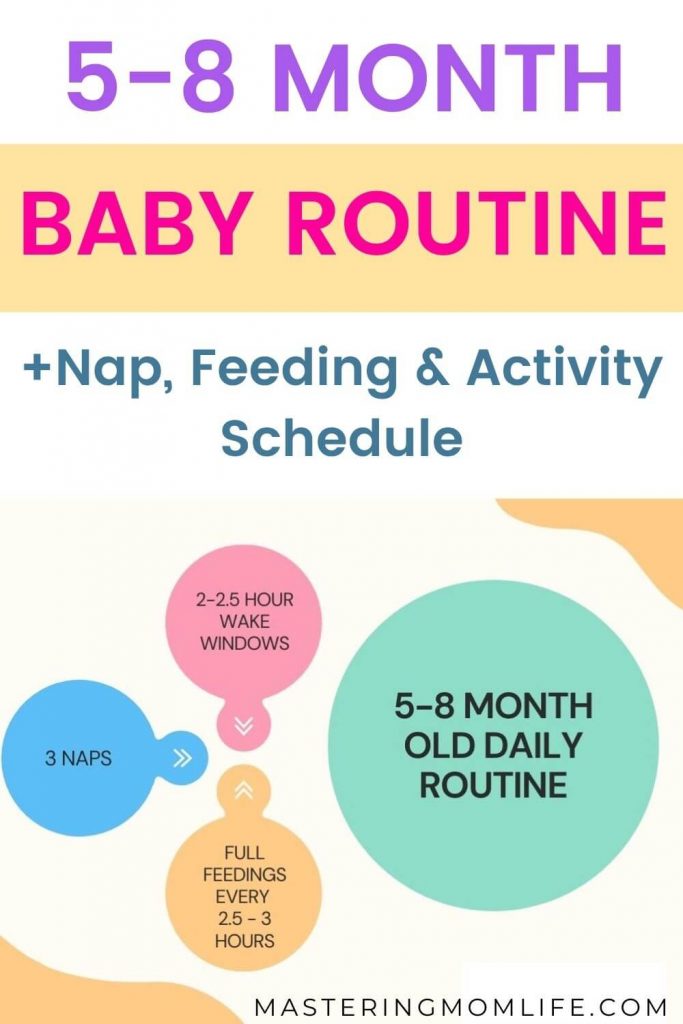 Sample 5-8 Month Baby Schedule
Remember this sample routine will change based on the time your baby wakes up that day. Your schedule will be determined by YOUR baby's time frame.
You can keep with the overall structure of the day, but the schedule will shift based on your baby's wake times, nap lengths, and feeding times.
Be sure to download the 5-8 month baby Routine Guide so you have this sample schedule saved right to your device and have it at your fingertips when you need it!
The 5-8 month Routine Guide also comes with 2 sample schedules AND an instant download/printable template to help you make your own routine/schedule!
Use this schedule as a sample pattern for your own routine 🙂
7:30am Wake
I like to go into my baby's room when she is stirring but not yet crying. I go into the room, turn off the sound machine, sing our good morning song and open the curtains. Next is changing diaper.
7:35am Feeding
She usually drinks about 4-5 ounces every morning when she wakes up. Sometimes she will drink 4 ounces and then drink the other ounce over the next half hour.
8:00am Breakfast
I make breakfast for my toddler at this time and give my 5-8 month old her "breakfast". At 5-6 months old she won't eat solids at this time but from 7-8 months old she'll have some age-appropriate cereal pieces.
8:30am Connection Activity
After breakfast is our first activity time! This activity time is all about connection and bonding.
Below under the Connection Activities section, I share all of the different easy activities that I rotate each week.
We'll play together for about an hour (my toddler too!) and then I'll watch for her tired cues to start our nap routine.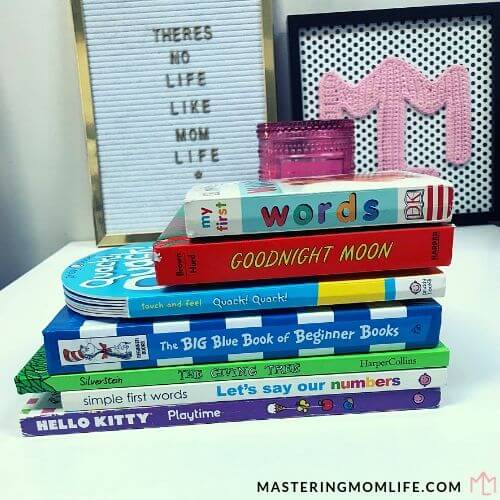 7:30-9:00am Wake window
This wake window is usually about 1.5 hours. As she approaches 9 months, she may be awake for 2-3 hours depending on how she adjusts to wake lengths.
Remember, flexibility is key when reading your baby's cues!
9:00am Nap #1 (Ends 10:40)
We start a nap routine about 10 minutes before her nap time. Always follow your baby's tired cues. She will usually sleep for about 1.5 to 2 hours this nap.
(If your baby is not sleeping this long for this first nap, that's okay! Remember every baby is different and a lot of factors go into sleep- swaddles, feedings, sleep associations etc.)
10:45am Feeding & Mid-morning snack
When she wakes from her nap I usually give her another 4-ounce bottle. Remember, we feed our baby every 2.5-3 hours depending on their hunger cues. This amount increased as she reached 7-8 months old.
I'll give her a puree of some sort with the rest of her milk. She likes the combination of milk and solids at this age.
If you'd like to see my homemade baby applesauce recipe, follow me on Instagram and check out my highlights!
11:00am Activity (outside/errands)
This activity time is usually an outside activity. If the weather permits, I like to get outside at least once a day. If it's raining or we're unable to go out, I like to encourage some independent playtime.
This is the wake window that I usually go out if I need to run an errand or drive somewhere. It's a good amount of time to be out and a good time to be out with kids (less traffic, less people out, etc.)
12:30pm Nap #2 (Ends 2:00)
This nap can be longer if your baby slept shorter in the morning or it has the ability to be shorter if the morning nap was longer. Don't stress!
2:00pm Feeding
The last feeding was around 10:45, which is now 3 hours ago. Some babies may wake up early from this nap due to hunger. If you notice this happening, you can feed your baby before the nap so they are going to sleep full. As your baby gets older each week/month, that feeding will drop and stretch to when they wake up.
2:30pm Activity
After baby is all energetic from her nap and full from her feeding, activity time again! I like this activity time to be a combination of independent playtime and chore time. I'll get some chores done in the same room that Baby R is playing in.
4:00pm Feeding
This milk feeding fades away as your baby grows between 9-12 months but I wanted to keep it in this schedule just in case it helps you better see the overall feeding routine we had. At this time Baby R would drink 4 ounces and mostly eat solids as she turned 1.
4:00pm Nap #3 (Ends 5:00)
It's time for the final nap of the day! This nap will eventually be the next to drop so sometimes it can get shorter as your baby approaches 9 months. Sometimes this nap is just 35-45 minutes, that's okay!
Just remember to follow those tired cues and hunger cues.
This nap can be a real struggle around 6/7 months. But because it's not quite time to drop it, it's okay to let your baby sleep during this nap in the best way that would make them comfortable. Maybe that means baby wearing or holding to sleep or even an on-the-go nap in the stroller.
But your baby still needs that 3rd nap to make it to bedtime without getting super overtired so get it in however you can!
5:00pm Feeding/Dinner
We always include the baby in our dinnertime. We pull up the highchair and eat as a family! If your baby isn't eating solids yet, we still include her in our family meal time. When it's time for solid, we would give her different amounts of food based on her food intake from the day and how hungry she seems.
5:30pm Activity
We have our family time in the early evening after dinner. We'll clean up, play around the house and let them move around before we start our bedtime routine.
6:30pm Bath/Bedtime Routine
A consistent bedtime routine is the golden nugget of great nighttime sleep. We start out our bedtime routine with a:
Bath time (you can read my bath routine here)
Pajamas
10-minute connection playtime
Last feeding
Close curtains / make room dark
Turn on sound machine
Lay baby down
Sing a song
Parent leaves room
Having a bedtime routine helps your baby understand that it is time for nighttime sleep. It creates an atmosphere of calmness and signals your baby it's time for sleep. You can read all about the amazing benefits of a bedtime routine here!
7:15pm Feeding
This is the last feeding of the day. It's uncommon for your baby to drink more ounces at this feeding than the rest of the day. We usually snuggle up, feed baby R and then get ready for bed—we're almost done for the day!
7:30pm Nighttime Sleep
After baby finishes their feeding, gets changed and is all comfy, it's time for sleep- woohoo!
Remember to download the FREE 5-8 Month Routine Guide to instantly download a sample daily schedule, nap schedule, and full feeding schedule!
---
Related Reading: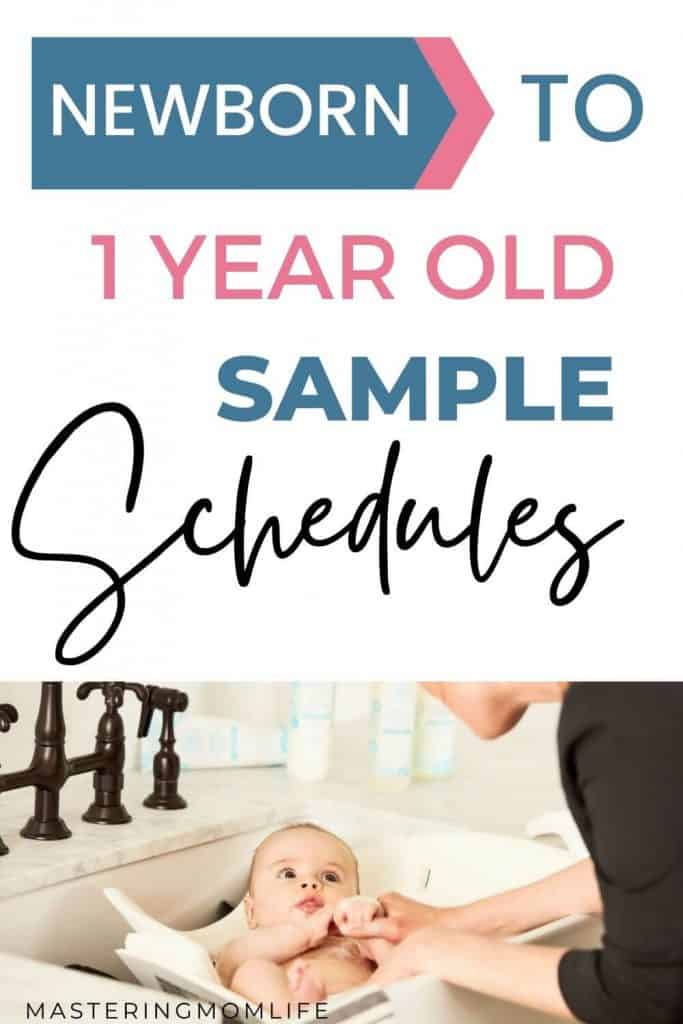 ---
5-8 Month Baby Routine Key Principles-
Within this sample schedule here are 3 constant keys:
2-2.5 hour wake windows
5 feedings (combination of milk and solids)
4 activity times
Let's jump into the different activities you can do with your 5-8 month old during the day…
5-8 Month Activity Routine
Don't become overwhelmed with prepping "activities" for your baby. An activity can be anything from a stroll around the block to a planned or playing with spoons. There's a lot of room for interpretation about what you can do with your baby at this age.
I find that a lot of moms become completely overwhelmed with how to entertain their little one because they feel they "aren't doing enough".
It's very frustrating to feel like you have to get a mile-long chore list done every day AND plan super fun, educational 3 hour activities for your baby.
But you don't have to!
Check out this Activity Toolkit filled with things you can do with your baby that takes less than 10 minutes to prep and uses things you probably already have in your home 🙂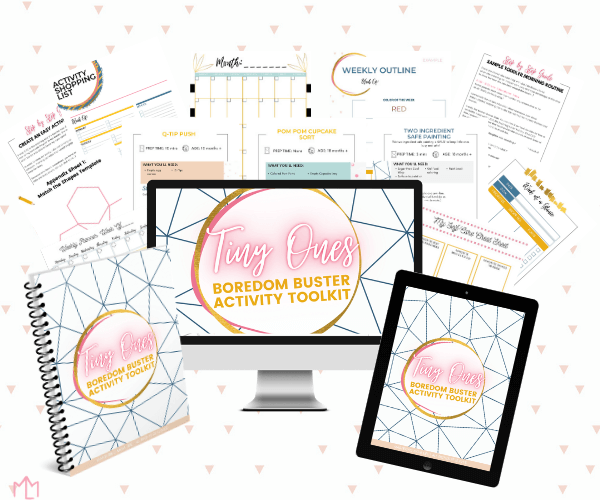 5-8 Month Sleep Schedule
As you can see in this daily routine, Baby R naps twice a day with 2-3 hours of daytime sleep and sleeps 11-12 hours each night.
Nap #1 : 9:00-10:40am
Nap #2 :12:30-2:00pm
Nap #3 : 4:00-5:00pm
Bedtime: (fall asleep) 7:30/7:45
Your baby's nap times and nap lengths will begin to shift in between the 3 months of when they are 5-8 months. That's why knowing your baby's tired cues are super important.
Some tired cues include:
Rubbing eyes
Playing with ears
Red eyebrows
Gazing off
Slow blinking
Yawning
5-8 Month Old Nap Schedule
At this age, babies are usually having 3 naps a day.
The third nap of the day is usually a "cat nap" ranging from 30-45 minutes, but it can sometimes last for an hour as well. This nap helps get your baby to bedtime, so bedtime isn't really early, making baby an early riser.
Bedtime might have to be pushed up or back some days depending on when your baby wakes up from this nap.
As your baby's wake windows lengthen, this nap will be dropped and bedtime will stay the same.
This nap is dropped somewhere between 7-9 months. The "sleep needs" for every baby is different so if your little one is still cat napping for the third nap and nighttime sleep is not affected, go for it.
If your little one is still too young to drop this nap but you begin to see the third nap is a struggle, try to get creative with helping your little one fall asleep for this nap so you can hold on to it a little longer. Most babies who are too little for only 2 naps a day can't make it the 3-4 hour wake window until bedtime.
---
---
5-8 Month Feeding Schedule
At 5-8 months old, your baby is eating a combination of milk (breastmilk/formula) and solids. My daughter eats every 2.5-3 hours, whether it's a mix of milk and solids, just solids, or just milk.
Remember to continue to complete full feedings!
My pediatrician recommended I begin to introduce solids to her at around 5.5 months. I would give one type of puree vegetable per week and offer it to her once a day.
Follow your pediatrician's guide on what your baby should be eating and follow your baby's hunger cues.
Recap time!
There you have it
You learned my step-by-step easy and flexible 5-8 month baby routine, including nap, feeding, and activity schedule, to help your baby thrive!
This 5-8 month baby routine was created to flourish communication & connection with your baby without feeling overwhelmed with questioning yourself if you are "doing the right thing" for your baby all day.
YOU know your baby best! Follow your instincts and follow your baby's cues—they will never fail you <3
Don't forget to download the 5-8 Month Routine Guide equipped with schedules and templates to help you create your own routine based on your baby's cues!
You got this, mama!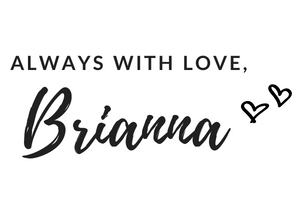 Read more routine / baby schedule posts!
Sample 0-12 Month Old Sample Routine
Newborn 0-4 weeks old newborn routine
1-4 Month Baby Schedule Routine